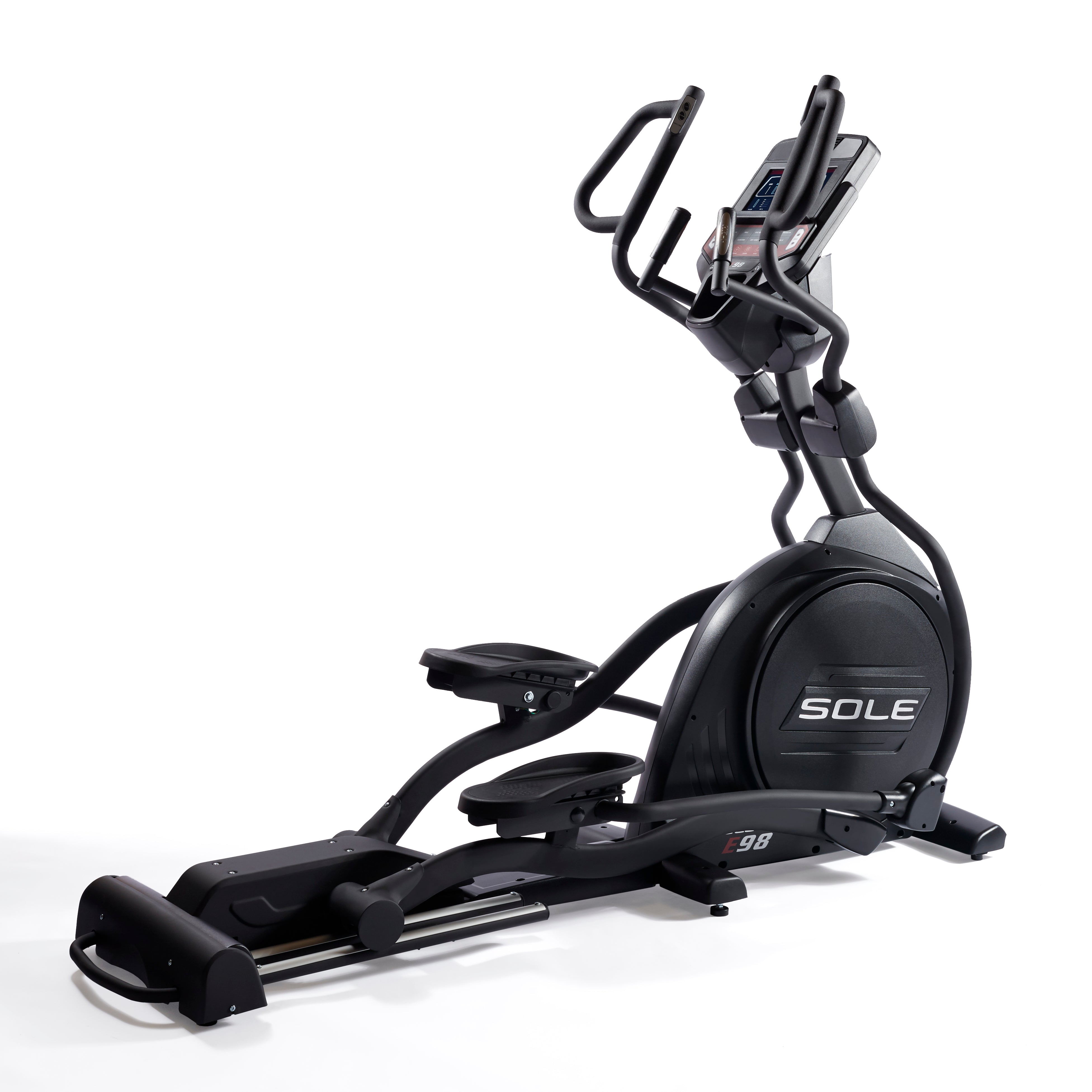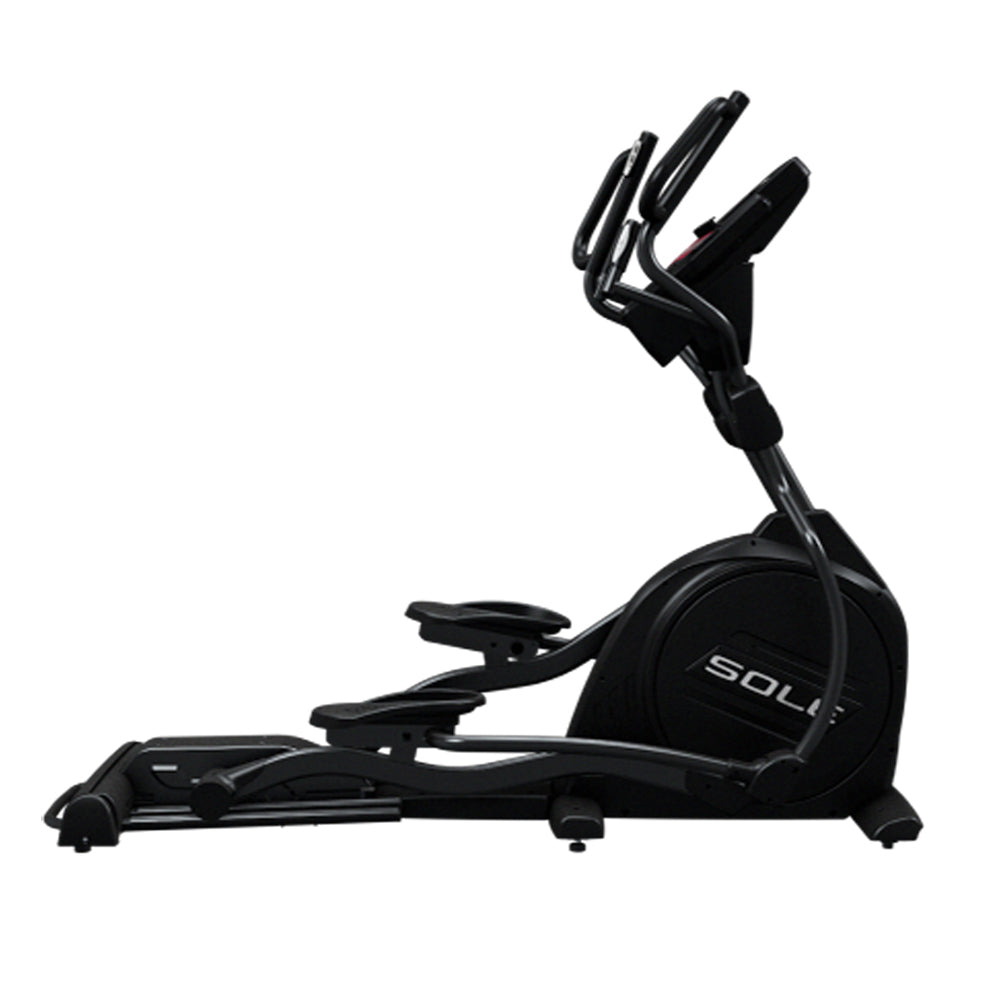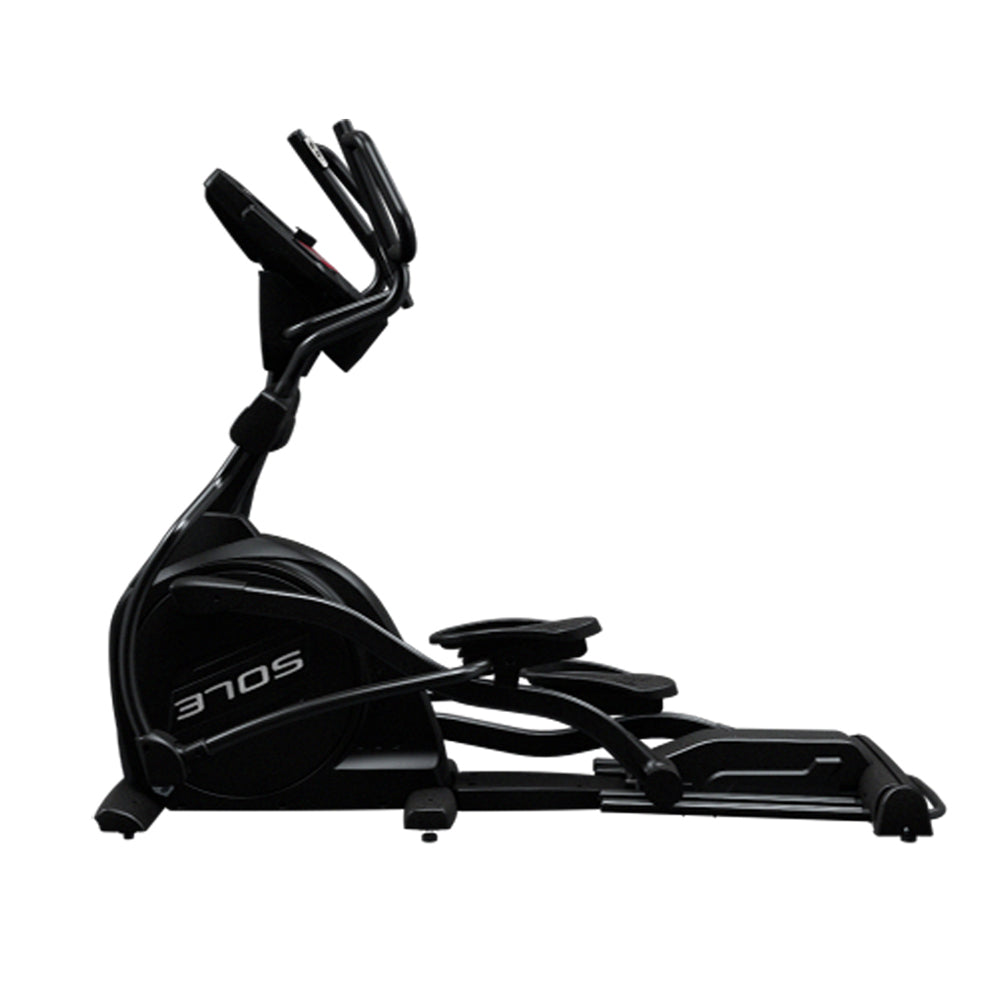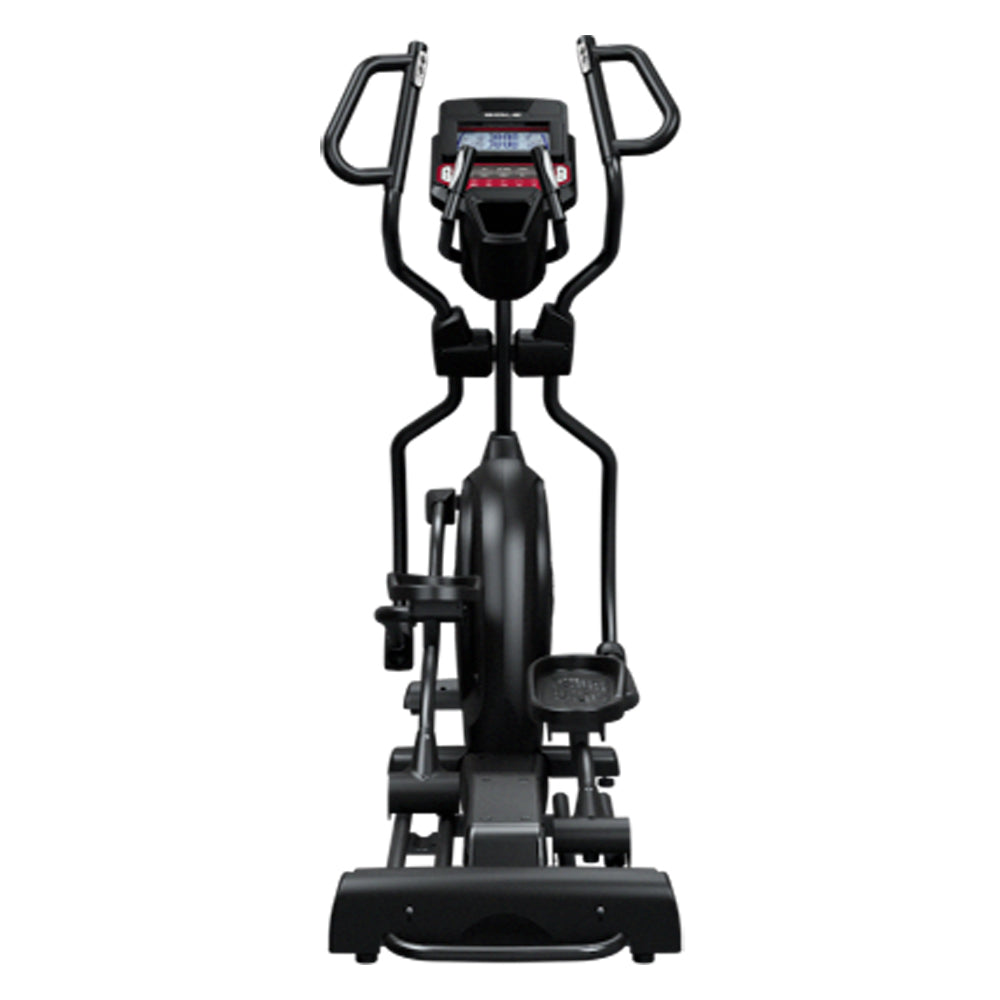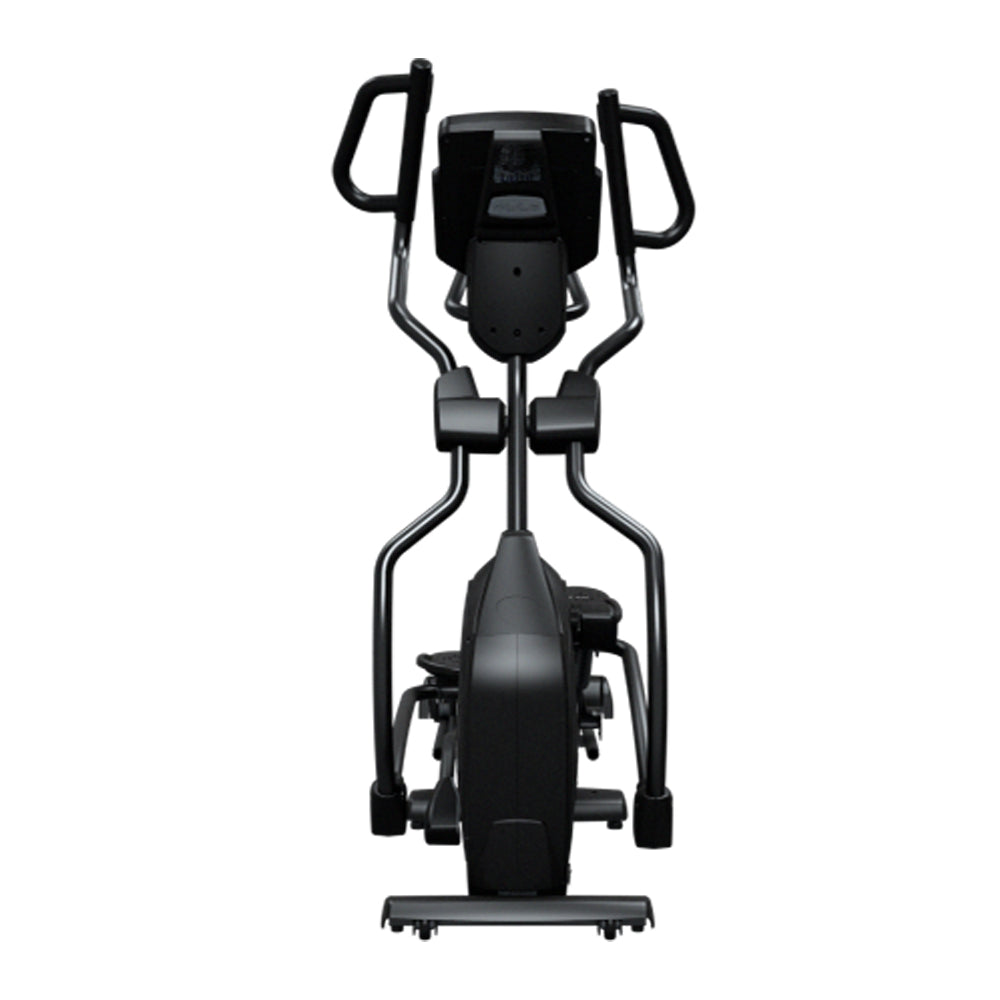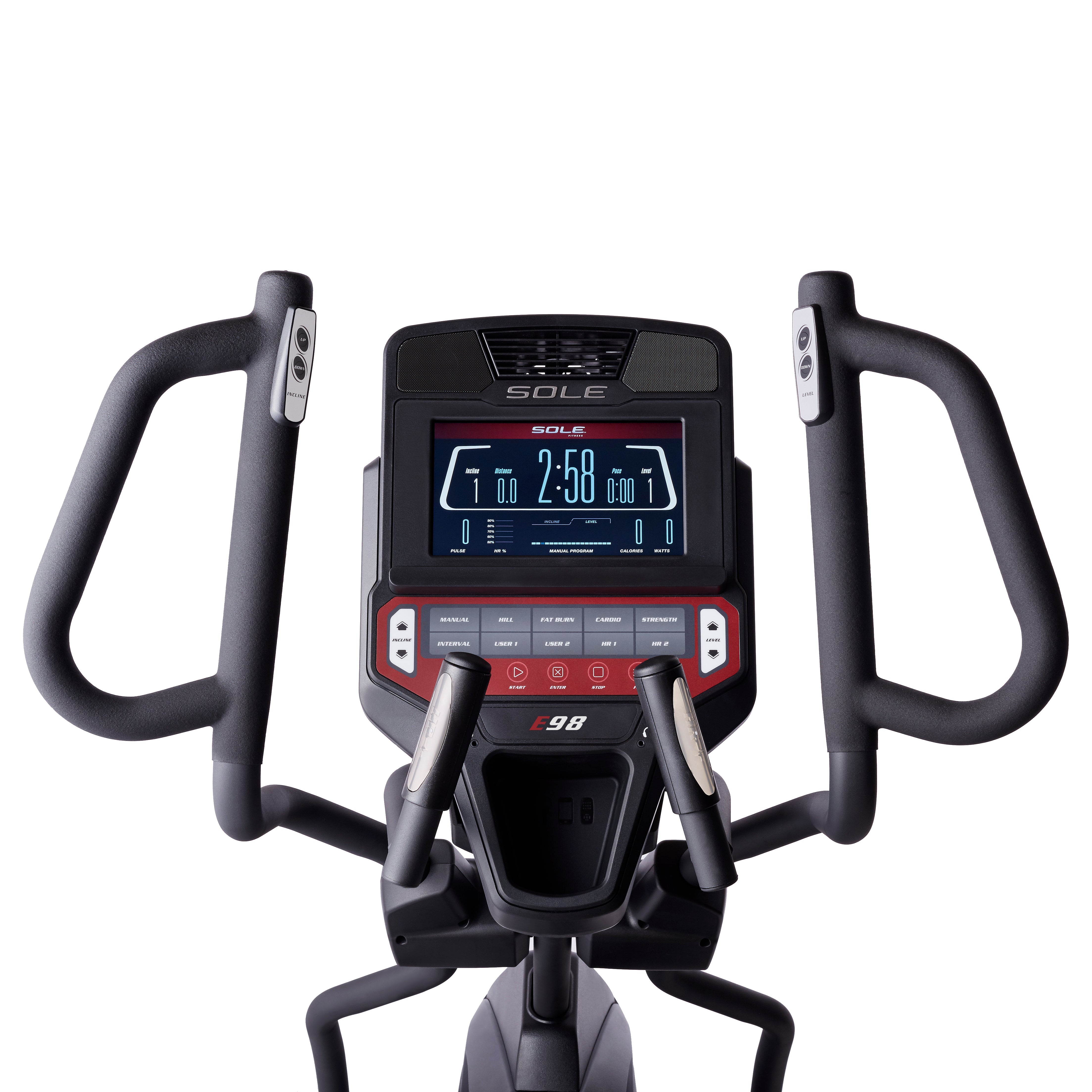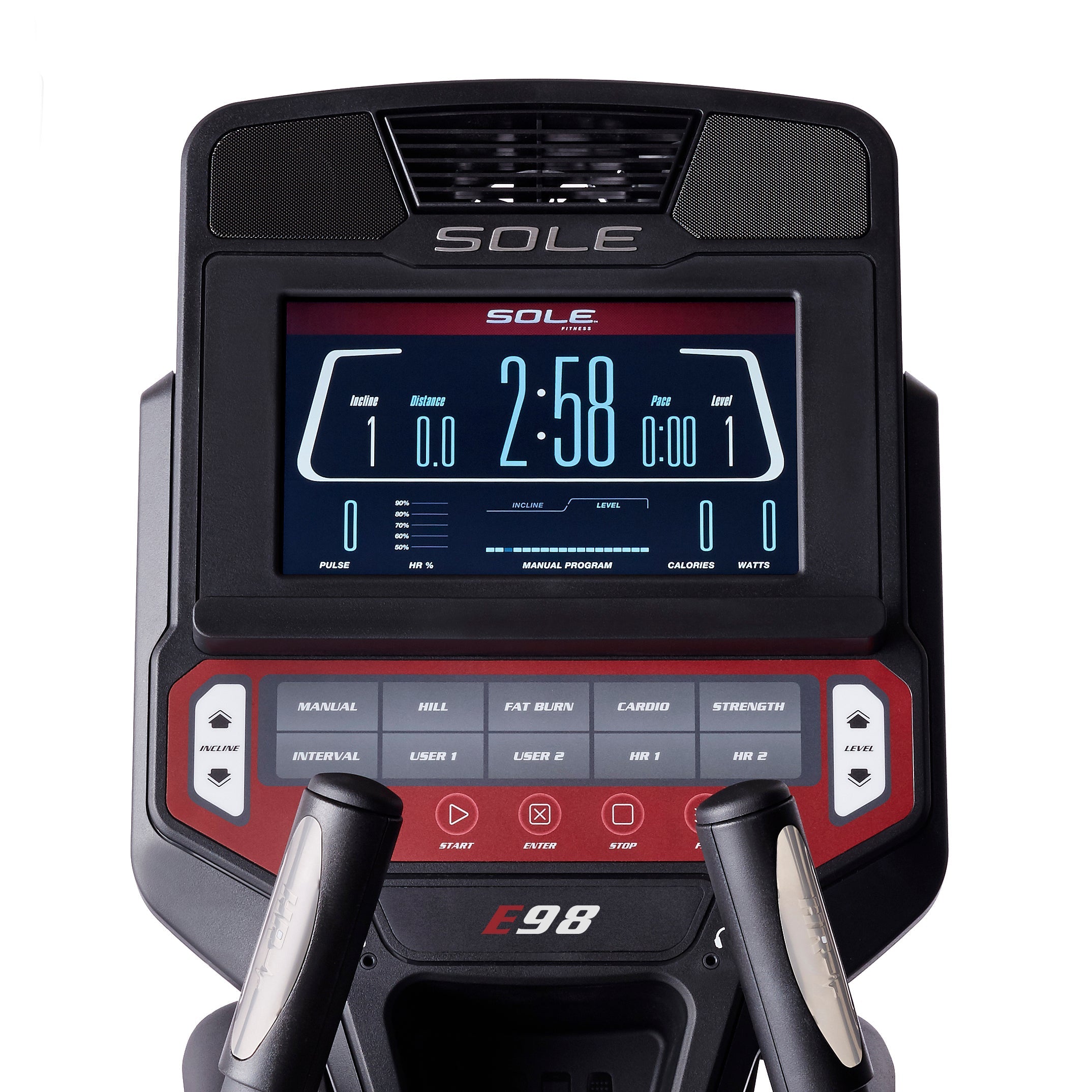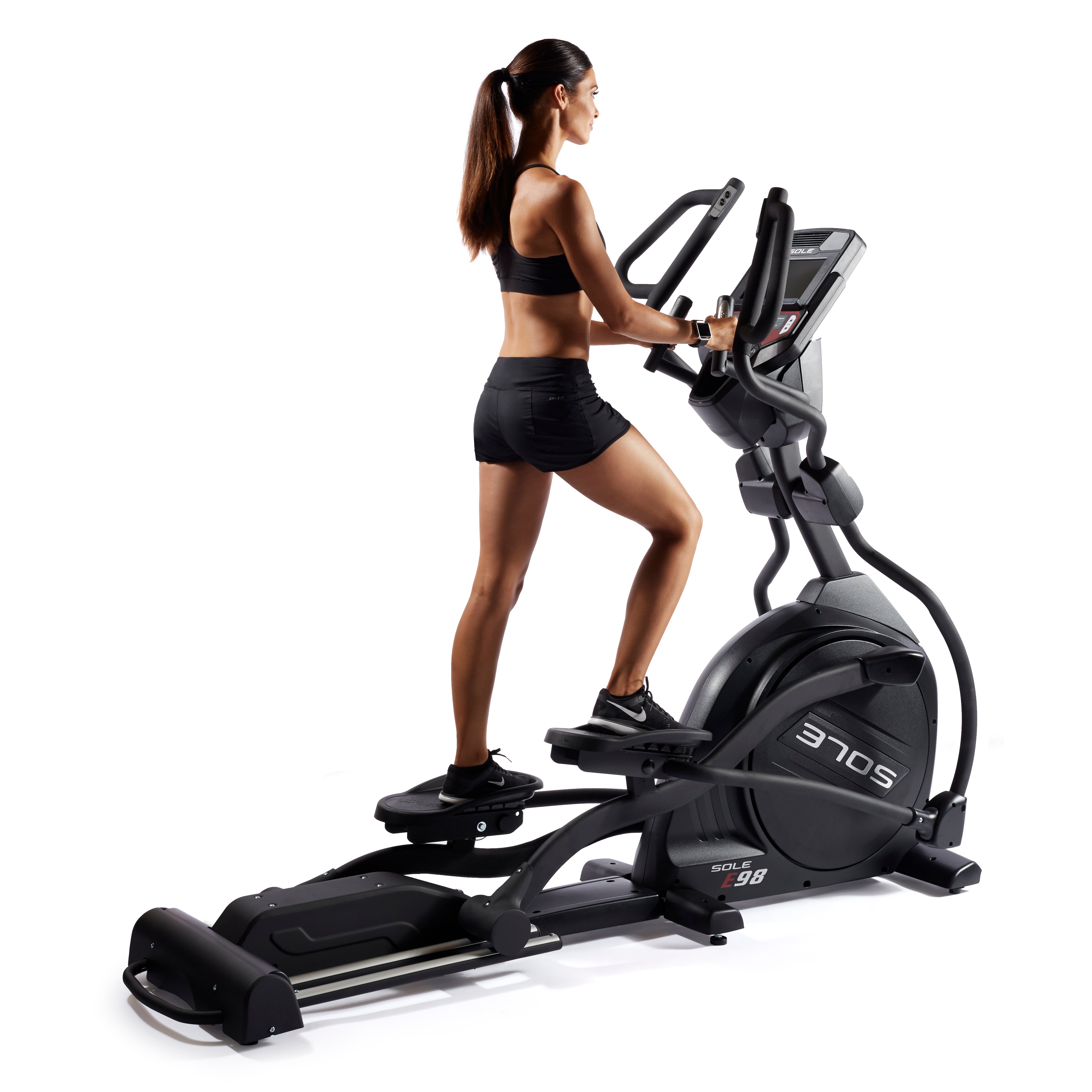 Share
Free Shipping
Get free delivery for orders above $200
A charge of $20 will be applied for orders below $200
0% Instalment Payment Plan
Applicable for the products that cost above $500
0% Interest Rate & Requires participating credit card for the plan

COD
Pay the cash at the time of delivery
Delivery & Installation schedule will be intimated
Frequently Bought Together
SOLE E98 COMMERCIAL ELLIPTICAL EXERCISE TRAINER
The SOLE Light Commercial E98 Elliptical was built for the commercial environment and is quickly becoming the most popular model in light commercial settings. The extra smooth feel of the E98 stems from the combination of our ergonomically positioned articulating foot pedals; 20" stride length, and our precision balanced flywheel system.
>
COMMERCIAL-GRADE CONSTRUCTION
Sole Fitness is known for its excellent quality and reliability as demonstrated by its light commercial equipment. The Sole E98 elliptical includes a strong frame built from 3.8cm Steel and the heavy steel frame construction offers the correct comfort during your workout.
FUNCTIONAL DISPLAY
The Sole E98 commercial cross trainer has a vibrant TFT LCD Display that offers a clear and bright display of training feedback such as time duration, heart rate, calories burned, resistance, and so on.
QUIETEST MOTION DRIVE SYSTEM
The whisper-quiet drive system of the Sole E98 commercial cross trainer provides a fluid and natural motion in both forward and reverse directions. With a heavy-duty flywheel of 14.5kg, the elliptical provides stability and comfortable momentum. It helps the pedals and handles glide smoothly, especially if you are strong and heavy. This makes the Sole E98 again, suitable for gyms, hotels, physiotherapy and rehabilitation practices and for home use amongst others.
CUSTOM DESIGNED FOOT PEDALS
The unique foot pedals of the Sole E98 cross trainer were developed in collaboration with a leading physical therapist. Together with Sole engineers, we designed a 2-degree inward slope to the foot pedals to reduce the numb toe effects and sore Achilles tendons which helps to help users to focus less on being uncomfortable and more focused on achieving goals
PULSE HANDLE GRIPS
Our Sole E98 elliptical cross trainer Singapore has multi-grip handles that provide ergonomic and comfortable positions to grasp the handles. It has an in-built sensor for tracking the pulse rate during pedaling on the elliptical. During the workout, you don't have to take your hands off the grip to change resistance or incline. You can simply adjust them by pushing the buttons located on the grips
LOAD BEARING CAPACITY
Our Sole E98 commercial elliptical cross trainer can support a user who weighs up to 180kg and will stand up to the test of time. Thus, built to support up heavy and uninterrupted use, this smooth performer is a top value for hotel fitness rooms, apartment complex workouts.
ADDITIONAL MERITS
It also includes a built-in cooling fan and water bottle holder as well as an integrated tablet holder giving you the freedom to use your smart devices to watch shows or follow your workout routines. A USB port is fashioned to charge your smart devices and with Bluetooth compatibility and Bluetooth Audio Speakers, users' workout feedback is automatically saved. The data can also be downloaded to the free sole fitness app or transferred to compatible fitness apps as they jam to their favorite tunes.he Sole+ APP has a whole new interface design that just lets you stride the treadmill an extra mile. No matter what kind of Sole Equipment you are using just set up your own account, and choose the related settings to establish all your personal challenging goals. Sole+ featured the high compatibility between software and device. We apply the same collated and analysed logic as most of the mainstream apps, so you can transfer the data to different platforms.
SPECIFICATION
| | |
| --- | --- |
| Brand Model | Sole E98(16)-DS |
| Console Display | TFT LCD Display |
| Resistance Levels | 1 - 20 Levels |
| Stride Length | 50cm |
| Flywheel Weight | 14.5kg |
DIMENSION
| | |
| --- | --- |
| Carton Dimension | 208 (L) X 170 (W) X 79 (H) cm |
| Product Weight | 112.9kg |
| Max. User Weight | 181kg |
WARRANTY
| | |
| --- | --- |
| All Other Parts | 3 Months |
| Labor | 3 Months |
Q: How to choose an ideal flywheel weight for my commercial gym?
Answer
Choosing the right power for flywheel is not that much difficult, because there is a recommended value for residential and commercial cross trainers : Residential - Up to 10kg ; Commercial - More than 10kg ;
The above table clearly explains to you the perfect capacity of the flywheel for a commercial gym. So, our sole commercial elliptical trainer with a 14.6kg flywheel weight is more than enough for all fitness centers.
Q: May I buy this cross trainer for my commercial gym? Looking for a complication-free design?
Answer
The E98 commercial cross trainer is especially constructed for commercial use where people looking for a simple design. Yes, our ellipticals may be simple in design but more effective in their performance and quality, because loaded with all qualified properties such as a 14.5kg Flywheel, Blue Backlit LCD Display, 20 Resistance Levels, 50cm Stride Length, and 181kg Maximum User Weight in easy to access manner. Thus, you can buy an elliptical exercise trainer for your commercial gym without a doubt.
Q: What are the merits of using an elliptical exercise trainer?
Answer
Do you know, our cross exercise trainer hasn't 1 or 2 merits, but there are countless features and those are listed below:
Built-in fan - To keep you cool always
Bottle holder - To stay hydrated and energized
USB port - To charge your smart devices
Bluetooth audio speakers - To play the music
Audio jack - To listen to the music
Sole+ app - To challenge yourself and transfer data
These are the merits available to the exercise trainer.
Q: Which resistance level is best? Less or Moderate or high?
Answer
Generally, the elliptical resistance level depends on the user's goals. If you want to gain 50% of the results for your effort, you have to work on a moderate resistance level.
Low resistance - Up to 50%
Moderate resistance - Above 50%
High resistance - Above 80%
If you want to feel like 80 -90% of the results for your effort, then you should choose high resistance and work to maintain it. Our elliptical machine has a maximum of 20 levels in intensity, where you set resistance as above 16 to obtain 80% of results.
Q: Can I ask for spare parts service for a cross trainer?
Answer
Sole fitness Singapore helps exercise trainers with the spare parts service, but for their customers only, because they have spare parts for machines manufactured by them. If you're looking for spare parts Sole and Xterra products, then don't hesitate and simply call (+65) 8551 7929. Our installation team reaches you as soon as possible and resolve your issues with our products.
Q: What about the warranty period of the elliptical trainer?
Answer
Our compact cross trainer is packed with a warranty for only 3 months, because of its simple design. So, proper maintenance is crucial to extend the lifetime also contact us for service and maintenance assistance.