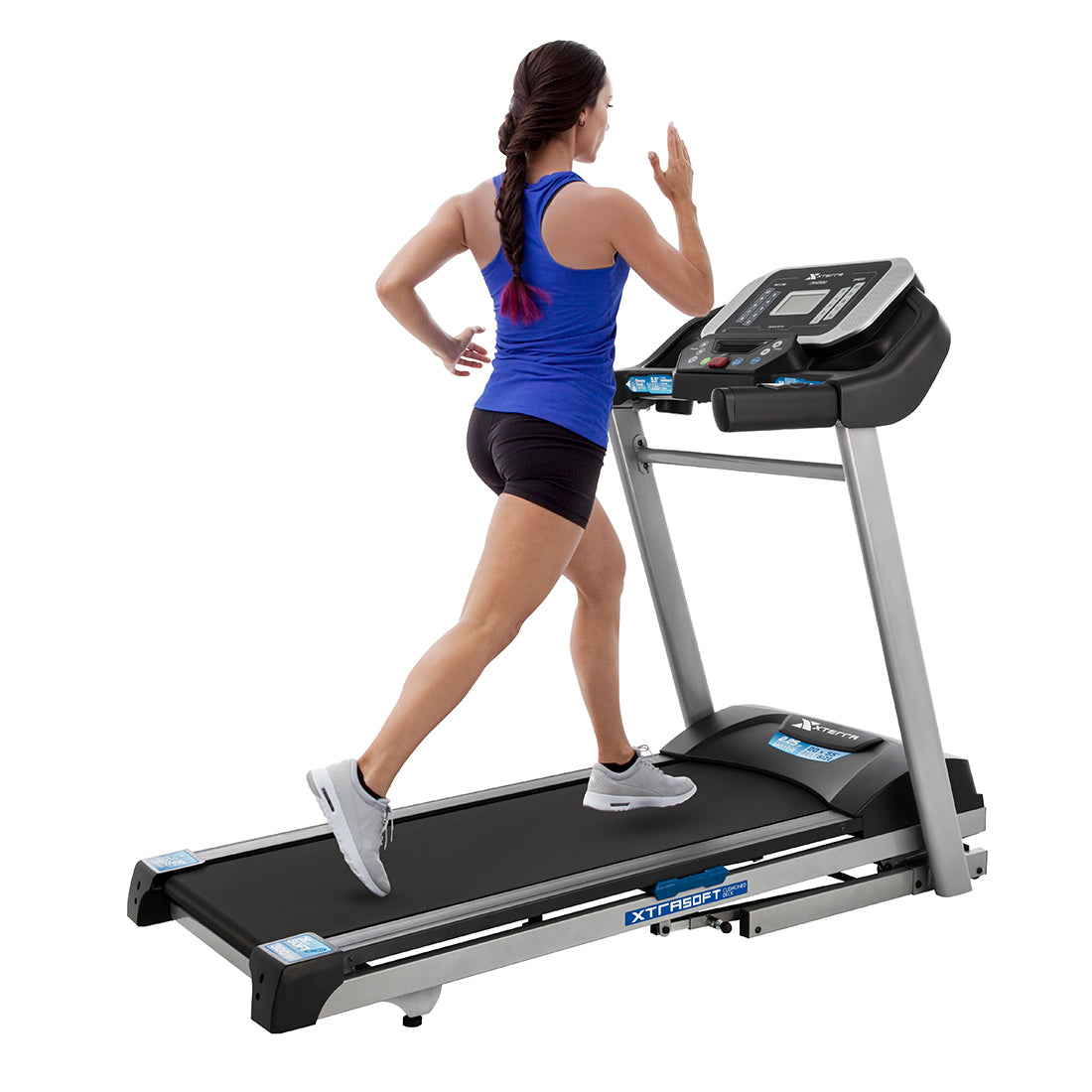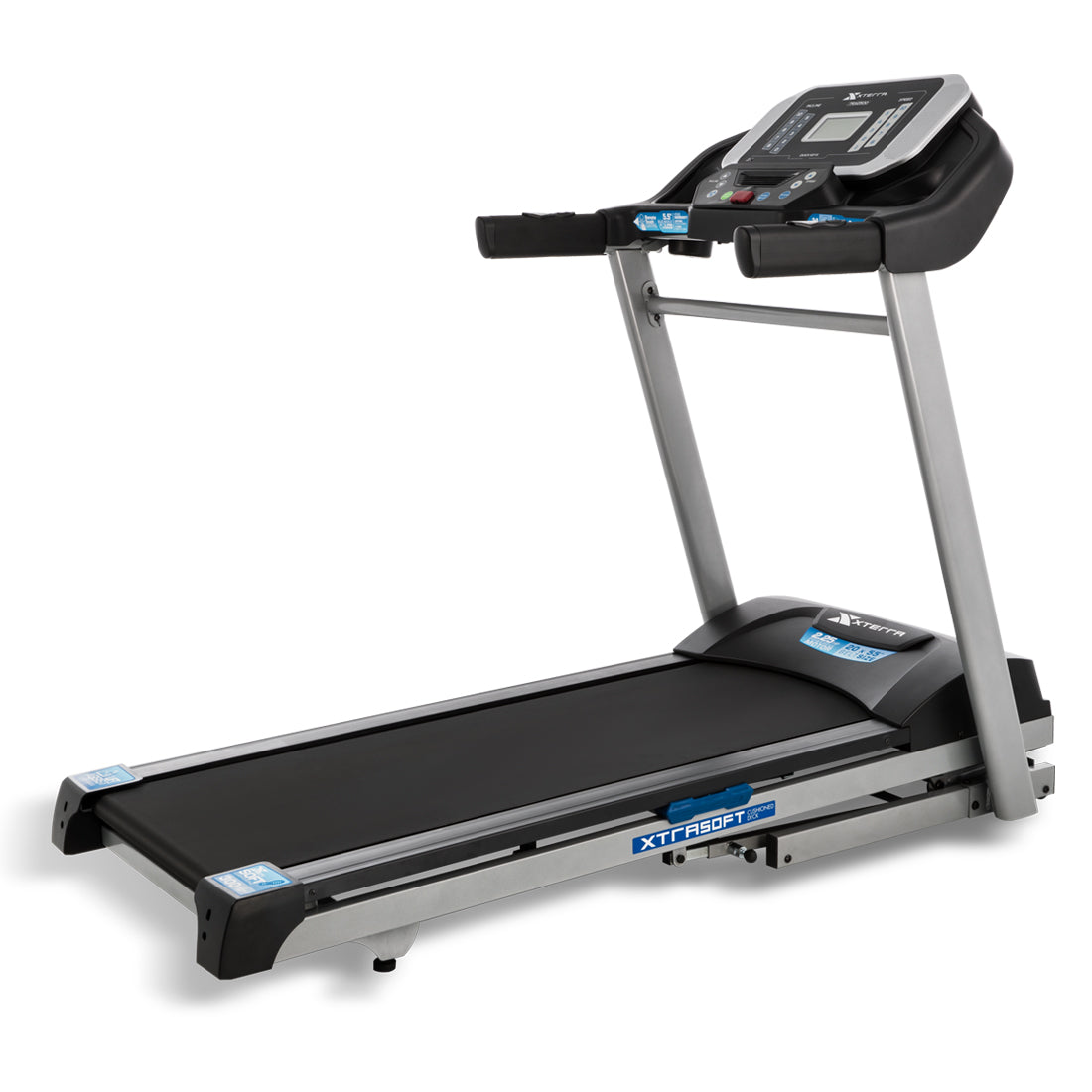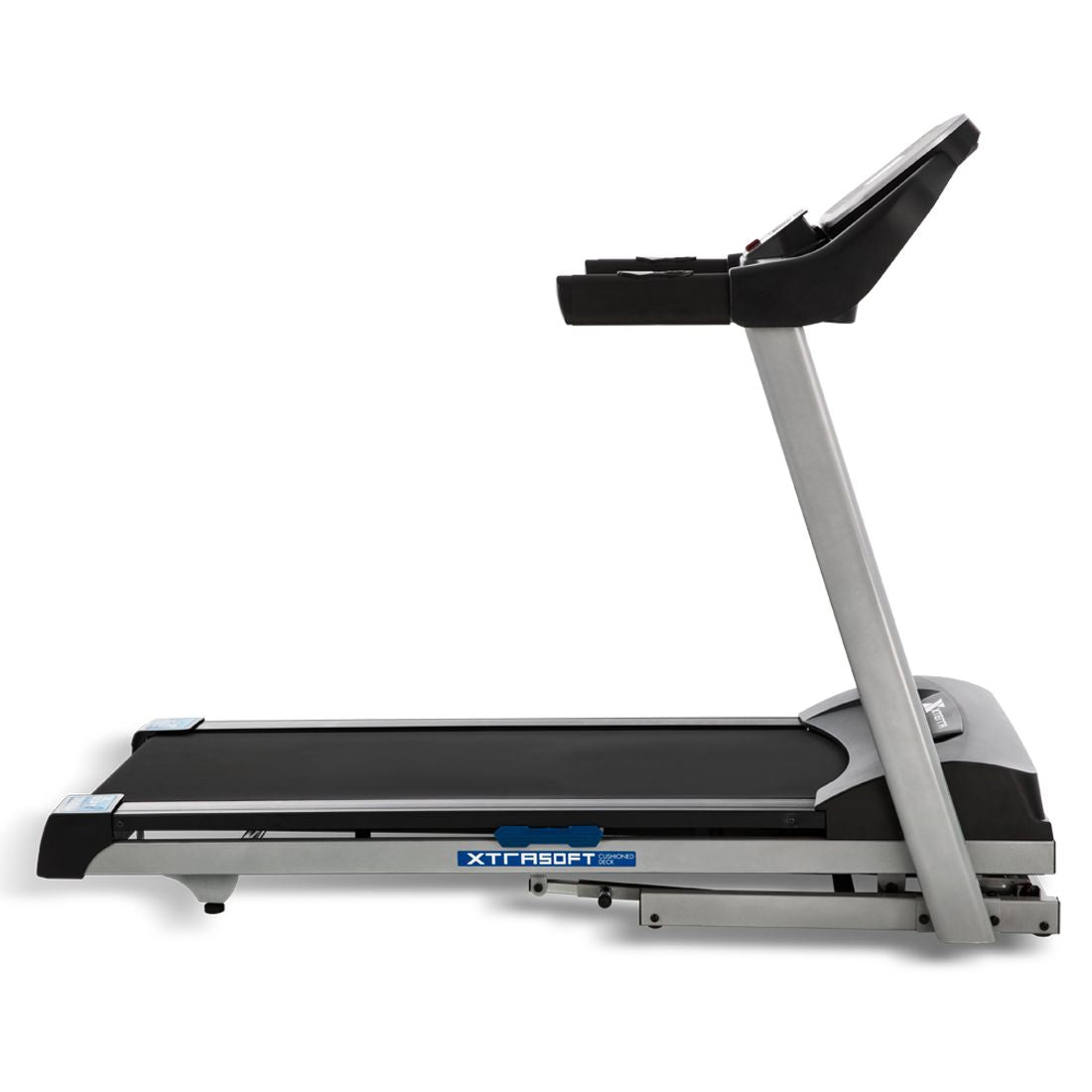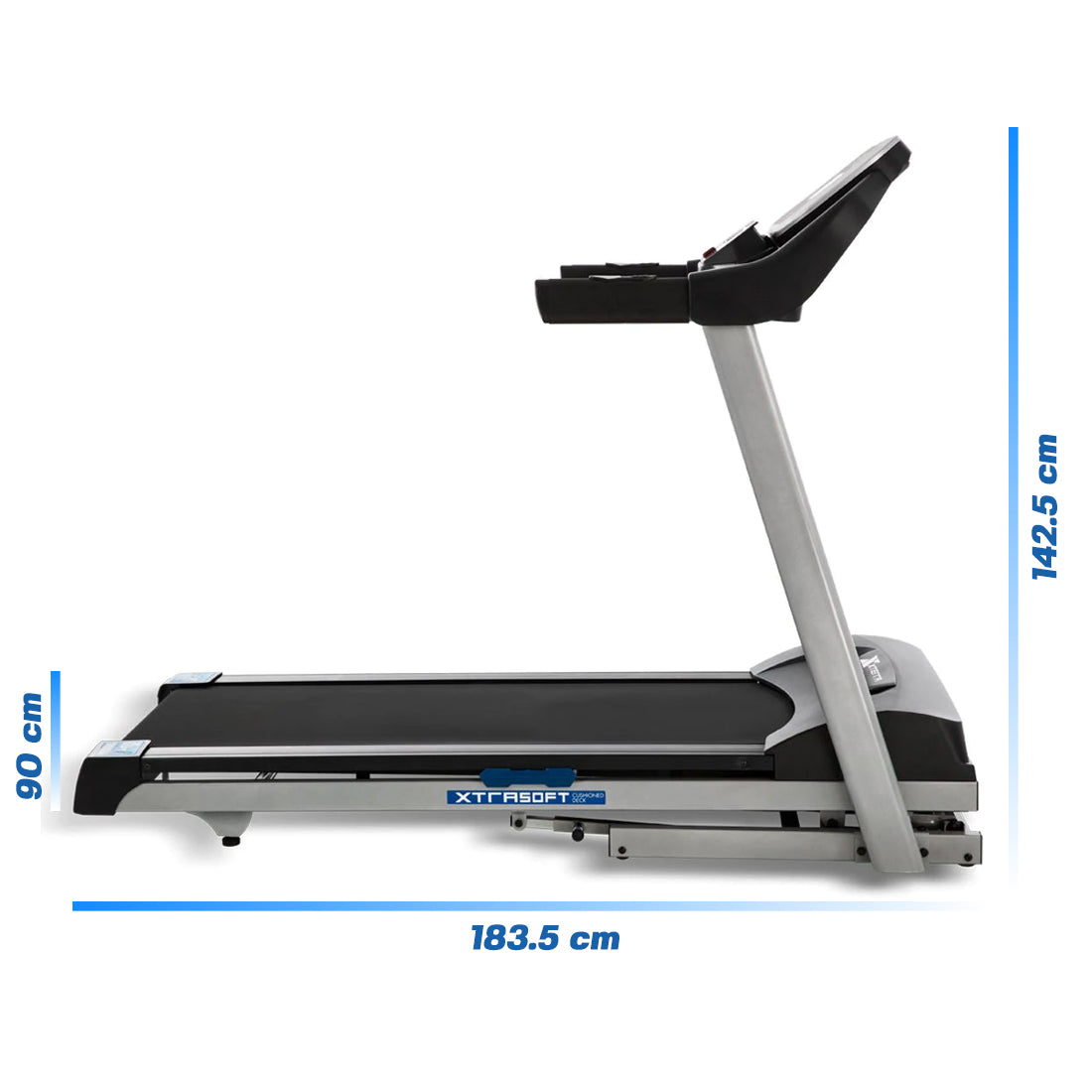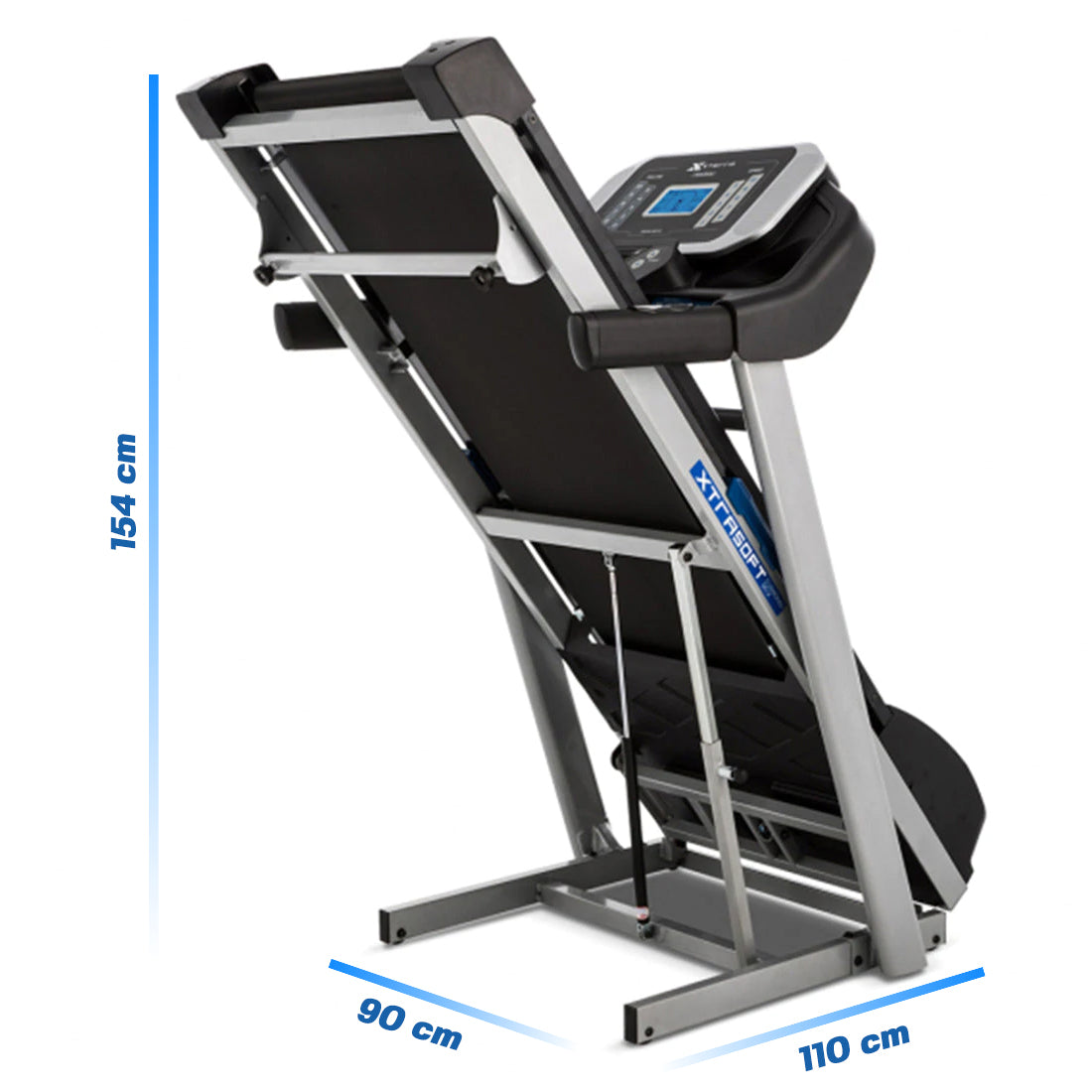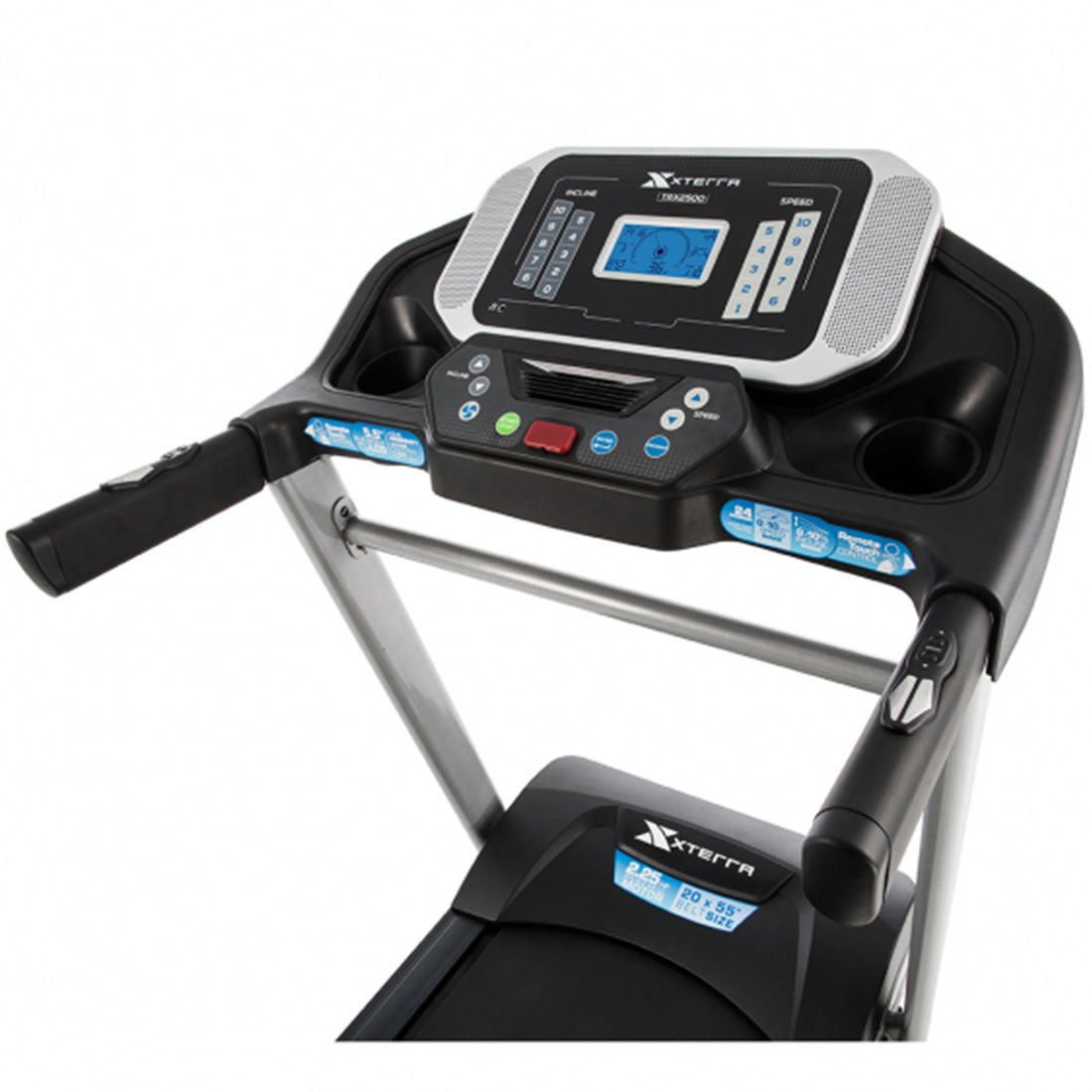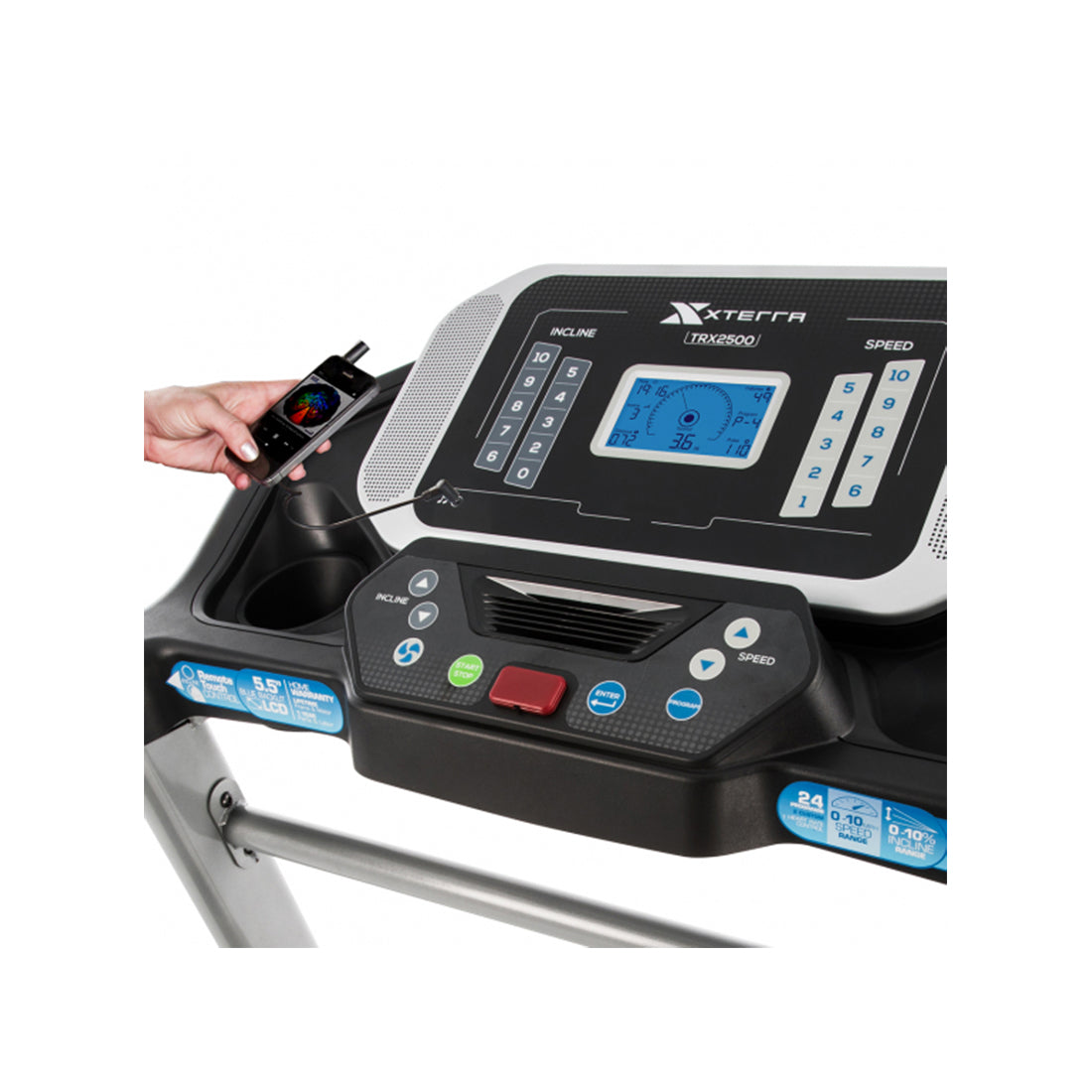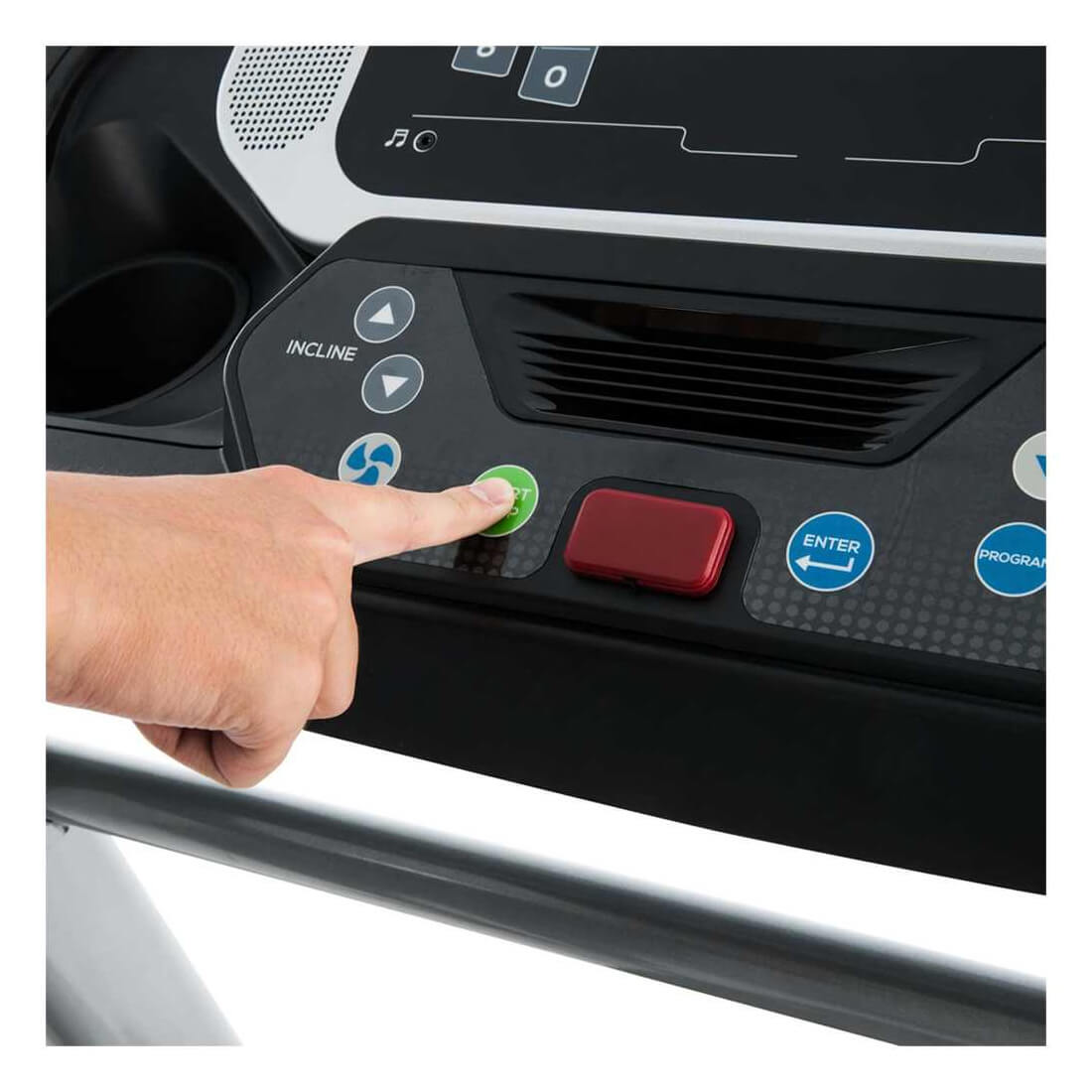 Share
Free Shipping
Get free delivery for orders above $200
A charge of $20 will be applied for orders below $200
0% Instalment Payment Plan
Applicable for the products that cost above $500
0% Interest Rate & Requires participating credit card for the plan

COD
Pay the cash at the time of delivery
Delivery & Installation schedule will be intimated
Frequently Bought Together
XTERRA TRX2500 FOLDING TREADMILL
The console display of the TRX2500 folding treadmill features an easy-to-read large 14cm Blue Backlit LCD Display with 24 preset programs for users of all fitness levels. Other convenient features include the direct access speed and incline buttons for quick workout changes, convenient handlebar controls for both speed and incline, speakers for your favorite tunes, and a cooling fan to keep you cool. The Xterra TRX2500 treadmill has a powerful 2.25CHP motor that provides speeds up to 10mph while the users can also vary the large 139.7 (L) x 50.8 (W) cm belt to incline levels from 0 - 10% for maximum workout variety. When not in use you can fold up the treadmill with the Lift-Assist frame design, which also includes a Safe Drop feature that slowly lowers the deck for added safety. Built as tough as the ultimate race it is named after, this Xterra Fitness treadmill delivers performance and results!
FEATURE HIGHLIGHTS
| | Direct Speed Buttons |
| --- | --- |
| | Handlebar Controls |
| | 3.5mm Audio Jack |
| | Built-in Speakers |
BUILT TO LAST
Made with a heavy-gauge welded steel frame for ultimate durability, the Xterra Fitness TRX2500 folding treadmill has long-lasting usage.
POWERFUL MOTOR
Smooth and quiet high torque 2.25CHP motor of Xterra TRX2500 treadmill powers the treadmill at speeds from "0 – 16km/hr".
SIMPLE YET EFFECTIVE INTERFACE
The easy-to-read bright blue backlit 14cm LCD display of Xterra Fitness TRX2500 tracks your workout feedback including program profile, time, speed, pace, distance, calories, incline, and heart rate.
DIRECT SPEED AND INCLINE
The pre-set speed and incline buttons of the Xterra TRX2500 folding treadmill for quick and easy updates to your workout.
SETTINGS FOR EVERY LEVEL
The TRX2500 treadmill Singapore has a 0 - 16km/hr speed range that accommodates a range of fitness abilities. Up to 10 electronic levels of incline help you control the intensity of your workout.
FOR EVERY WORKOUT
The Xterra Fitness TRX2500 treadmill has 24 built-in programs, as well as 2 custom programs, offering variety to your workout.
XTRASOFT DECK CUSHIONING
XTRA Soft deck cushioning technology provides maximum impact absorption exactly where you need it when walking, jogging, or running.
HANDLEBAR CONTROLS
Handlebar-mounted speed and incline controls give you an additional option to easily adjust speed and incline. Located in a perfect position for a comfortable and secure workout.
AN ENGAGING WORKOUT
The 3.5mm Audio Jack Built-in Speakers allow the user to listen to their favorite music and make the workout time much more interesting.
BUILT WITH ALL ATHLETES IN MIND
The Large 139.7 (L) X 50.8 (W) cm belt of Xterra Fitness TRX2500 Singapore plus the 110kg user weight limit accommodates users of all shapes and sizes.
CONVENIENTLY DESIGNED CONSOLE
Reading rack for a phone, tablet or book. Built-in fan to keep you cool and comfortable. Cup holders to help you stay hydrated.
DESIGNED FOR ALL SPACES
Lift-Assist helps when lifting to fold up the treadmill deck while the safe drop feature slowly lowers the treadmill deck. Transport wheels allow for easy mobility to move or store your treadmill.
SPECIFICATION
| | |
| --- | --- |
| Brand Model | Xterra TRX2500 |
| Frame Style | Manual Assist Folding |
| Drive Motor | 2.25CHP |
| Console Display | 14cm Blue Backlit LCD Display |
| Speed Range | 0 - 16km/hr |
| Incline | 0 - 10 Levels |
| Programs | 24 Preset Programs, 1 User & 1 HRC Programs |
DIMENSION
| | |
| --- | --- |
| Running Surface | 139.7 (L) X 50.8 (W) cm |
| Set-Up Dimension | 183.5 (L) X 90 (W) X 142.5 (H) cm |
| Folded Dimension | 110 (L) X 90 (W) X 154 (H) cm |
| Carton Dimension | 198.5 (L) X 78 (W) X 44 (H) cm |
| Product Weight | 94kg |
| Max. User Weight | 110kg |
WARRANTY
| | |
| --- | --- |
| All Other Parts | 3 Months |
| Labor | 3 Months |
Q: Looking treadmill for my entire family? Is this the best choice for me?
Answer
The sole commercial treadmill includes many construction features to confirm the fitness areas of one and all.
A high torque 2.5CHP Industrial Motor is used for frequent runs by multiple persons with noise-free and vibration-free performance.
A speed of a treadmill is 1 - 16km/hr Speed which covers both beginners and skilled fitness lovers by choosing from low to high speed.
The soft cushion running deck in size 139.7 (L) x 50.8 (W) cm keeps you safe during a workout session.
As heavy-duty steel construction and frame design permit maximum user weight as 110kg.
With all the above-mentioned features, our product must be the best choice for you and your family members.
Q: What to do if any fault in parts of the treadmill?
Answer
Our well-experienced installation team knocks on your door to check your issues on the sole treadmill, so don't worry about it. If there is any fault found in the running machine, then they will repair it or else replace it with a spare part (conditions applied). Anyhow, our trainers double-checked the product prior to hand over to you, so you won't detect faults in the parts. Call us at (+65) 8551 7929 for service-related requests.
Q: How to install the treadmill as a beginner?
Answer
Singapore sole fitness won't consider about you're a beginner or an experienced customer on treadmill workouts because they provide an excellent installation scheme for all their buyers. Once you paid for the product, our engineers reach you as soon as possible along with your fitness machine and installed it wherever you want to make it as ready to use. Thus, there is no requirement of upsetting the installation procedure. For queries contact at Info@Solefitness.Sg
Q: Can I practice in the uphill position on the treadmill?
Answer
Yes, you can train your body in uphill positions on the auto treadmill with its 10 Incline Levels. In addition to this, there are custom-made hand controller buttons on the side of a display console to stop at the level that suits you or increase or decrease instantly to activate all muscles.
Q: Are there any added features to avoid getting off the treadmill for many reasons?
Answer
Yeah! There are so many added features inbuilt into the inclined treadmill to satisfy all your requirements and those features please you to stay on the machine.
USB port:
A USB charging port avoids you to get off for charging your phone
Bluetooth audio speakers:
A built-in Bluetooth audio speaker allows you to enjoy your hard work, so you never turn off the treadmill for a while.
Flexible whisper deck:
A soft cushioning and flexible whisper deck reduces pain in knee joints and ankle, so you never give up on your goal.
Accessory holders:
There are accessory holders to keep energy drinks and water to preserve yourself hydrated, so here also you don't need to get off routines. With all these things in our product, you can 100% prevent turning off the machine.
Q: Don't know the exact pulse rate for me? Then, how to control or monitor my heart rate?
Answer
Do you know? Our portable treadmill has 2 heart rate programs:
1. One to calculate recommended target heart rate
2. Another to measure your current heart rate during workouts.
Therefore, based on your age, you can target the pulse rate and out hard work to reach it. Moreover, wireless chest straps are packed with our every product to synchronize your heart rate with the display console to read the value immediately when you leave your control on a handlebar.