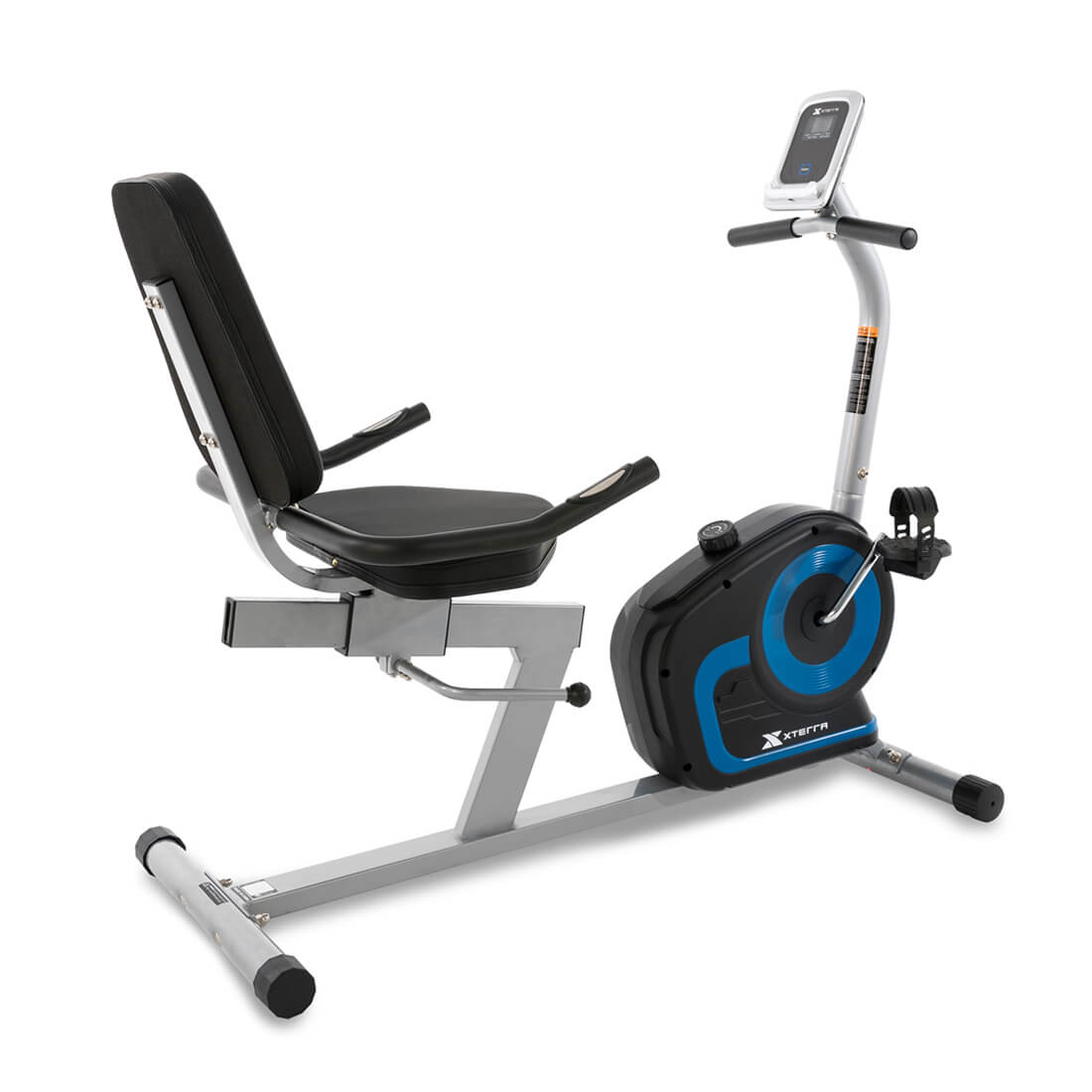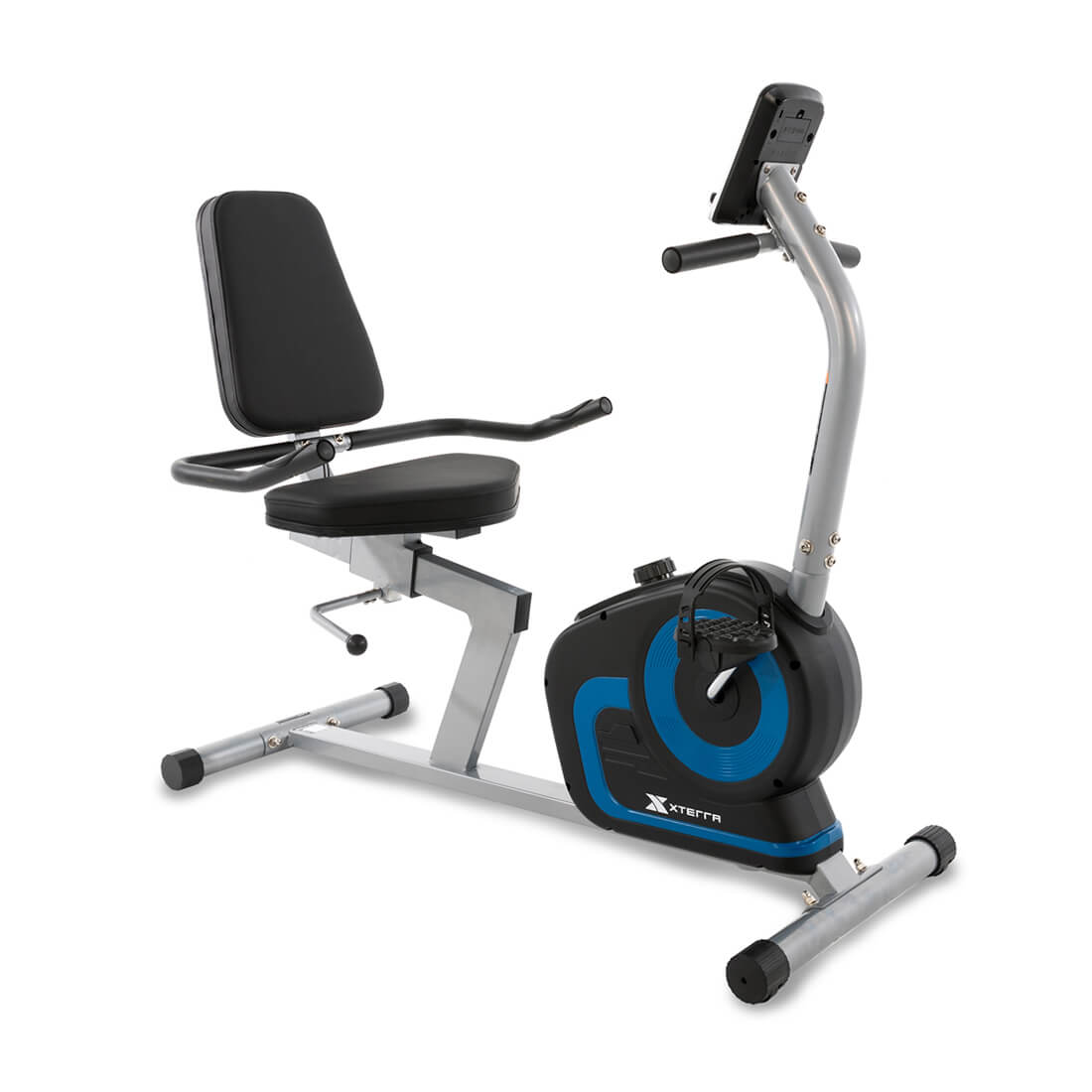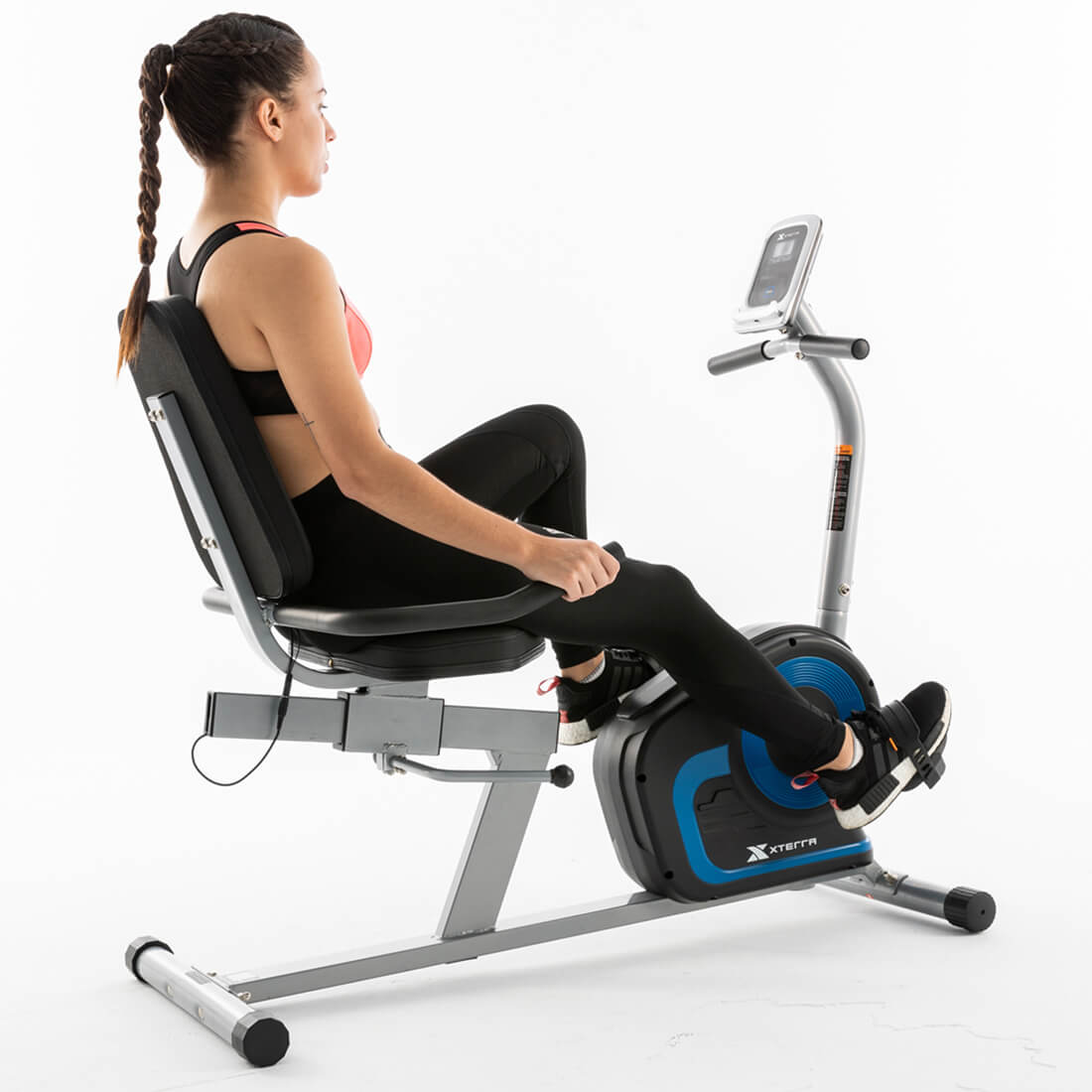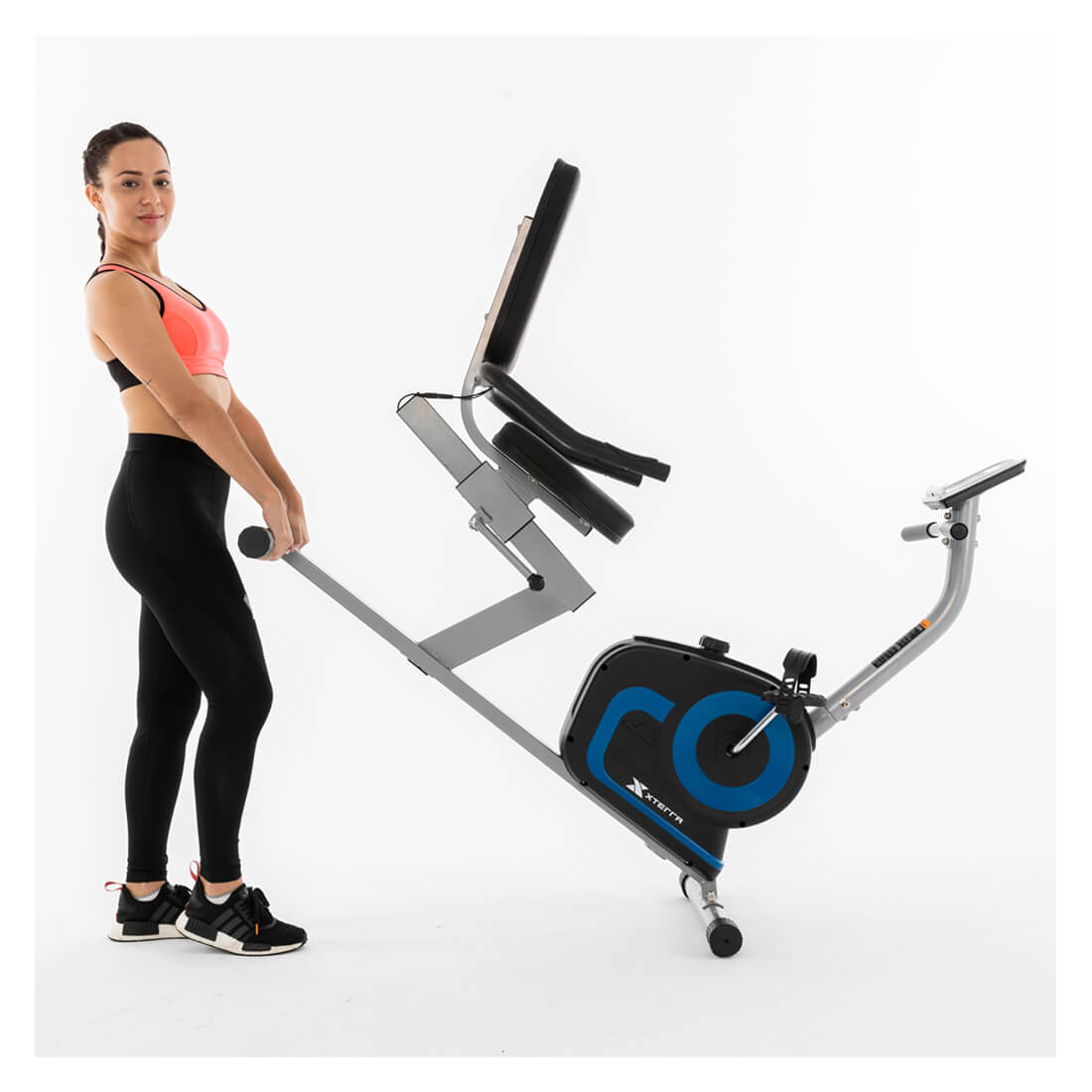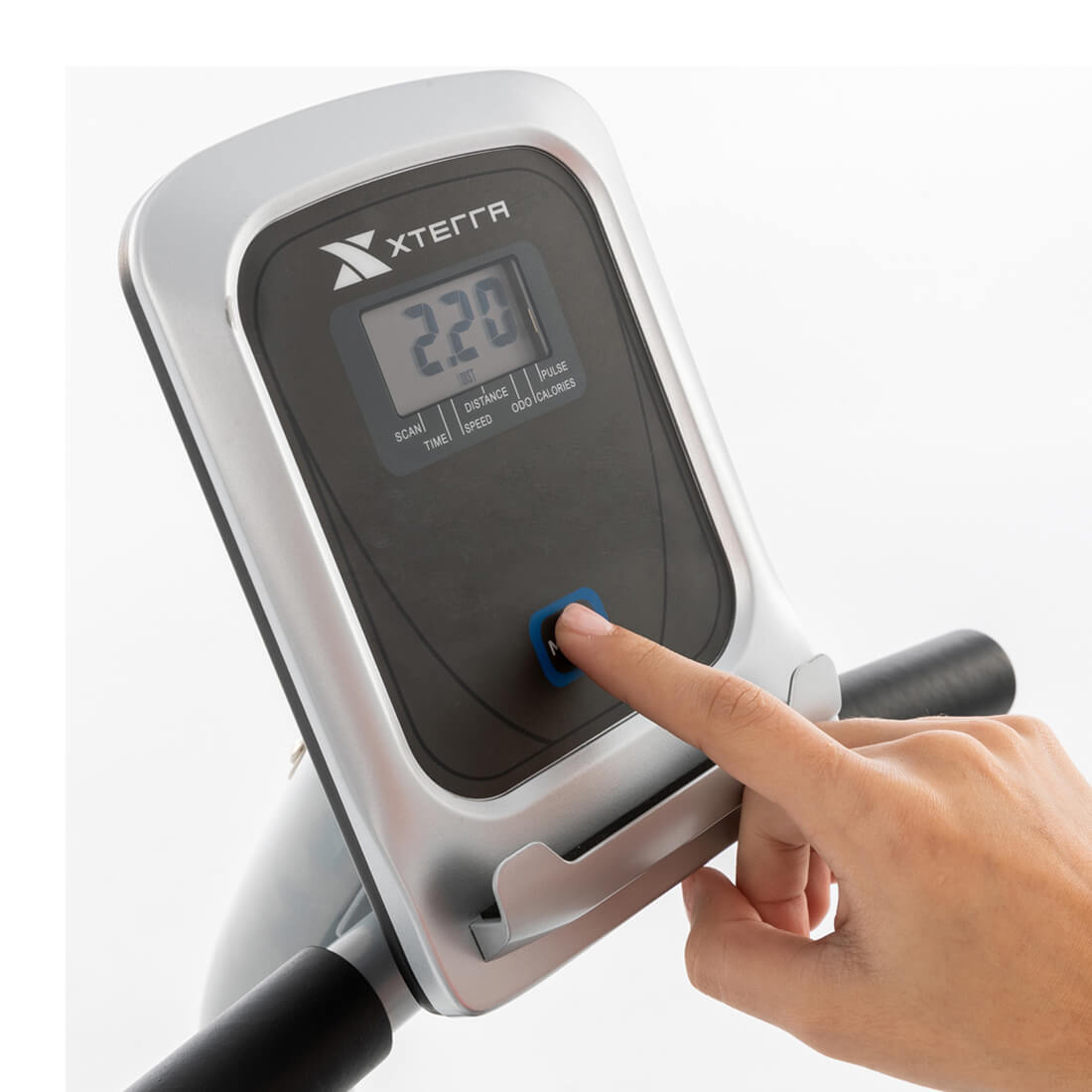 Share
Free Shipping
Get free delivery for orders above $200
A charge of $20 will be applied for orders below $200
0% Instalment Payment Plan
Applicable for the products that cost above $500
0% Interest Rate & Requires participating credit card for the plan

COD
Pay the cash at the time of delivery
Delivery & Installation schedule will be intimated
XTERRA SB120 SEATED RECUMBENT BIKE
COMPACT FRAME DESIGN
Engineered with high-quality materials, our SB120 recumbent bike is supremely durable, reliable, and offers long-lasting usage even after several years of use. The step-through and minimal footprint design make this cardio equipment a compact and space-saving home gym solution.
EFFECTIVE LCD DISPLAY
The SB120 Xterra Fitness exercise bike has a clear, highly visible, and easily accessible LCD display with a dimension of 2.2 (L) X 1.3 (W) cm. This integrated console perfectly displays the regular workout metrics like Time, Distance, Speed, Heart Rate, and Calories.
SOFT PADDED SEATS
This Xterra SB120 recumbent bike is renowned for its oversized and soft padded seat. The precisely molded backrest allows the exerciser to have a comfortable, relaxed sitting position and ease on the joints. Hence, this exercise bike offers a low-impact workout, reduces back pain and this adjustable seat fits riders of 4'10" to 5'10". The seats can be adjusted by the handle that is pin-pointed beneath the seat's frame.
OVERSIZED FOOT PEDALS
The oversized foot pedals of our Xterra Fitness SB120 seated bike ensure a more stable and balanced workout. The pedals are large enough to carry out the increased resistance level training as more force will be required for pedaling. Thus, these pedals assist in improved pedaling performance and strengthen the legs and lower-body muscles.
LEVELS OF RESISTANCE
Recumbent SB120 bike has 8 levels of resistance that allow the user to perform their workout in different levels of intensity. The resistance can be quickly changed with the help of a dial knob that is located in the flywheel's top area. The 4kg flywheel with a belt-driven system offers a quiet and smooth lower-body workout.
CARDIO MONITOR
The two hand pulse grips are located at either side of the padded seat. The in-built pulse sensor in the handles monitors the heart rate and enables the monitoring on-board. The handles are rigid and comfortable for holding.
EASY MOBILITY
You have the freedom to transport this Xterra SB120 bike anywhere within your home gym, garage, or any other workout zone. It has smooth transportation wheels that ensure quick and struggle-free mobility.
SPECIFICATION
| | |
| --- | --- |
| Brand Model | Xterra SB120 |
| Console Display | 2.2 (L) X 1.3 (W) cm LCD Display |
| Resistance Levels | 8 Levels |
| Handlebar | Multi-grip Handles Located Adjacent to the Seat |
| Seat | Oversized Padded Seat with Backrest |
| Pedals | Foot Pedals with Adjustable Strap |
| Flywheel Weight | 4kg |
| Programs | Standard Program |
DIMENSION
| | |
| --- | --- |
| Set-Up Dimension | 123 (L) x 63 (W) x 108 (H) cm |
| Max. User Weight | 113kg |
WARRANTY
| | |
| --- | --- |
| All Parts | 3 Months |
| Labour | 3 Months |
Q: Looking exercise bike to work with my family members, so whether its suit for me or not? If yes, how comfortable is the seat?
Answer
This SB120 exercise bike is designed with an oversized and soft padded seat, so this is going to be the best choice for you to work with your family members and people of all sizes can make use of this with its extra-large seat. Additionally, it also includes a precisely designed backrest seat to ensure better comfort for elders, so senior people can perform running in a relaxed sitting position with no back and neck pain.
Do you know? Our Xterra seated bike allows you to adjust the height of the seat so that anyone in your family to accomplish it right!! Thus, change the height from 4'10'' to 5'10'' based on your need. Finally, our products meet all your needs in the exercise cycle.
Q: Is 4kg power of flywheel enough for fitness goals?
Answer
To say whether a 4kg flywheel capacity is enough or not, you have to take a decision on your requirements, because it highly depends on requirements. If you're a starter and want to do running at low resistance to avoid outside walking, then our seated recumbent bike is more than enough. Likewise, our stationary bike is the right choice for people who like to have lighter flywheels to get rid of issues with heavier ones. Accordingly, the 4kg power of the flywheel is adequate for beginners and home gym users.
Q: What is a magnetic resistance exercise cycle? Is Need for my gym?
Answer
Generally, a magnetic resistance exercise bike has no direct contact with the flywheel, so there is no mechanical tear and wear to maintain properly and replace regularly. This is a major advantage for reasons to have this spinning bike for home gym. With this magnetic bike, it's very easy to switch from one resistance to another. Apart from these, so many benefits associated with this type such as
Noiseless bikes
No required maintenance
Saves money in replacement
Saves money in maintenance
Comes for budget
Provides a quiet and smooth ride
Q: What is the foot pedal size of the recumbent bike?
Answer
The indoor cyclic bike is engineered with an oversized foot pedal design to satisfy users of all levels and sizes. Users who already have experience in stationary bike workouts may want to perform at moderate to high resistance. Running at peak speed needs 100% safety and comfort on the foot pedals, so our Singapore sole fitness team designed extra-large pedals along with adjustable straps for added security and relaxation. At last, it's easier to move your legs on the pedal and fits users of any size.
Q: Can I obtain low-impact working experience with this fitness bike as a cardio lover?
Answer
With our exercise cycle for weight loss, you can get excellent low-impact cardio results very quickly & effectively, and as well as improve your experience by monitoring each step instantly. Yes, this home exercise bike has handlebars on each side of the machine with integrated pulse sensors to check your heart rate simultaneously. Checking heart rate helps to choose the right resistance level. Working at an exact speed is very important to avoid health issues and injuries. Therefore, this is a perfect option not only for cardio lovers but also for other fitness freaks.
Q: Does it require an AC power supply?
Answer
No, our gym bicycle doesn't require an AC power supply, and the 2.2 (L) X 1.3 (W) cm LCD Display needs only 2 AA batteries. That's all!! You don't need to look for an AC power supply.
Q: What is the maximum user weight allowed by the seated bike?
Answer
The maximum user weight permissible in the cycling machine is 113kg, which is more than sufficient for you, your family members, and your friends if you like to share with them. We used a strong and sturdy steel material for the construction, so you may exceed this rule but it's best to avoid that to extend the lifetime.
Just Buy this one
Seller do own delivery and installation at cost. anyway fulfilled the job promised.
Good Choice
I love the seating of this bike because the large seat can be adjusted as per our likes and hence dont put stress over the back areas. Excellent design.
Thank you for choosing solefitness.sg
Fast Shipping
Its a 2 days delivery. Quite impressive installation team. Thanks a lot sole fitness singapore.
Thank you for choosing solefitness.sg
Love the work
Works well. simple and easy. Quick delivery and perfect installation
Thank you for choosing solefitness.sg
Outstanding Support
Ordered the bike 3 days before and it got delivered yesterday. The installation guys done a very good assembly and clearly explained my doubts. Thank you for the great support.
Thank you for choosing solefitness.sg