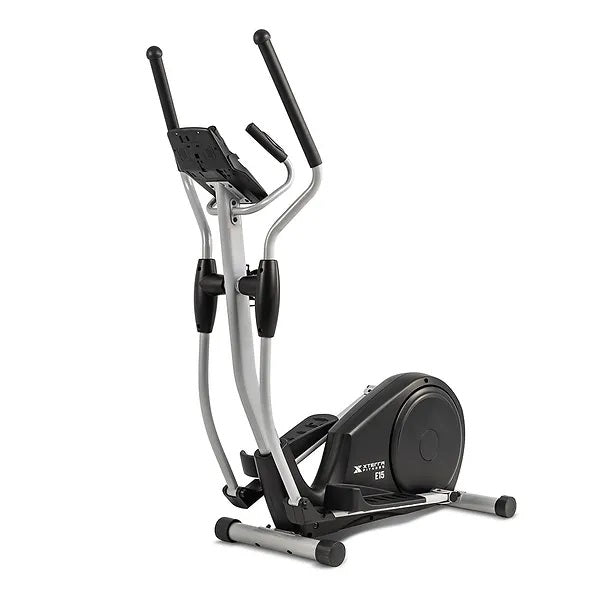 Share
Free Shipping
Get free delivery for orders above $200
A charge of $20 will be applied for orders below $200
0% Instalment Payment Plan
Applicable for the products that cost above $500
0% Interest Rate & Requires participating credit card for the plan

COD
Pay the cash at the time of delivery
Delivery & Installation schedule will be intimated
EXCELLENT BELT-DRIVEN
The E15 elliptical is an excellent belt-driven cardio machine for home use that lets you take fitness to the next level. 23 training programs and 24 challenging resistance levels allow for further customization that caters to each user's fitness levels and goals.
FUNCTIONAL HANDGRIPS
Your E15 Elliptical Trainer has built-in hand pulse grips located on the handles next to either side of the seat. To monitor your heart rate, simply grasp both hand pulse grips ensuring steady contact is made between your hands and the metal contact pads for at least 10 seconds. Once the machine has detected your pulse, the heart rate will be display in the Pulse section on your screen.
ADDITIONAL MERITS
Attach the transmitter to the elastic strap using the interlocking button,Adjust the strap as tightly as possible as long as the strap is not too tight to remain comfortable. Position the transmitter with the logo centered in the middle of your torso facing away from your chest, Attach the final end of the elastic strap by inserting the round end and, using the locking parts, secure the transmitter and strap around your chest.Position the transmitter directly below the pectoral muscles.
SPECIFICATION
| | |
| --- | --- |
| Brand Model | Xterra E15 |
| Resistance Levels | 24 level |
| Stride Length | 41cm |
| Flywheel Weight | 7kg |
| Programs | 1 Manual, 12 Preset, 4 User Settings |
DIMENSION
| | |
| --- | --- |
| Set-Up Dimension | 129.5 (L) X 60 (W) X 160 (H) cm |
| Max. User Weight | 120kg |
WARRANTY
| | |
| --- | --- |
| Frame | Lifetime |
| All Other Parts | 1 Year |
| Labor | 1 Year |
Q: What is the ideal flywheel weight for an elliptical trainer?
Answer
The Xterra elliptical cross trainer comes with a 7kg flywheel, which is the most recommended flywheel capacity for indoor fitness routines. This ideal power makes you feel like traveling uphills in your workout session by generating more intensity. Thus, this is going to be the best choice for people who looking elliptical cross trainer for home gym.
Q: Can I accommodate this cross-trainer in a compact area?
Answer
Yes, you can easily accommodate the e15 elliptical trainer in a smaller area of your home or room. To ensure this is a compact elliptical trainer, it's best to know the set-up dimension of the machine as 129.5 (L) X 60 (W) X 160 (H) cm, which also includes built-in transport wheel to move easily wherever you want. So, this is going to be the best space-saving option by keeping a side when not used.
Q: What's about the quality of this elliptical cross trainer?
Answer
When you reach high in elliptical resistance, you have to pedal as fast as you can to maintain it to burn desired calories or build strength. This scenario is the same for one and all trainers on an elliptical machine. In this case, considering the quality of the machine is very important to ensure a long-lasting option. You know, Singapore sole fitness already thought about it and constructed the E15 elliptical cross trainer with sturdy and heavy-duty materials to impress you. So, don't father a lot.
Q: Can I target both the upper and lower body in this cross trainer?
Answer
With the 24 resistance levels and oversized foot pedal, you can able to concentrate on your lower body easily and effectively. When it comes to the upper body, your arms have to perform faster to attain their aim. As we provide powerful incline features to target even the lower body. Therefore, you can focus on both the upper and lower body in our gym cross trainer.