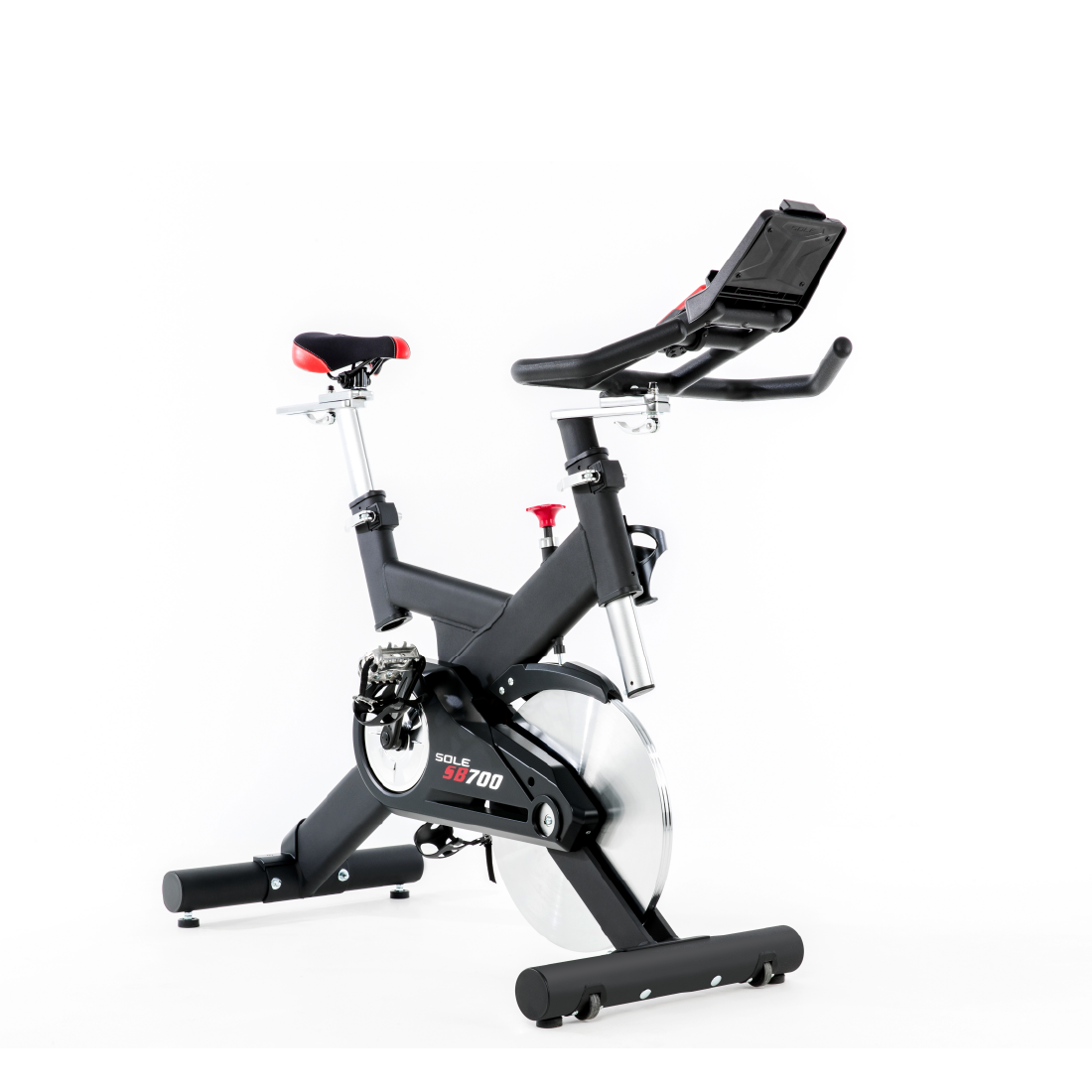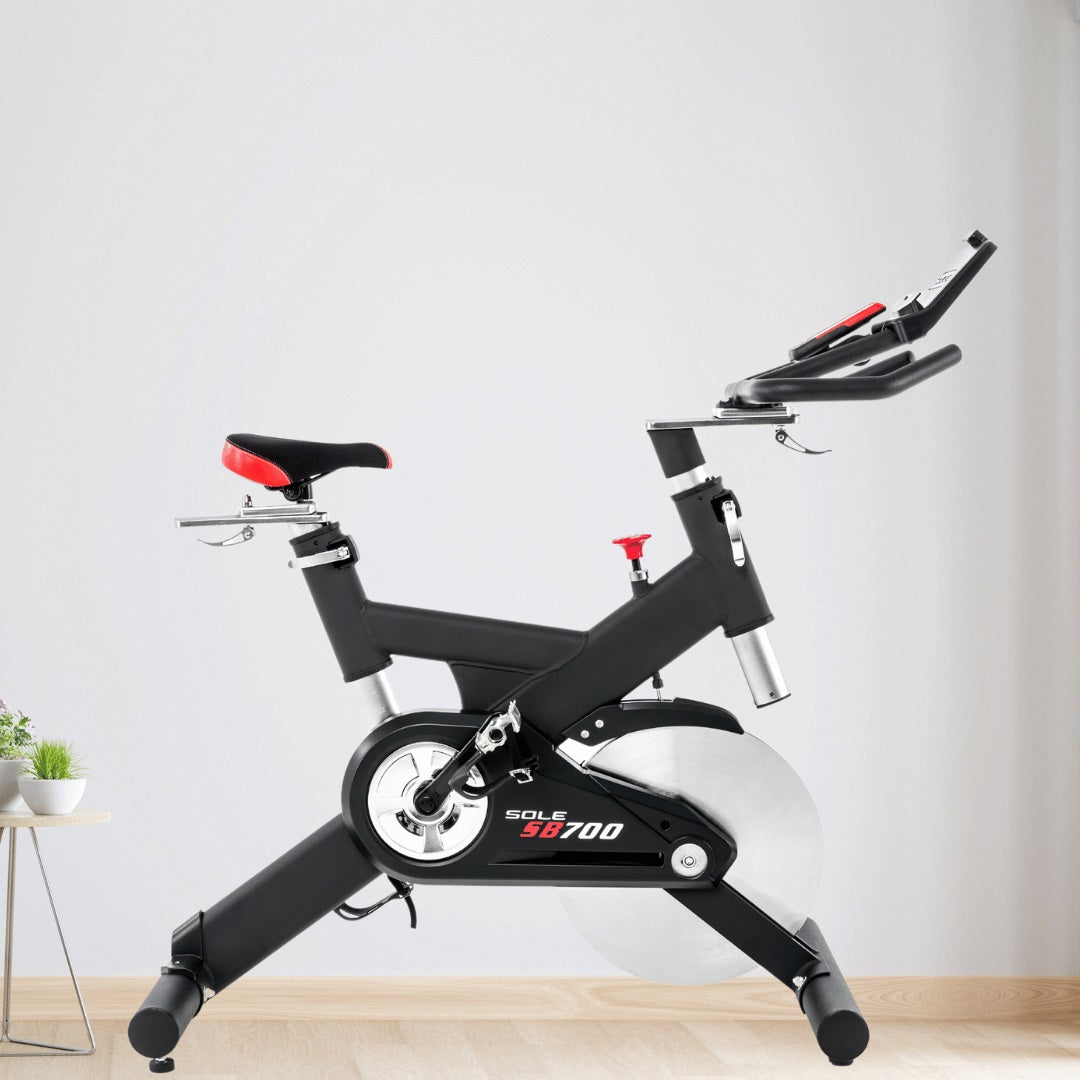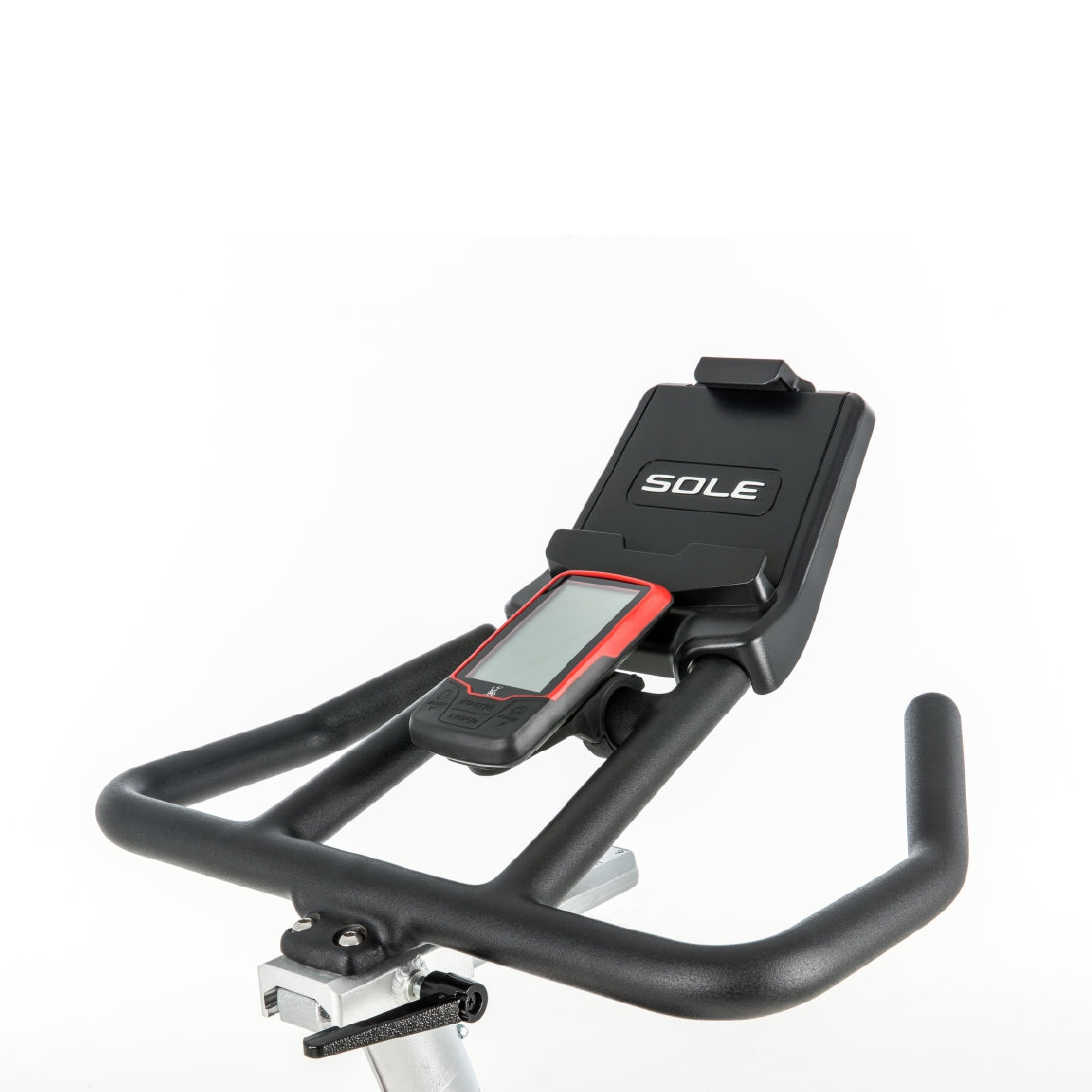 Share
Free Shipping
Get free delivery for orders above $200
A charge of $20 will be applied for orders below $200
0% Instalment Payment Plan
Applicable for the products that cost above $500
0% Interest Rate & Requires participating credit card for the plan

COD
Pay the cash at the time of delivery
Delivery & Installation schedule will be intimated
RIGID CONSTRUCTION
The SB700 Sole exercise bike effectively mimics the feel of a road bike with its precision-balanced flywheel to allow an incredibly smooth ride. This heavy-duty 22kg chrome plated flywheel provides a smooth ride to meet the needs of most riders. Pad resistance and a large flywheel make the bike operation whisper quiet. The well-designed drive and a Kevlar Braking System contribute to this cycle trainer's quiet operation. The resistance system along with parts of the flywheel has a sweat protection cover.
SIMPLE YET EFFECTIVE DISPLAY
The integrated and battery-powered console LCD display 10.1 (L) X 7.6 (W) cm of Sole SB700 indoor cycle displays RPM, time, calories burnt, distance, and speed. It is also compatible with a wireless heart rate chest strap, ensuring users that they are staying within their heart rate training zones and working to get their optimal results.
ADJUSTABLE RESISTANCE
The felt-pad is set above the flywheel which brushes up and creates friction against the flywheel. This friction resistance can be easily adjusted with the resistance knob offers quick and easy changing of resistance levels and to stop the bike just press down the knob just like a brake system in the regular road bike. The varying levels of resistance, let the users to self-challenge and rapidly increases their workout level persistently. Note: Currently, the watts and other variables are reflected according to speed and not resistance.
ADAPTABLE SEAT
The Sole SB700 spin bike has generously padded seats which follow body contours to ensure maximum comfort of the rider while absorbing shock. Thickly padded, its gel seat provides plenty of cushioning so you will be able to work out for longer without feeling discomfort. The seat saddle height can be adjusted with the quick-release lever and the seat can also be moved forward or backward with the help of another lever. The seat is fully adjustable allowing users to find the most comfortable seating position throughout their ride.
SNUG PEDALS
The Sole SB700 fitness bike features oversized flat pedals for user comfort. Straps are included for adjustments and to prevent slipping. The bike's pedals have 2 degrees of slant that support optimal alignment during workouts thus preventing aches in the rider's knees and feet. The caged pedals make the running shoes or any athletic shoes fit perfectly on the pedals and are perfect for advanced cyclists. To use with special clipless athletic shoes, they can also be used as SPD pedals. If you have this kind of shoes, then you need not replace the pedals.
COMPLACENT HANDLEBARS
The shape and design of the handlebars are quite similar to the road bike and the height can also be adjusted up or down with the leveler adjustment. These uniquely structured handlebars offer an extremely rigid and smooth holding while riding. The bottom line is, the easy-to-access console and regular road bike design make this Sole Fitness SB700 exercise bike a simple yet effective fitness option for all fitness freaks.
NIFTY ADD-ONS
Our sole SB700 light commercial indoor cycle has the tablet holder to place the iPad/Tablet that is located over the top of the console. This allows you to use your smart devices to watch shows or follow your workout routines through Zwift. The bike is also equipped with a water bottle holder where you can place your water or energy drinks for a long-time ride. You can also attach weight holders for placing small kettlebells like weights.
SMART FEATURES OF INTEGRATION
The integrated Bluetooth connectivity of this SB700 spin exercise bike allows users to seamlessly connect to leading 3rd party apps such as Zwift, Kinomap, Health, and many others. Zwift is an online cycling game and training program that enables users to ride, train and compete in a virtual world. Get ready to connect with cyclists around the world!
SPECIFICATION
| | |
| --- | --- |
| Brand Model | Sole SB700 |
| Console Display | 10.1 (L) X 7.6 (W) cm LCD Display |
| Resistance Levels | Felt Pad Brake Resistance |
| Handlebar | Multi-position Handlebars |
| Seat | Fully Adjustable Gel Seat |
| Pedals | SPD Pedals |
| Flywheel Weight | 22kg |
DIMENSION
| | |
| --- | --- |
| Set-Up Dimension | 121 (L) X 53.8 (W) X 121.5 (H) cm |
| Carton Dimension | 107.5 (L) x 22 (W) x 102 (H) cm |
| Product Weight | 64kg |
| Max. User Weight | 135kg |
WARRANTY
| | |
| --- | --- |
| All Parts | 3 Months |
| Labor | 3 Months |
Q: What is the wattage required to use this spin exercise bike?
Answer
Our Sole spin exercise bike is designed with magnetic resistance, which is not directly connected to the flywheel. Additionally, the magnetic resistance is not reflected on the console because the sensor used in this is not detected the different levels of resistance. Generally, the wattage is calculated based on the speed and not the resistance, so users do not need to worry about the wattage requirement.
Q: How the heart rate is connected with the display console of a spin bike?
Answer
Our SB700 spin bike is packed with free chest straps to wear for accurate heart rate. There is a pulse sensor in the handlebars which is integrated with a 10.1 (L) X 7.6 (W) cm LCD Display. Pulse sensors used in this spin bike predict the user's heart rate through the silver-coated handlebars and show it on the screen and our chest straps help to measure accurate value.
Q: What are the add-ons available in this exercise cycle?
Answer
The integrated Bluetooth connectivity of our exercise cycle allows its users to connect this machine to third-party apps like Zwift, Kinomap, Health, and many others. All these apps take you to the virtual world of competition with your friends, family members, or others. For example, the Zwift app is an online cycling game and is also called a training program that permits you to ride, train and compete in a virtual world. Be ready to connect with cyclists around the world!!
Q: What type of pedals are used in the spin bike for home?
Answer
We use pedals in the spinning cycle, which is an oversized flat pedal to ensure user comfort and also includes straps to adjust the foot to prevent slipping. Moreover, it is designed with a 2-degree inward tilt to support your leg in all optimal alignment. With all these features, users can avoid aches in the knees and feet.
Q: Is the permissible user capacity adequate for all?
Answer
our well-talented engineers keep all athletes in mind and produced this best spin bike for people of all ages and all sizes. The maximum permissible user weight of 135kg is more than enough for almost all fitness freaks.
Q: What is a display set?
Answer
A display set is the one that is used for display in our showroom.