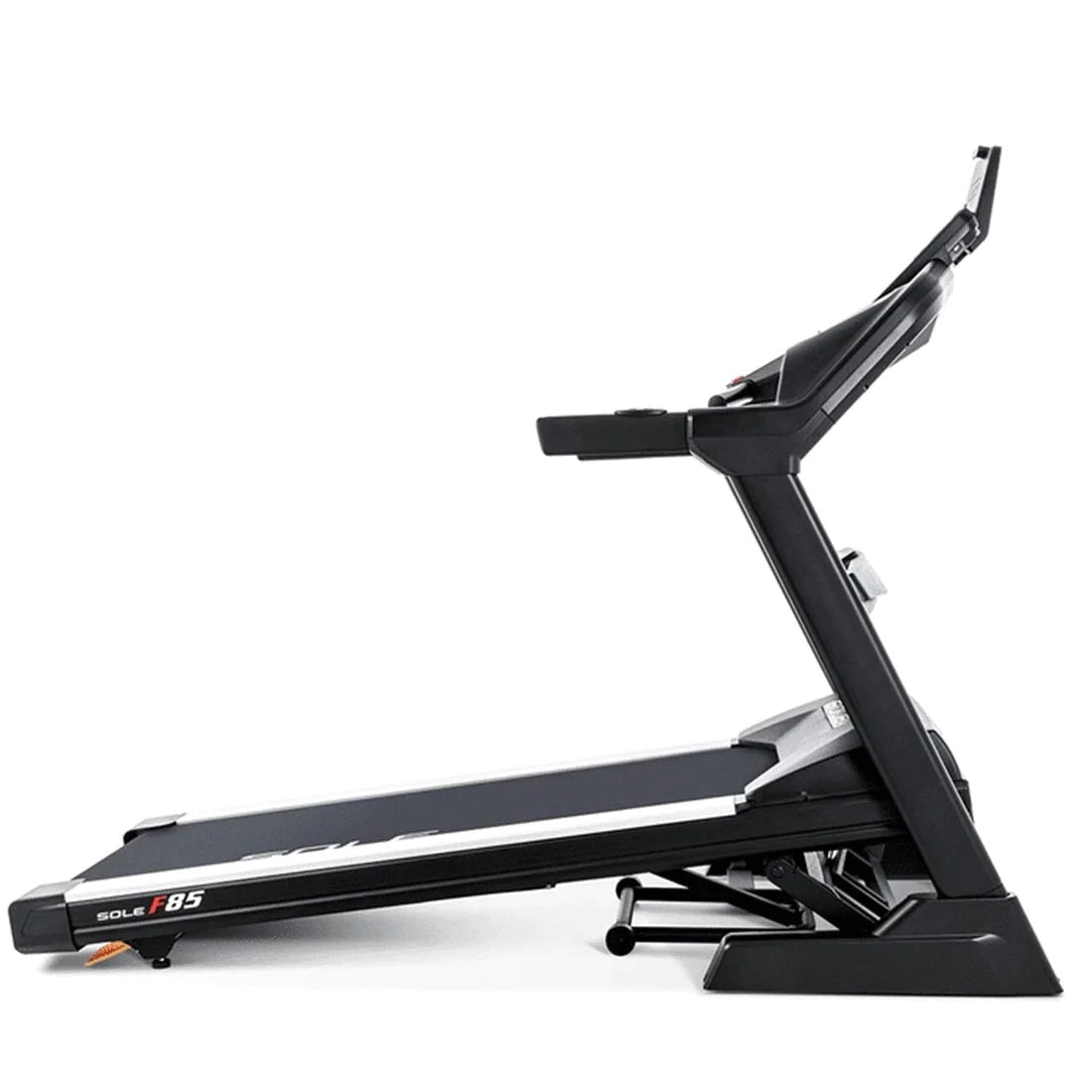 Share
Free Shipping
Get free delivery for orders above $200
A charge of $20 will be applied for orders below $200
0% Instalment Payment Plan
Applicable for the products that cost above $500
0% Interest Rate & Requires participating credit card for the plan

COD
Pay the cash at the time of delivery
Delivery & Installation schedule will be intimated
SOLE F85 FOLDING TREADMILL - TOUCH PANEL
Brand New Infinity Console
The best running treadmill Sole F85 Model is here to satisfy all your fitness anticipations. The new infinity console has been impressively upgraded with smart features like Touch Screen, Wi-fi, Bluetooth & Screen Cast/Mirroring, and more entertainment features. Constructed with extremely durable materials, 4CHP High-torque Motor, and with smart LCD Console Display, our Sole F85 just made a remarkable footprint in the fitness equipment market. Users can now feel the real joy of workout with the latest 10" touch panel with extensive smart features.
FEATURE HIGHLIGHTS
| | Touchscreen Display |
| --- | --- |
| | Screen Mirroring |
| | Cloud Integration |
| | Preloaded Apps |
-->
TOUCH SCREEN DISPLAY
The upgraded infinity console of F85 treadmill is built with a 25.7cm TFT LCD screen with a centralized and improved user interface. The display looks bright and has high visibility, easy access, and control of the multiple training programs.
7-PRESET APPS
The display console is pre-loaded with some external APPS such as YouTube, Netflix, ESPN, CNN, ABC News, CBS News, and NBC News. To enjoy all these Apps while running, users need to get their own subscription for access. The selected APP types include news, social media, video, stream, etc.
SCREEN MIRRORING
The new infinity console of treadmill F85 supports mirror casting from iOS/Android devices into the workout console. By using this smart facility, users can cast their favourite digital content from smart devices. Connect the console and phone to the same Wi-fi then open the device's App and select the model. That's it! Now the mirroring starts!
UNLIMITED CHALLENGES
In addition to 7 pre-loaded fitness tests programs, users can self-challenge their workouts. The console has Pre-set Military Fitness Test Workouts such as Air Force, Army, Coast Guard, Marine, and Navy. It assists in getting athletic workouts and lets the user have the liberty to plan their own programs based on age, gender, and completion time.
CLOUD INTEGRATION
Integrating the New SOLE+ App with the infinity console display, let the exerciser synchronize and monitor their workout history, once the Sole+ account is created. Obtain access for tracking in-depth summary and progress of the workouts. Exercisers can make their own Daily/Weekly/Monthly programs to reach the goal of obtaining effective outputs and increase competitiveness.
MOST ADVANCED HYDRAULICS
Using the manual workout option, users can create their own template with desired settings and programs. The console displays the Total Distance, Time, Calories, Heart Rate synced with a heart rate monitor, and Speed.
SOLE+ APP
The Sole+ APP has a whole new interface design that just lets you stride an extra mile. No matter what kind of Sole Equipment you are using just set up your own account, and choose the related settings to establish all your personal challenging goals. Sole+ featured the high compatibility between software and device. We apply the same collated and analysed logic as most of the mainstream apps, so you can transfer the data to different platforms.
SPECIFICATION
| | |
| --- | --- |
| Brand Model | Sole F85(21)-ENT-DS |
| Frame Style | Folding |
| Drive Motor | 4CHP |
| Console Display | 25.7cm TFT LCD Display |
| Speed Range | 1 – 22km/hr |
| Incline | 0 – 15 Levels |
| Programs | 6 Pre-set, 2 Custom & 2 HRC Programs |
DIMENSION
| | |
| --- | --- |
| Running Surface | 152 (L) x 56 (W) cm |
| Set-Up Dimension | 208 (L) x 93 (W) x 168 (H) cm |
| Folded Dimension | 115 (L) X 93 (W) X 180 (H) cm |
| Carton Dimension | 217 (L) X 94 (W) X 44 (H) cm |
| Product Weight | 127kg |
| Max. User Weight | 150kg |
WARRANTY
| | |
| --- | --- |
| All Parts | 1 Year |
| Labor | 1 Year |
Q: Want to know more about the display panel?
Answer
The Sole treadmill is upgraded with a TFT LCD Display screen of size 25.7cm that ensures a user-friendly interface. With a bright and visible touch console, it's very easy to access and control multiple programs.
Q: Can I access the social media app on this treadmill?
Answer
Yes, you can access the social media app with the advanced technology used in the F85 treadmill. Our running machine knocks on your door with some pre-loaded external apps such as Netflix, Youtube, ESPN, ABC news, NBC news, and CNN. Simply subscribe to all these apps and enjoy your activities on social media, video, or news.
Q: How to use screen mirroring in this treadmill?
Answer
Our compact treadmill's display console has infinity features that support screen mirroring from your Android phone to the machine's console. In order to make use of this smart facility, just follow the below steps:
Connect the phone and display console to the same network
Open the mirror casting app
Select the model name or number
Now, you can use this clever technology to cast your popular content on our
portable treadmill
.
Q: Can I monitor my workout history and progressive report?
Answer
We introduced a new Sole+ app in this advanced treadmill to monitor your workout history and synchronize by creating an account for you to obtain a summary of fitness. By accessing the summary in-depth for weekly or monthly to compare progressive reports of workouts, you can able to achieve fitness goals very quickly. It's very easy to create an account in the Sole+ app to enjoy our full-fledged walking assistance.
Q: Can I make changes to the settings and programs of a treadmill?
Answer
Yes, you can make changes to the settings and programs of an inclined treadmill. Instead of making changes to the pre-installed template of a folding treadmill, simply create your own template with your desired program settings, where maintain your time, speed, calories, pulse, and many more for future reference or comparison.
Q: Can I share my workout details on my smartphone?
Answer
Yes, you can share your workout details not only on your smartphone but also on various platforms. To establish this feature in an auto treadmill, you have to create your own account in the sole+ app along with the required settings.
Q: Is this suitable for all fitness anticipants?
Answer
There is no limitation in the fitness goals with the Singapore sole fitness treadmill, so anyone from beginners to lose weight to Army men to test workouts can use this treadmill. Similarly, no restriction in age and gender to run on this machine because allows the creation of your own program based on your capabilities.
Q: What is display set?
Answer
A display set is the one that is used for display in our showroom.