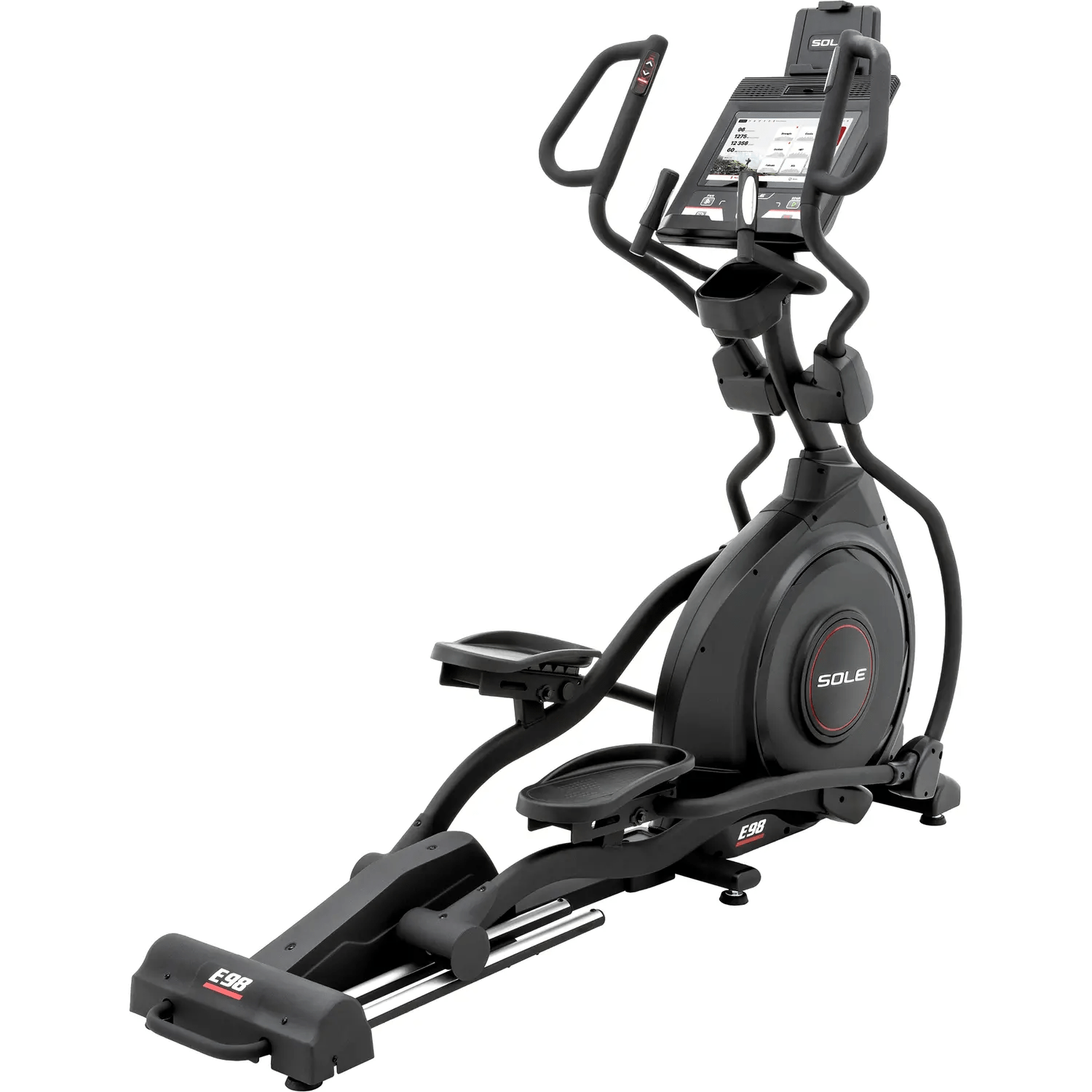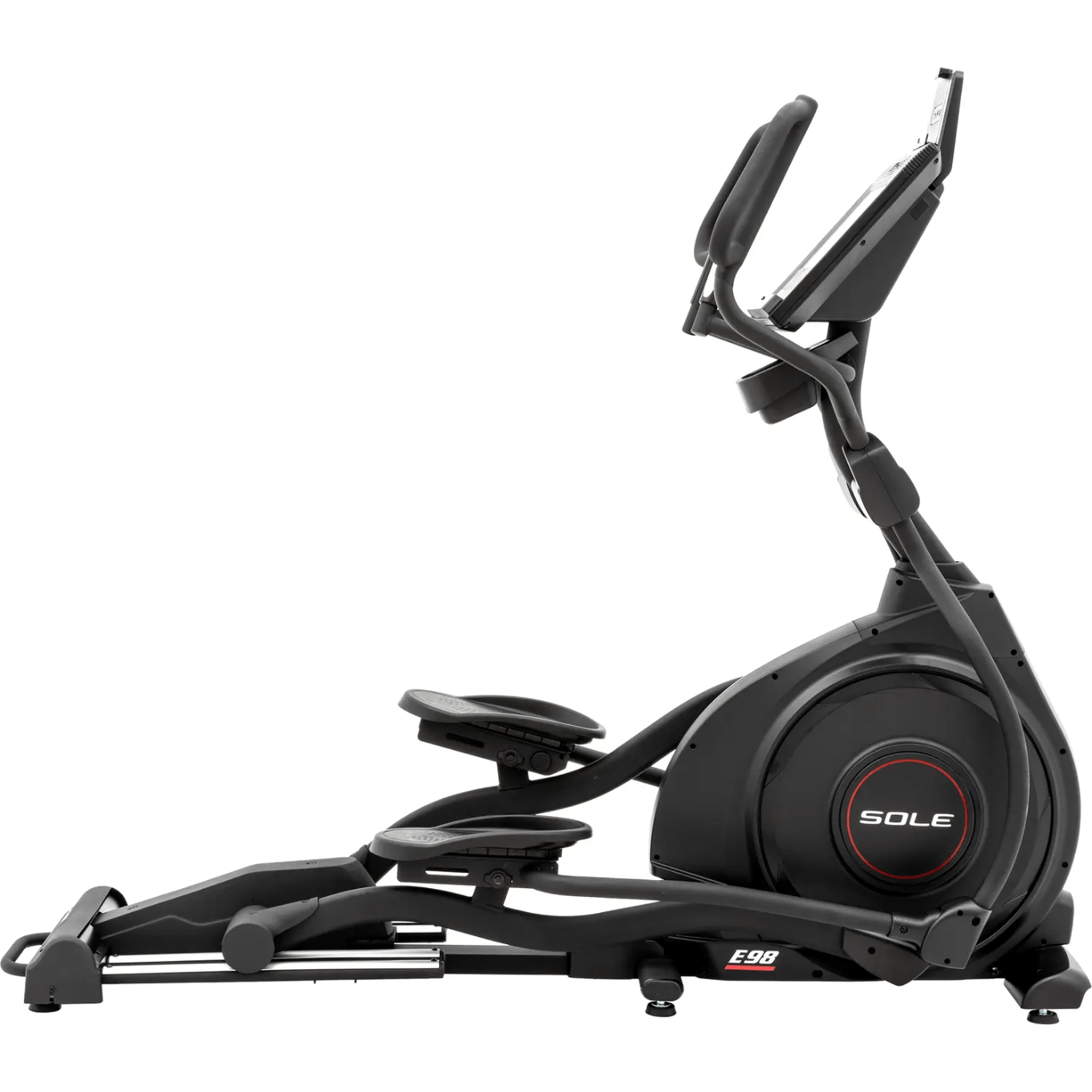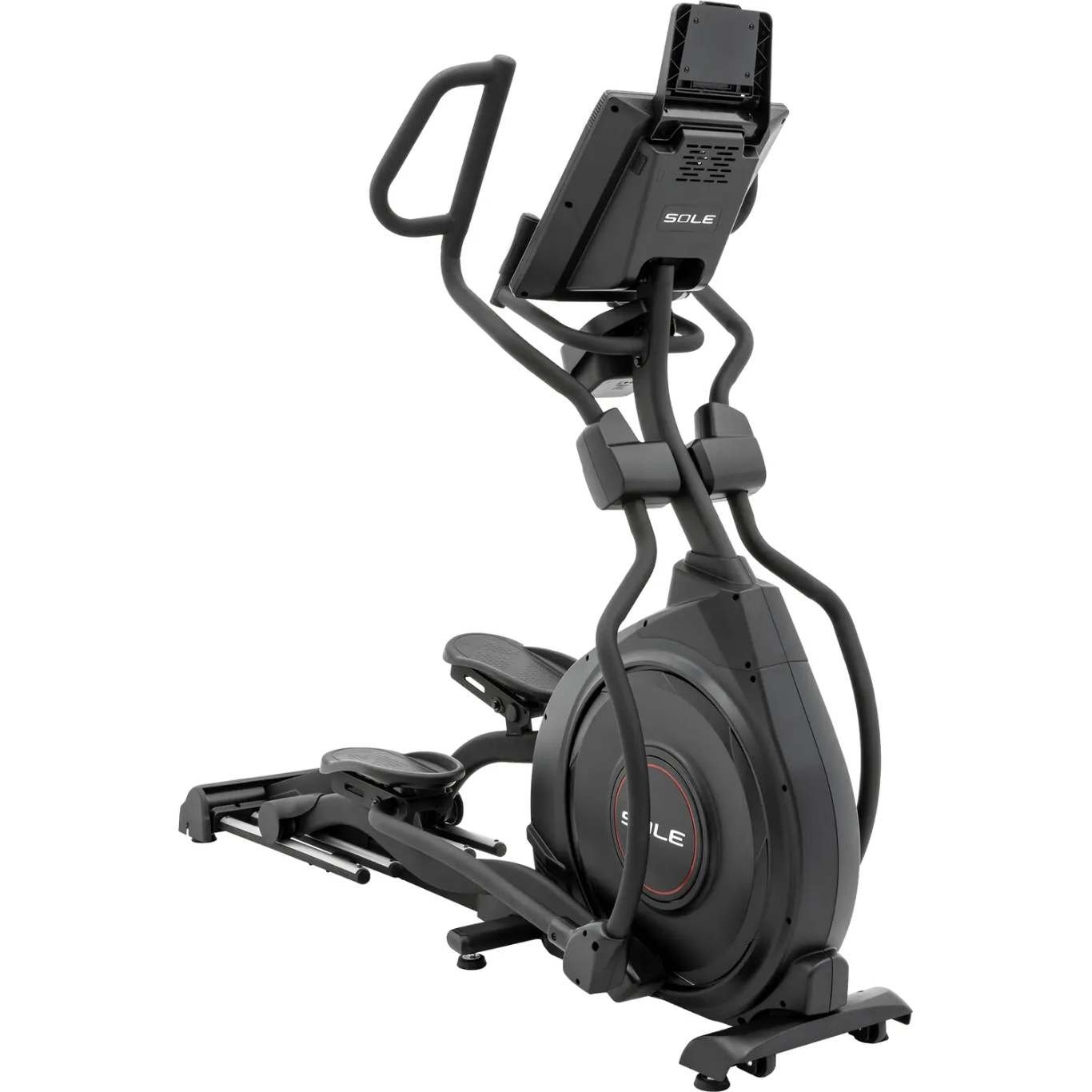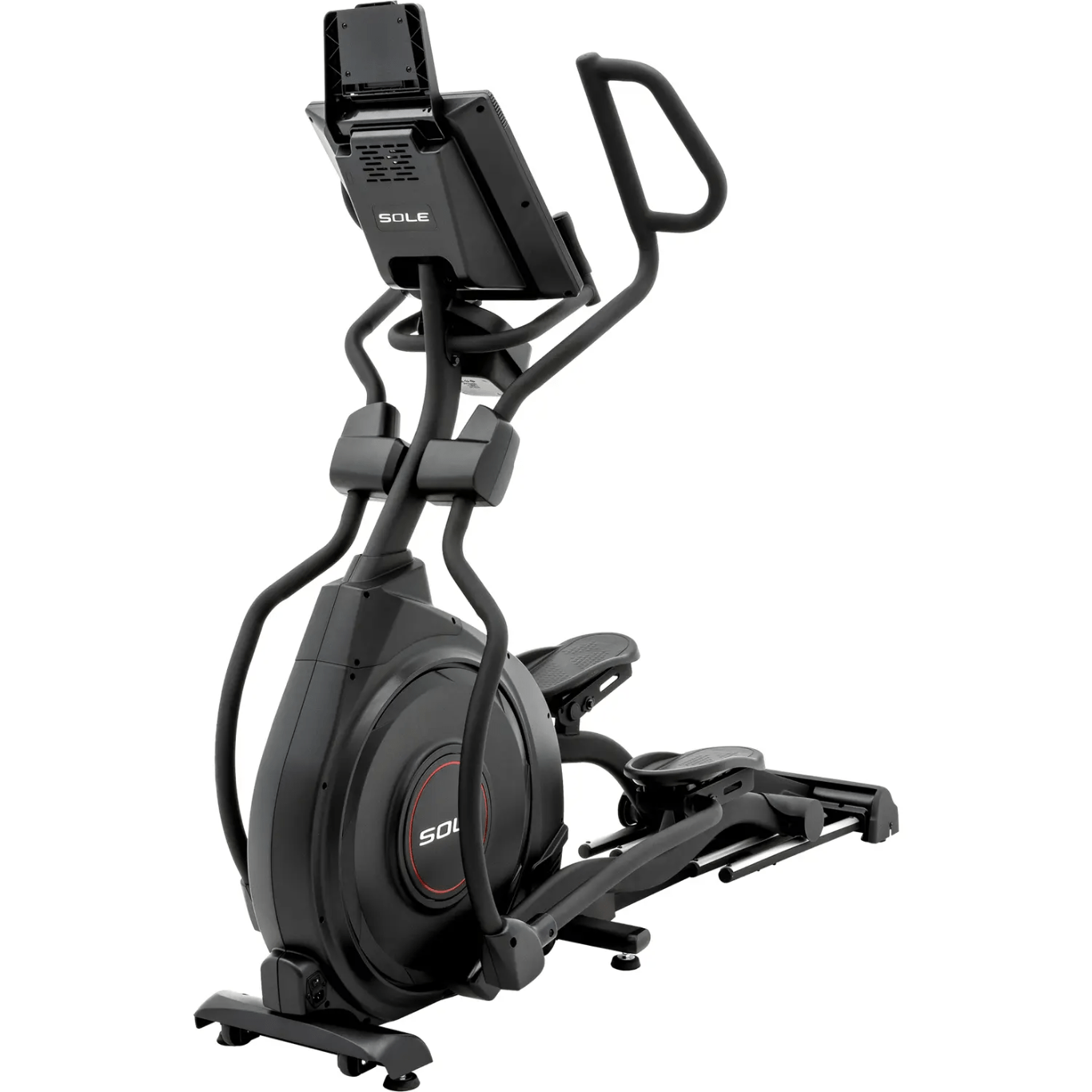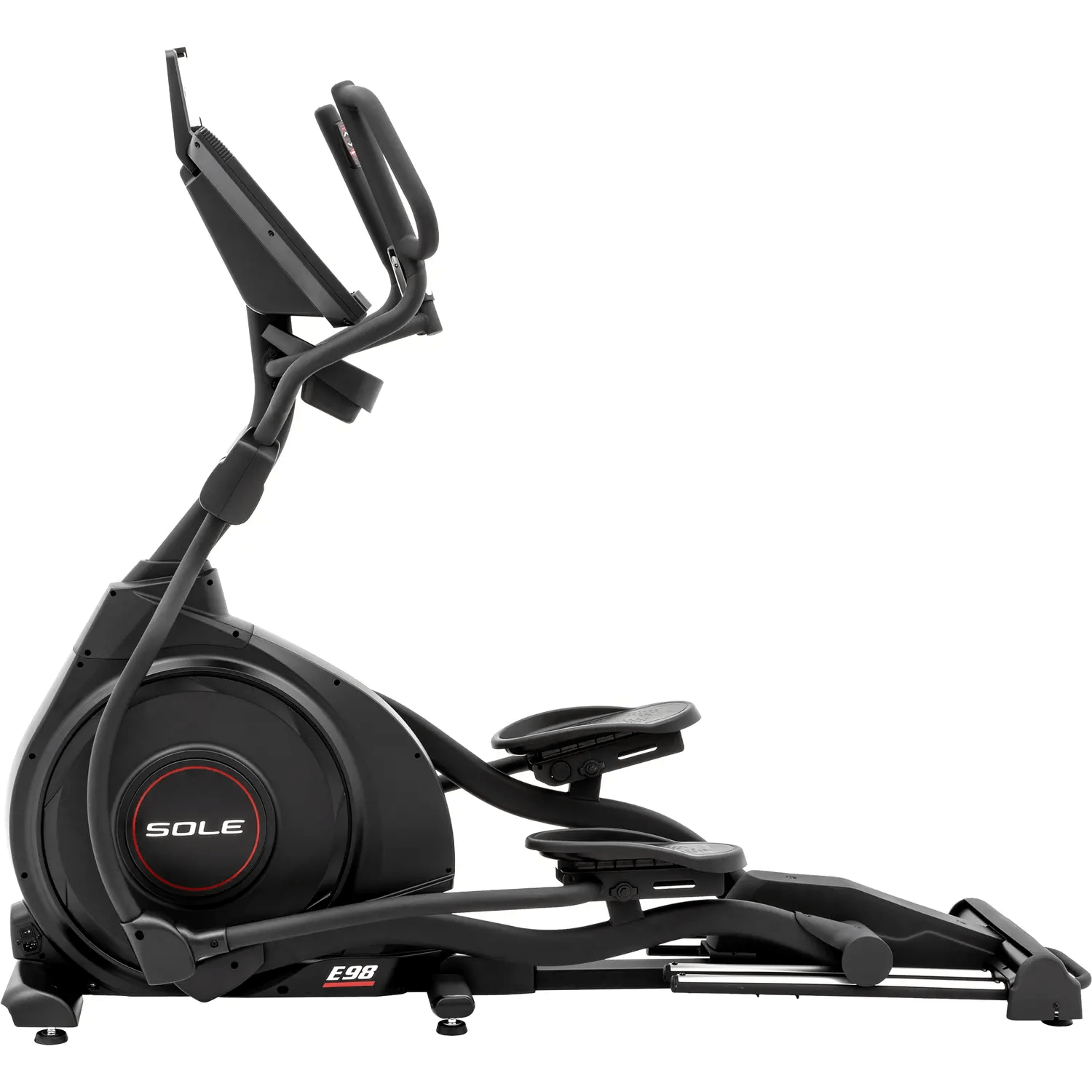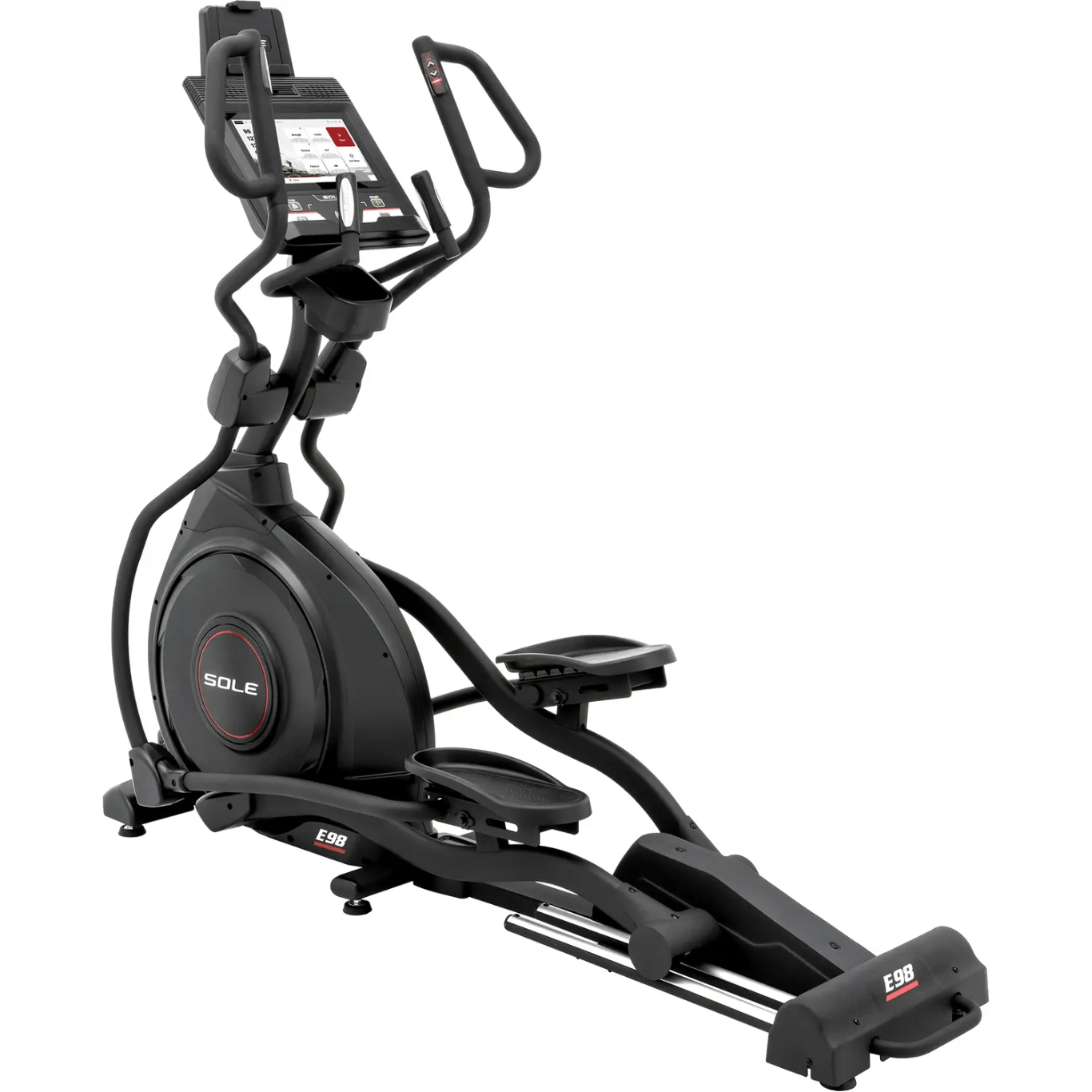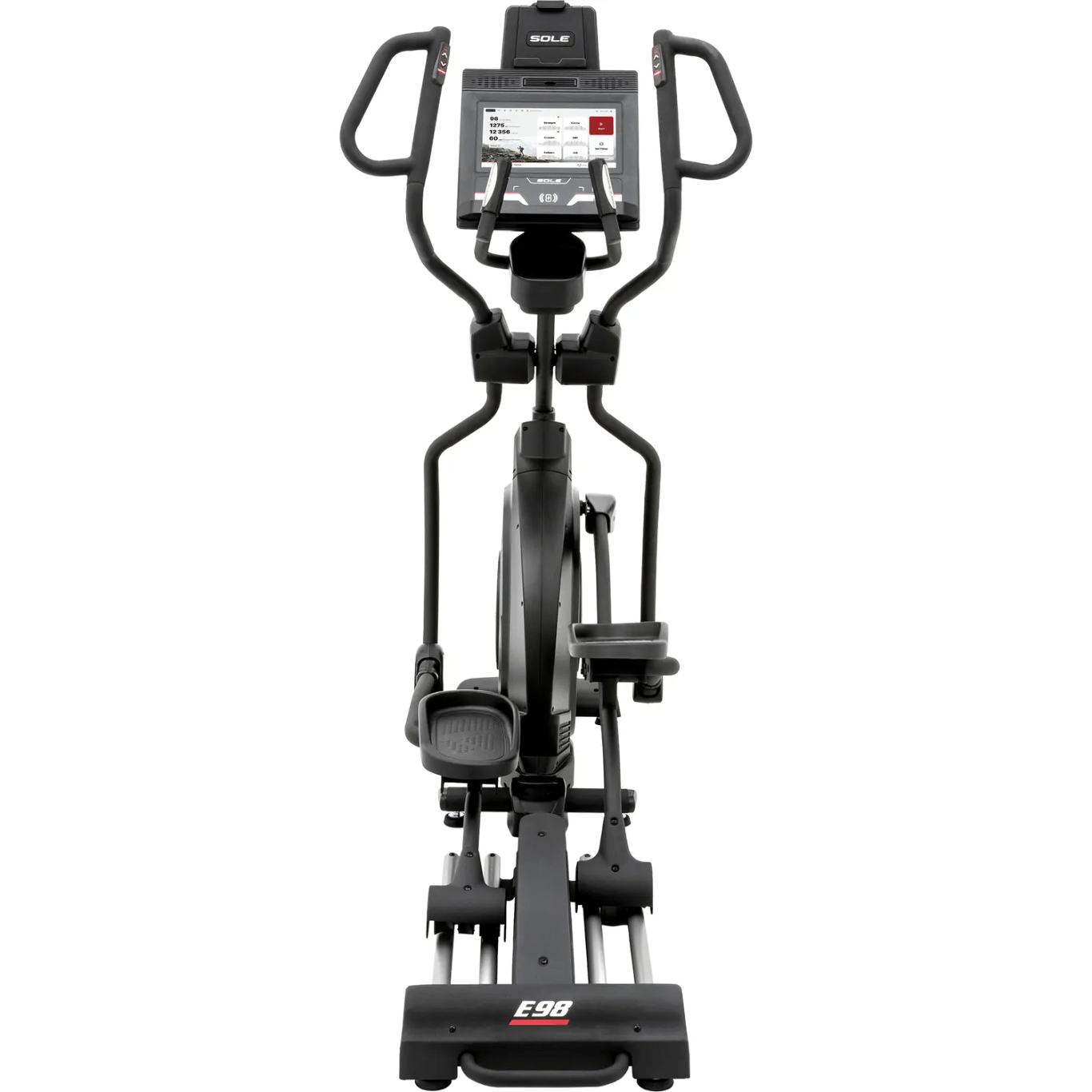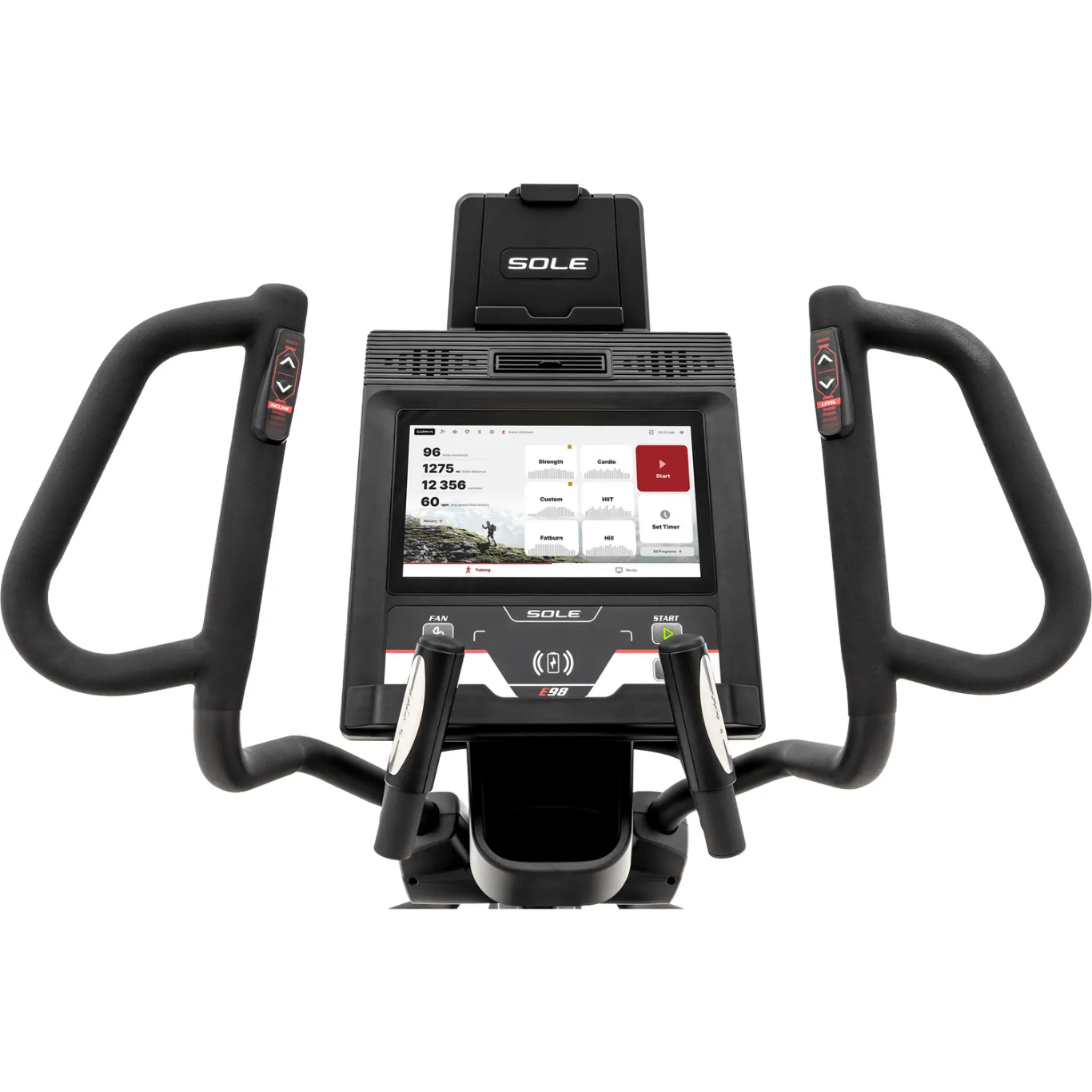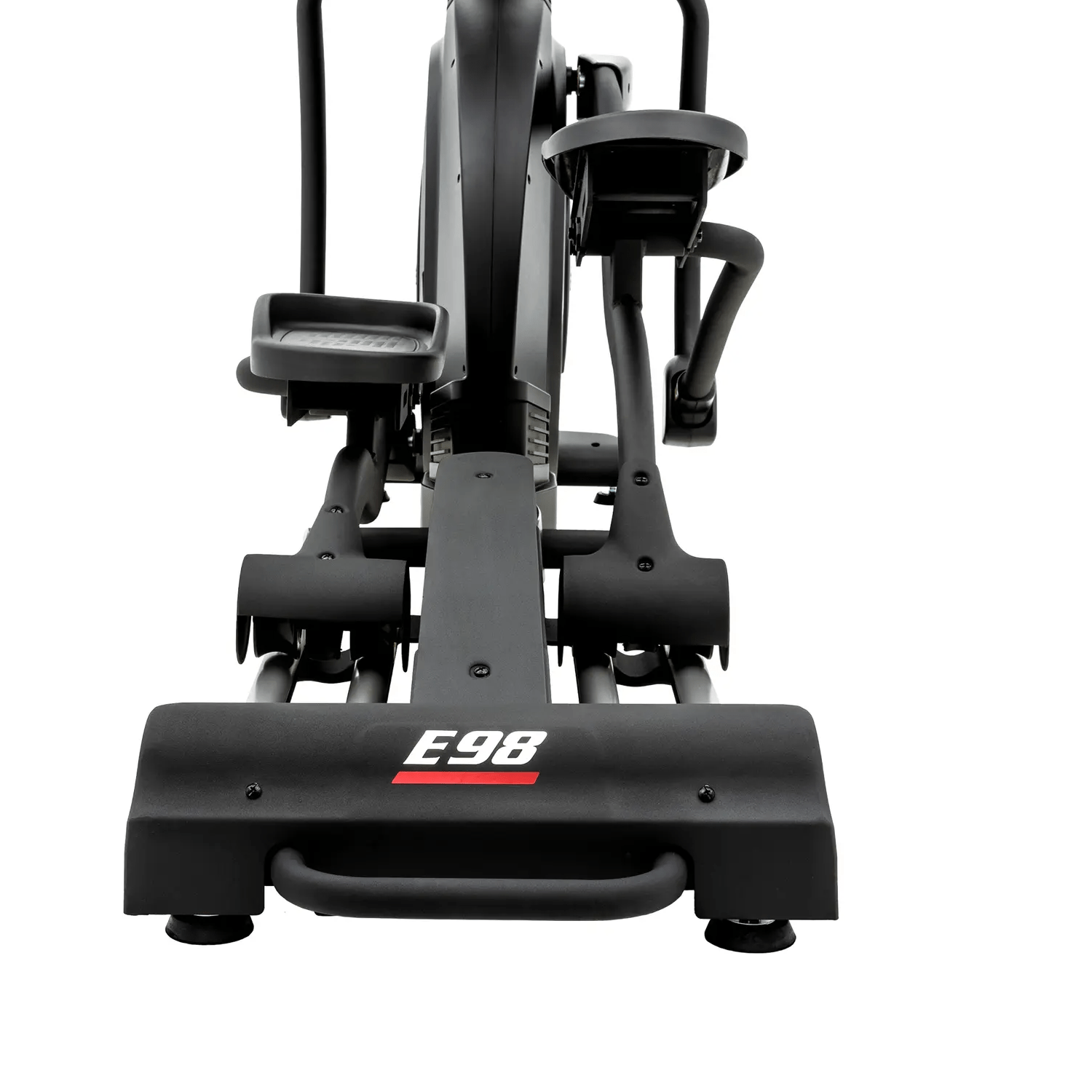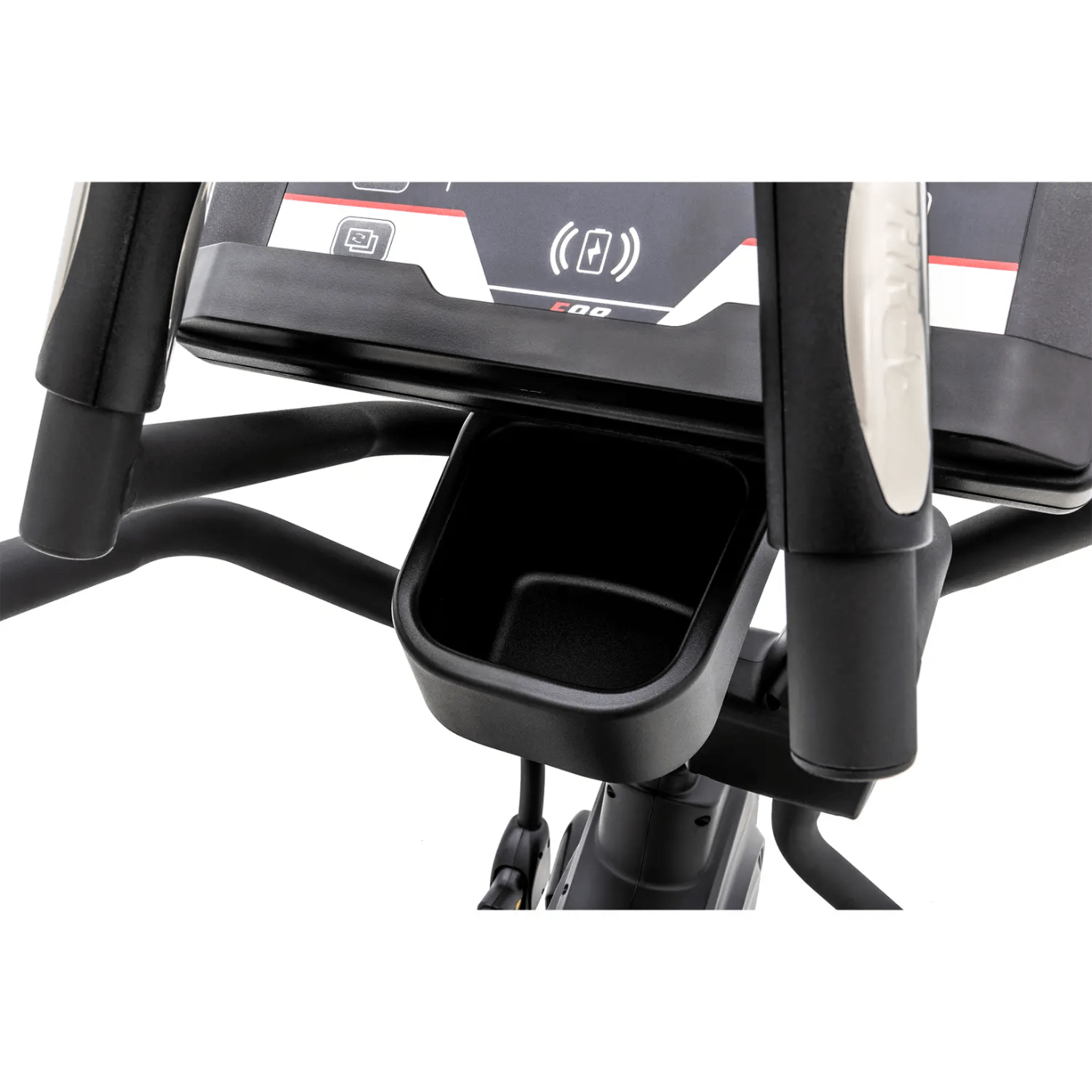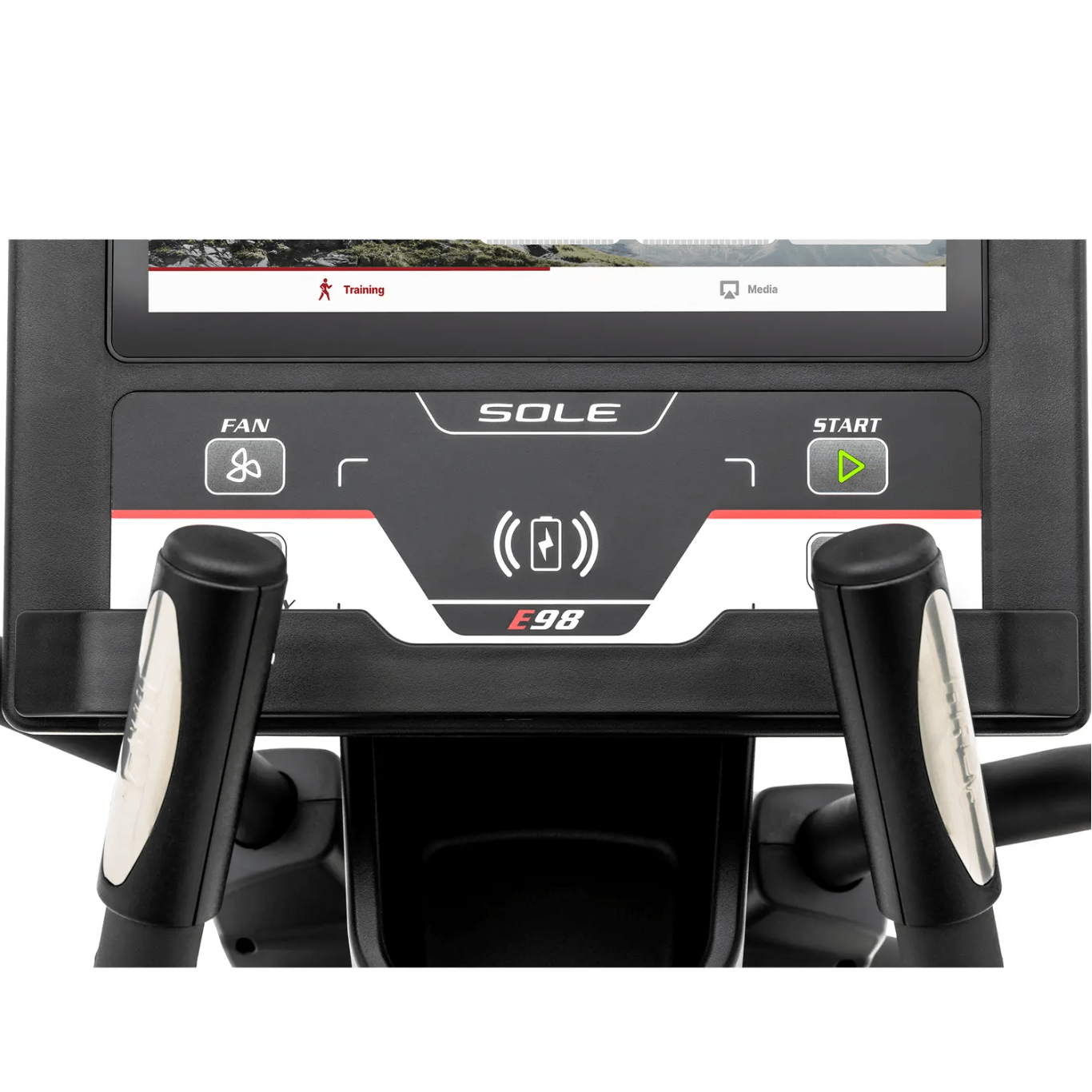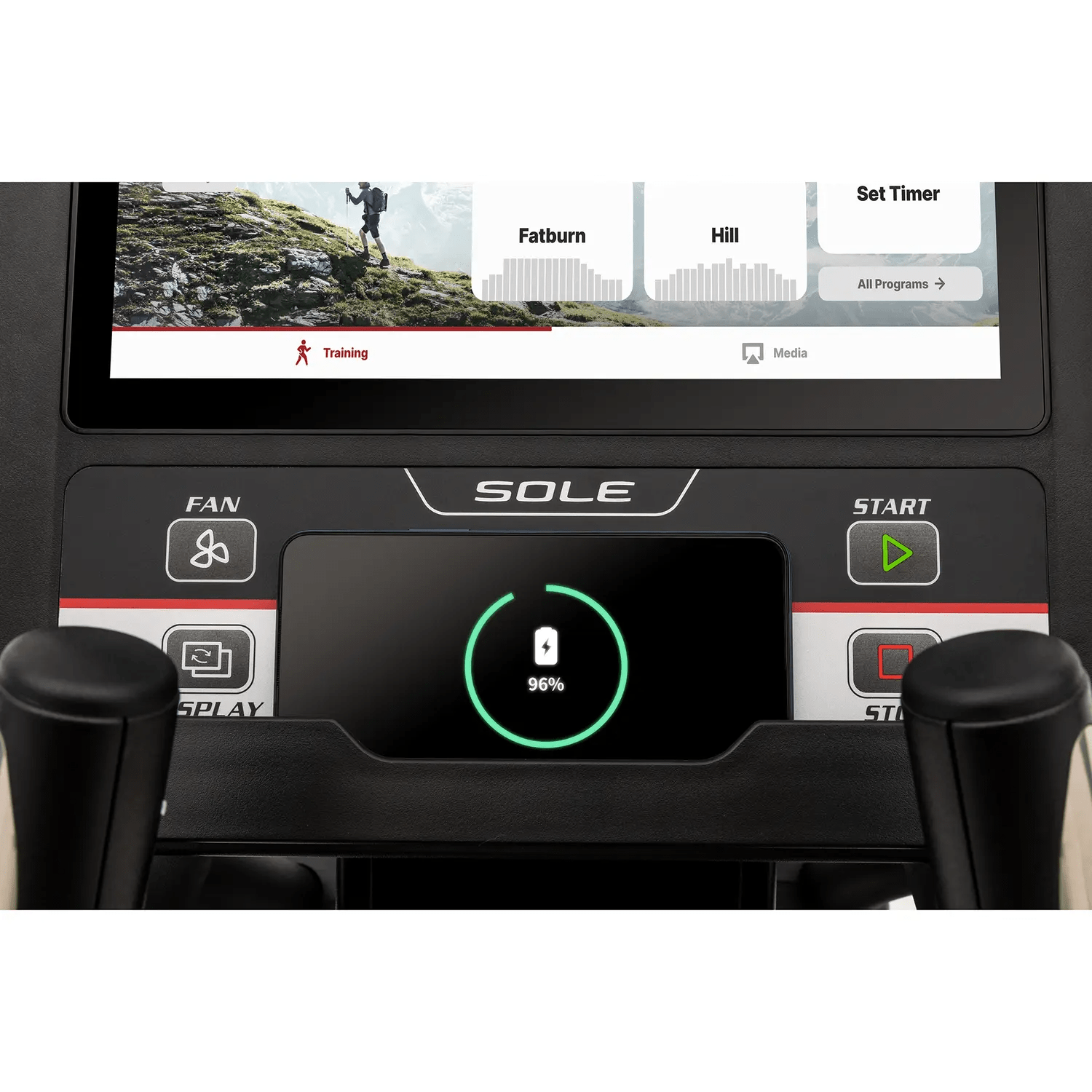 Share
Free Shipping
Get free delivery for orders above $200
A charge of $20 will be applied for orders below $200
0% Instalment Payment Plan
Applicable for the products that cost above $500
0% Interest Rate & Requires participating credit card for the plan

COD
Pay the cash at the time of delivery
Delivery & Installation schedule will be intimated
COMMERCIAL-GRADE CONSTRUCTION
Sole Fitness is known for its excellent quality and reliability as demonstrated by its light commercial equipment. The Sole E98 commercial elliptical includes a strong frame steel and the heavy steel frame construction offers the correct comfort during your workout.
FUNCTIONAL DISPLAY
The E98 Sole cross trainer has a vibrant 33.8cm (13.3") Display that offers a clear and bright display of training feedback such as time duration, heart rate, calories burned, resistance, and so on.
QUIETEST MOTION DRIVE SYSTEM
The whisper-quiet drive system of the Sole E98 commercial trainer provides a fluid and natural motion in both forward and reverse directions. With a heavy-duty flywheel of 14.5Kg, the elliptical provides stability and comfortable momentum. It helps the pedals and handles glide smoothly, especially if you are strong and heavy. This makes the Sole E98 again, suitable for gyms, hotels, physiotherapy and rehabilitation practices and for home use amongst others.
CUSTOM DESIGNED FOOT PEDALS
The unique foot pedals of the Sole E98 cross trainer were developed in collaboration with a leading physical therapist. Together with Sole engineers, we designed a 2-degree inward slope to the foot pedals to reduce the numb toe effects and sore Achilles tendons which helps to help users to focus less on being uncomfortable and more focused on achieving goals
PULSE HANDLE GRIPS
Our Sole E98 trainer has multi-grip handles that provide ergonomic and comfortable positions to grasp the handles. It has an in-built sensor for tracking the pulse rate during pedaling on the equipment. During the workout, you don't have to take your hands off the grip to change resistance or incline. You can simply adjust them by pushing the buttons located on the grips
LOAD BEARING CAPACITY
Our Sole elliptical cross trainer can support a user who weighs up to 180kg and will stand up to the test of time. Thus, built to support up heavy and uninterrupted use, this smooth performer is a top value for hotel fitness rooms, apartment complex workouts.
ADDITIONAL MERITS
The E98 now includes an integrated tablet holder so you can use your smart devices to watch shows or follow workout routines. Bluetooth Audio Speakers allow you to listen to music. The E98 also integrates with the SOLE+ app, compatible with both Android and IOS devices, for a seamless workout experience.
SPECIFICATION
| | |
| --- | --- |
| Brand Model | Sole E98(23) |
| Console Display | 33.8cm Touch Screen Display |
| Resistance Levels | 1 - 40 Levels |
| Stride Length | 50cm |
| Flywheel Weight | 14.5kg |
| Programs | 7 Pre-set, 2 Custom & 1 HRC Programs |
DIMENSION
| | |
| --- | --- |
| Set Up Dimension | 211 (L) X 86 (W) X 178 (H) cm |
| Carton Dimension | 46 (L) X 86 (W) X 168 (H) cm |
| Product Weight | 111.6kg |
| Max. User Weight | 181kg |
WARRANTY
| | |
| --- | --- |
| Frame | Lifetime |
| All Other Parts | 1 Year |
| Labor | 1 Year |
Q: Want to buy a commercially graded cross trainer but for my home gym? Can I get this?
Answer
Our well-performing engineers introduced the E98 elliptical cross trainer for home and commercial gyms with commercial-grade properties such as:
A powerful 14.5kg flywheel
Adjustable 50.8cmm stride length
Resistance levels up to 40
A heavy-duty steel construction
33.8cm Touch Screen for easy access
Maximum user capacity of 181kg
These are all valued properties of a sole elliptical trainer warranties comfortability, reliability, durability, and safety. Therefore, surely, you can buy this machine for your home gym.
Q: What is the qualified power of flywheel for a commercial cross trainer?
Answer
When you're wondering about flywheels for commercial purposes, it's best to go with a weight of more than 10kg. This is why our commercial cross trainer is furnished with a 14.5kg flywheel capacity to reach maximum resistance easily and safely.
Tip: Having a huge capacity and heavy-duty construction for the flywheel is very important to get a long-lasting machine because you challenge yourself more at a peak intensity value.
Q: What features can I expect from the display console?
Answer
The gym cross trainer has an exciting 33.8cm Touch Screen console for easily accessing bright display to read your workout feedback such as heart rate, resistance, calories burned, time duration, distance traveling, and more.
Apart from that, you can also check the hand controller button for a fan to switch on cool air, an audio jack plugin to listen to music, and up & down options to change resistance and program-changing choices.
Q: Can I buy this cross trainer to involve my family members in fitness?
Answer
Yes, you can buy this commercial elliptical machine to work with your family members to gain fitness benefits, because our machine is made with a maximum weight capacity is 181kg to fit people of all sizes and shapes, and as well the stride length is 50cm, that greater than to meet your family member's need.
Q: Looking for a noise-free machine due to apartment home use? Whether it's perfect?
Answer
The whisper-quiet drive system used in the elliptical trainer for home gym offers natural motion for both forward and backward directions. With an adjustable heavy-duty flywheel and many other features, this is going to be the perfect choice not only for a home gym, but also for fitness centers, hospitals, hotels, physiotherapy, and such places.
Q: Can I focus only on my fitness goals with this elliptical machine?
Answer
Our well-talented sole engineers introduced unique foot pedals designed with a 2-degree inward slope in cross trainer cycle, which helps to keep the foot in a very correct position to get rid of ankle and knee pain. Moreover, the size of a foot pedal 50cm stride length is large to adjust your foot to any position so that you can able to avoid slips. With all these comfortable alignments, you should focus only on your fitness goals.
Q: Can I change the resistance level without getting off the hand grips?
Answer
There is a chance for accidental falls while leaving hands from hand grips while running on the compact cross trainer. Customer safety is very important for the sole team, so we engineered integrated buttons on the handgrips, so users don't need to leave their hands on the bars to change elliptical resistance. Simply press that button on either side aids to move on to the next level.