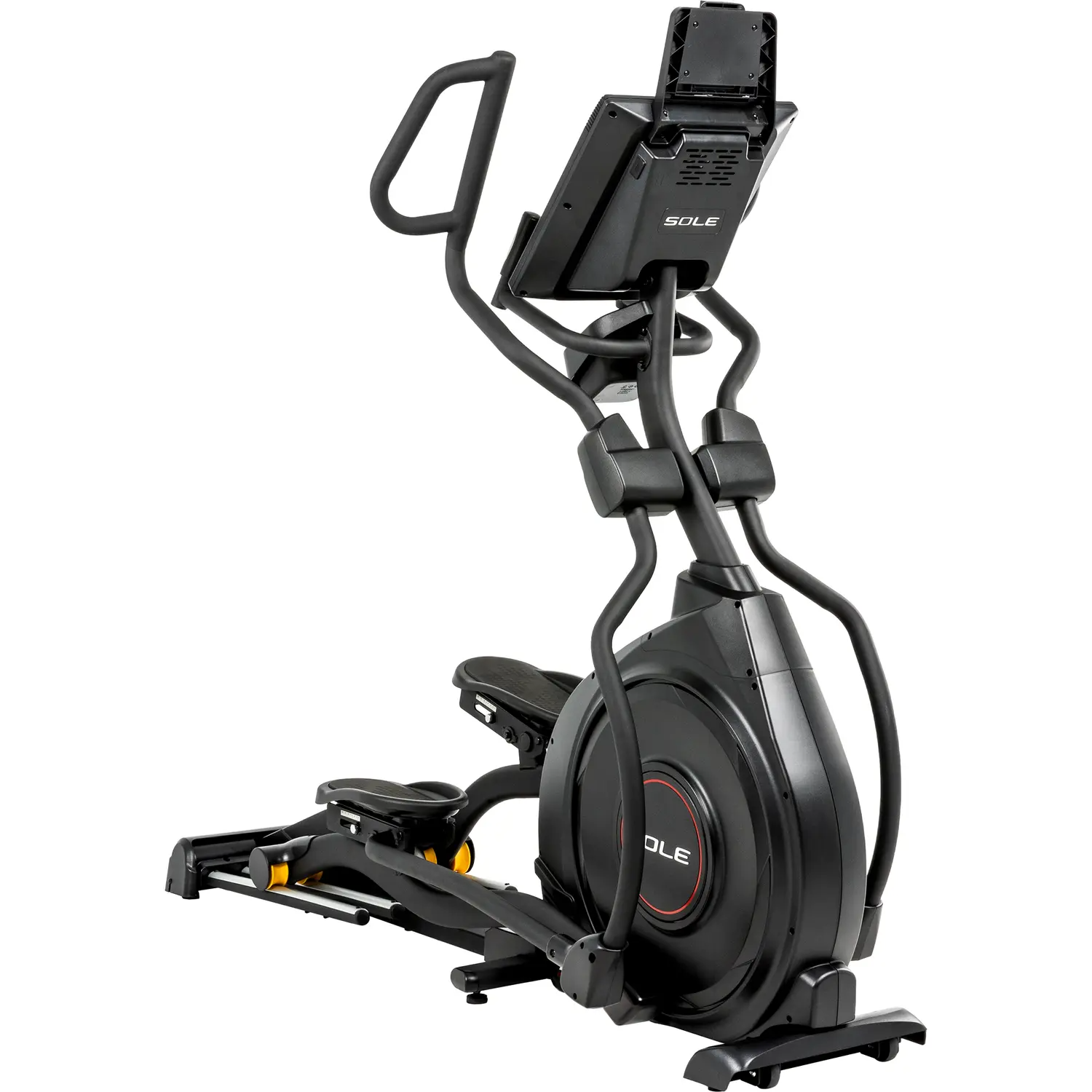 Share
Free Shipping
Get free delivery for orders above $200
A charge of $20 will be applied for orders below $200
0% Instalment Payment Plan
Applicable for the products that cost above $500
0% Interest Rate & Requires participating credit card for the plan

COD
Pay the cash at the time of delivery
Delivery & Installation schedule will be intimated
WORKOUT DISPLAY
The E95 elliptical cross trainer has a vibrant 33.8cm touchscreen display that offers a clear and bright display of training feedback such as time duration, heart rate, calories burned, resistance, with WIFI, screen mirroring, and a wireless charger and so on. It also includes a built-in cooling fan and water bottle holder as well as an integrated tablet & mobile holder giving you the freedom to use your smart devices to watch shows or follow your workout routines.
DISTINCTIVE POWER INCLINE
The power incline, the feature of our Sole E95 has an adjustable incline, you can put more pressure on specific groups of muscles, obtaining a better focus with your workouts. This incline creates a completely different workout that targets areas of the lower body that normally would not be worked out on an elliptical without the power Incline. The ramp angle is fully adjustable from 0 to 20 levels of incline, allowing you to individually target and work all major lower body muscle groups all, from a press of a button.
WHISPER QUIET DRIVE SYSTEM
The Sole E95 elliptical for sale features a whisper-quiet drive system with a heavy 12.2kg flywheel and a high gear ratio resulting in a fluid natural motion that functions in both forward and reverse. This basically means that your movements will be ultra-quiet and effortless.
CUSTOM DESIGNED FOOT PEDALS
E95 elliptical foot pedals are fitted with durable foam cushioning; these unique foot pedals were developed in collaboration with a leading physical therapist. Together with Sole engineers, we designed a 2-degree inward slope to the foot pedals which reduces ankle and knee stress common in other Light Commercial machines.
REMARKABLE WORM DRIVE
Not everyone walks the same way; for this reason, we have made the E95 cross trainer pedals adjustable to fit the way you walk. This adjustment is made using a dial called a "Worm Drive", which allows you to dial into exactly where you want the pedal to be angled. This feature also reduces numb toe effects and sore achilles' tendons, common occurrences on other trainers.
CUSTOM MOULDED HAND GRIPS & HEART MONITORING
The hand grips of this Sole Fitness E95 are custom-molded for a comfortable feel. Up to 20 levels of incline and resistance controls are integrated into the handles for convenient use. Stationary handlebars have built-in pulse sensors for monitoring your heart rate. A heart rate chest strap is also included for hands-free pulse monitoring.
SPECIFICATION
| | |
| --- | --- |
| Brand Model | Sole E95(23) |
| Console Display | 33.8cm Touch screen display |
| Resistance Levels | 1 - 20 Levels |
| Stride Length | 51cm |
| Flywheel Weight | 12.2kg |
| Programs | 6 Pre-set, 2 Custom, 1 Test, 12 Template, 1 Fit & 2 HRC Programs |
DIMENSION
| | |
| --- | --- |
| Set-Up Dimension | 210 (L) X 87 (W) X 178 (H) cm |
| Carton Dimension | 178 (L) X 46 (W) X 168 (H) cm |
| Product Weight | 110kg |
| Max. User Weight | 181.4kg |
WARRANTY
| | |
| --- | --- |
| Frame | Lifetime |
| All Other Parts | 1 Year |
| Labor | 1 Year |
Q: What is the flywheel weight in the elliptical trainer?
Answer
The flywheel weight of the Sole elliptical cross trainer is 12.2kg, which is the heavy capacity to raise the resistance to a peak value. The power of flywheel is more than enough to have this machine for commercial purposes, where people work at high intensity to build muscle, stamina, and strength. Thus, this is an appropriate choice for both residential and commercial uses come to your pocket price.
Q: What are the options available on the display console of an elliptical trainer?
Answer
E95 elliptical trainer loaded many options on its display console such as
33.8 Touch screen display shows your workout feedback such as the total time and distance you ride with calories burned on the resistance level.
Built-in cooling fan to keep you cool while sweating.
Cup holders to store water bottles to stay hydrated.
Accessory holders to rest smartphones, gadgets, watches, and more.
Up and down touch buttons to control the speed.
Switches to perform on various programs.
Q: Want to focus on my arms and strengthen them? Can I get it?
Answer
Yes, you can focus on your arms to strengthen them by using our compact cross trainer. In order to concentrate on your arm, you have to reduce the elliptical resistance and let your arms ride fast to reach the high intensity by slowing down your leg's performance. This is the best way to target arms muscle. With our gym cross trainer, you can target each part of the body especially by giving more work to that particular part and resting the other parts at low intensity.
Q: Is there a connection between elliptical speed and resistance? If yes, then what is that?
Answer
Of course, there is a direct connection between elliptical speed and resistance, and increasing intensity requires fast pedaling speed and vice versa. The intensity of the cross-trainer is directly proportional to the speed of pedaling. For example, if you want to strengthen your leg, then pedal as fast as you can to reach high intensity.
Q: Why 2-degree inwards angle is used in the elliptical machine?
Answer
While riding at moderate or high intensity to build muscle, there are chances for accidental slips or falling down. To prevent this issue, our designers use a 2-degree inwards tilt on the foot pedal of a portable cross trainer to ensure the perfect surface and correct position. With the 50.8cm Stride Length, you also feel the smooth and comfortable surface. This 2-degree looks less in numbers but provides high effects.
Q: What are the available functional ports on the cross trainer?
Answer
Here is a list of available functional ports on the cross trainer for home :
USB port to plug in and charge your smart devices to maintain full charge at all times.
Audio jack to connect your headphone and listen to your favorite music via Bluetooth audio speakers.
By connecting the device to the machine, you can also transfer feedback and compatible fitness apps.
Q: Is there any restriction on user weight?
Answer
Yes, the maximum capacity of the elliptical machine is 181kg, so users don't exceed this limit to extend the lifetime of the machine. However, this is more than enough weight for users and fits people of all sizes.