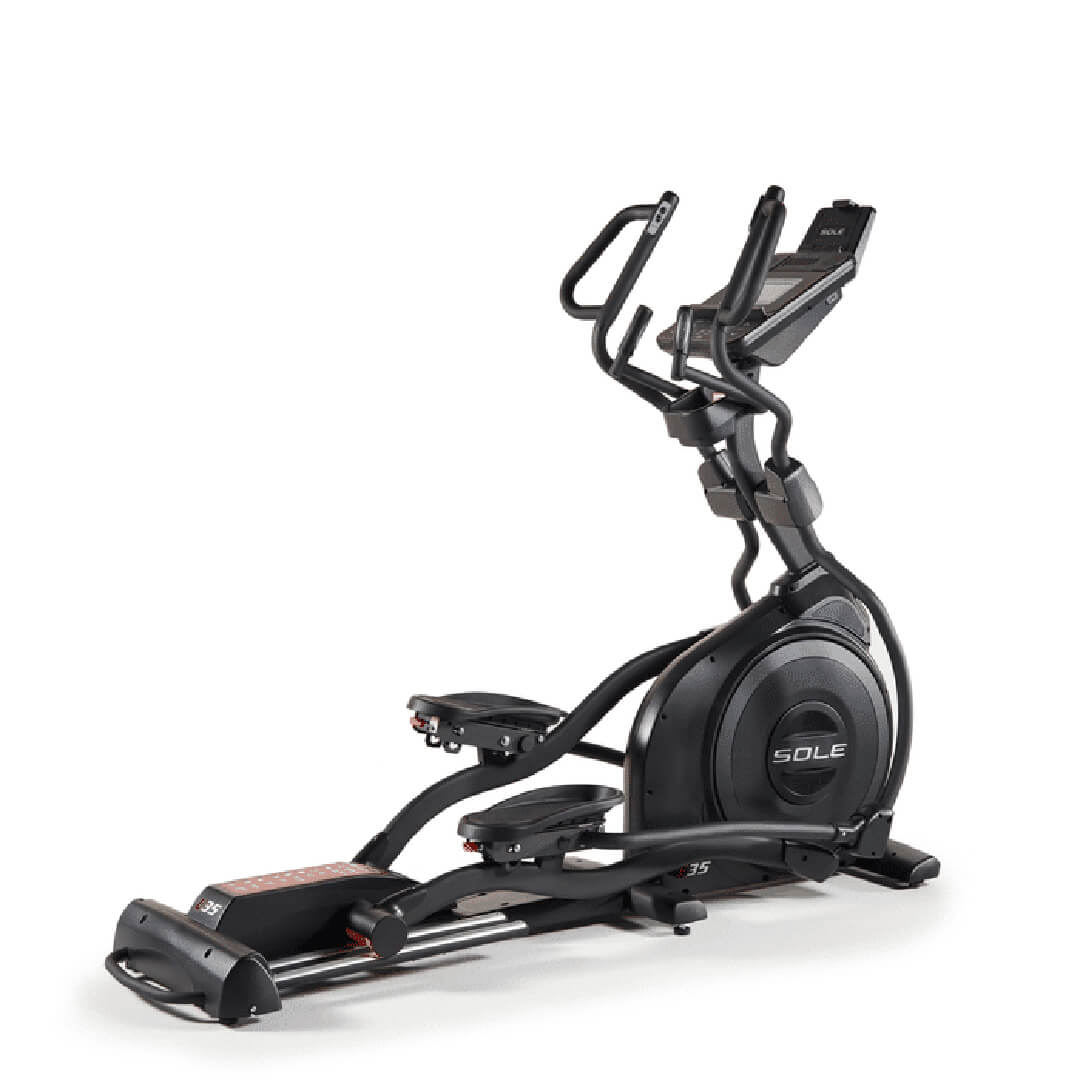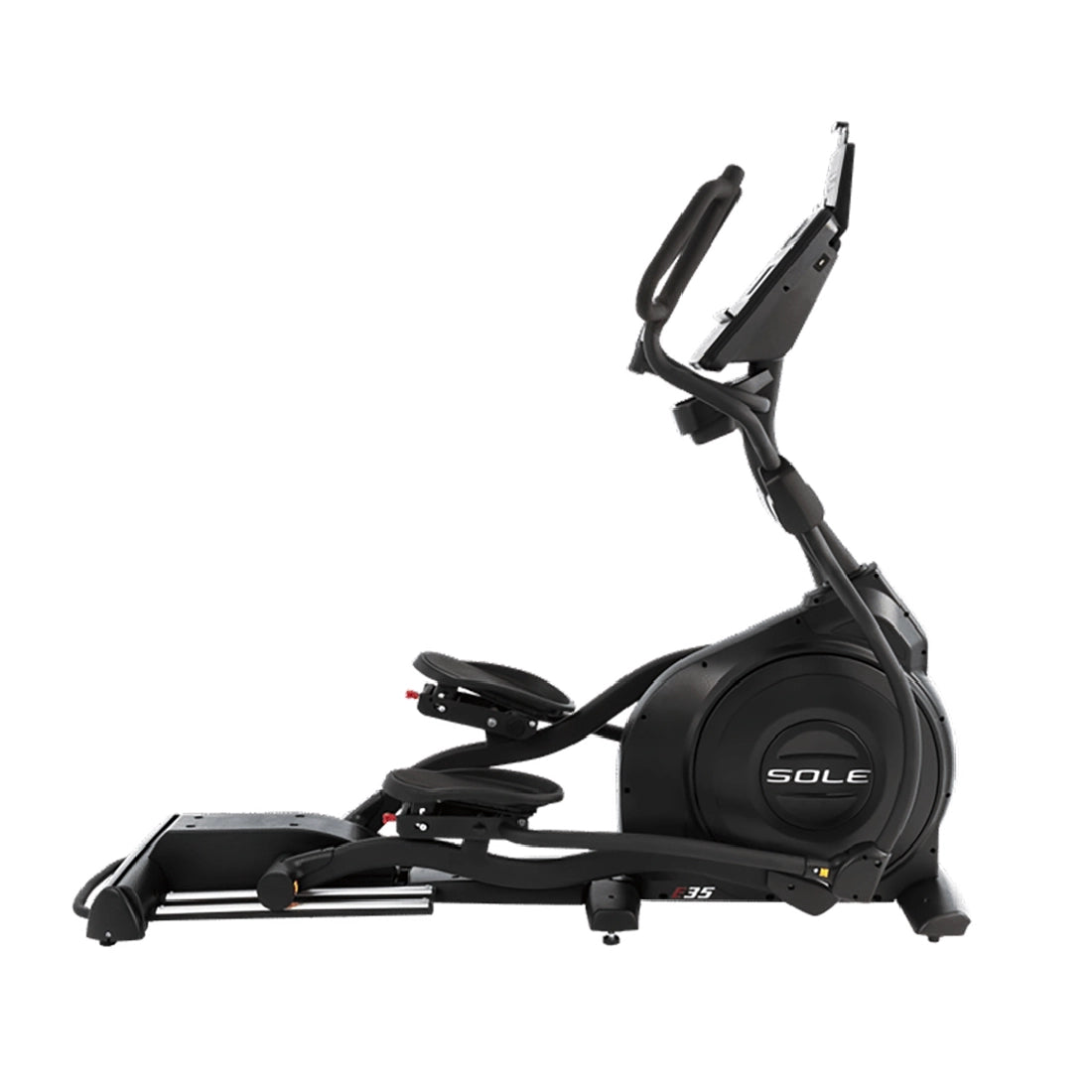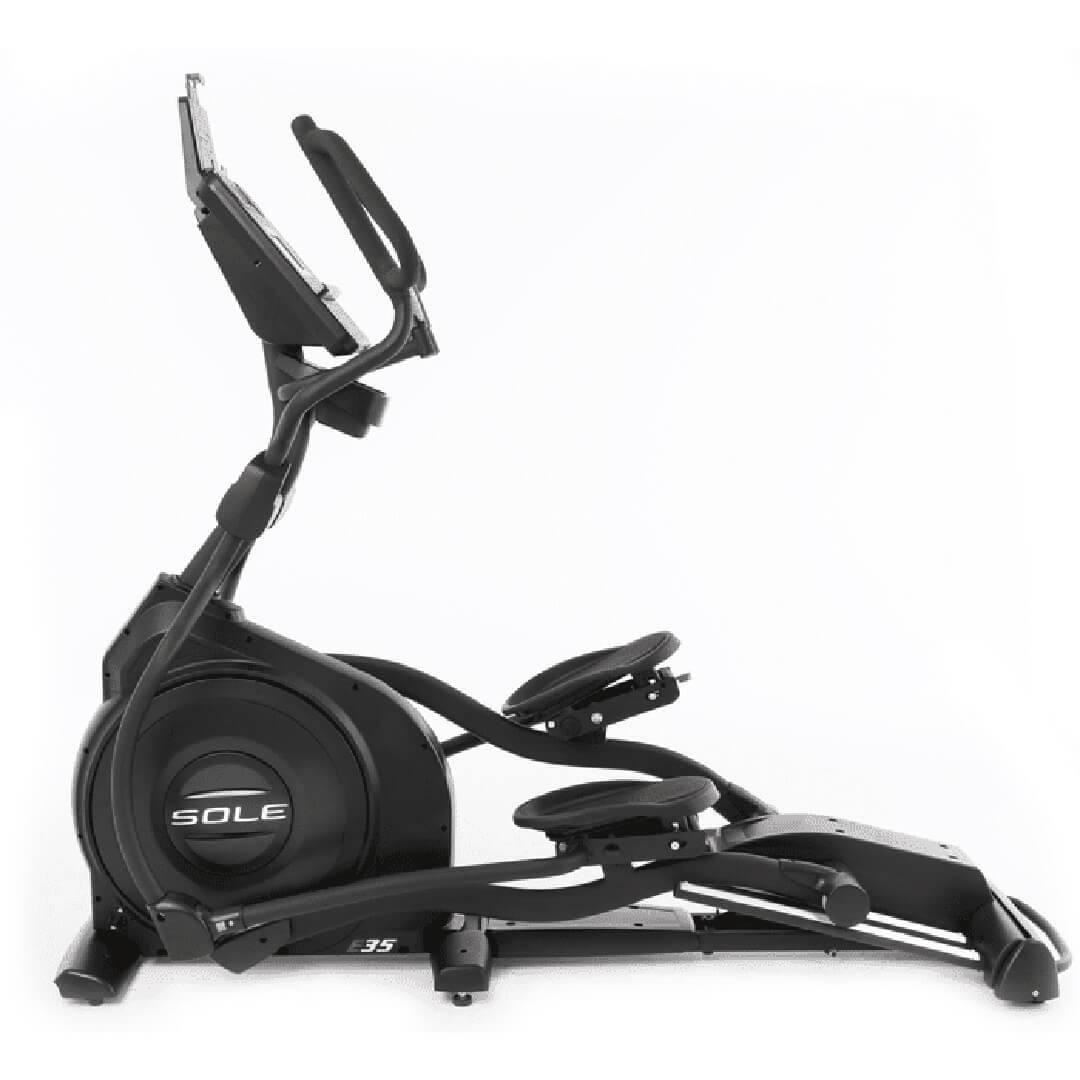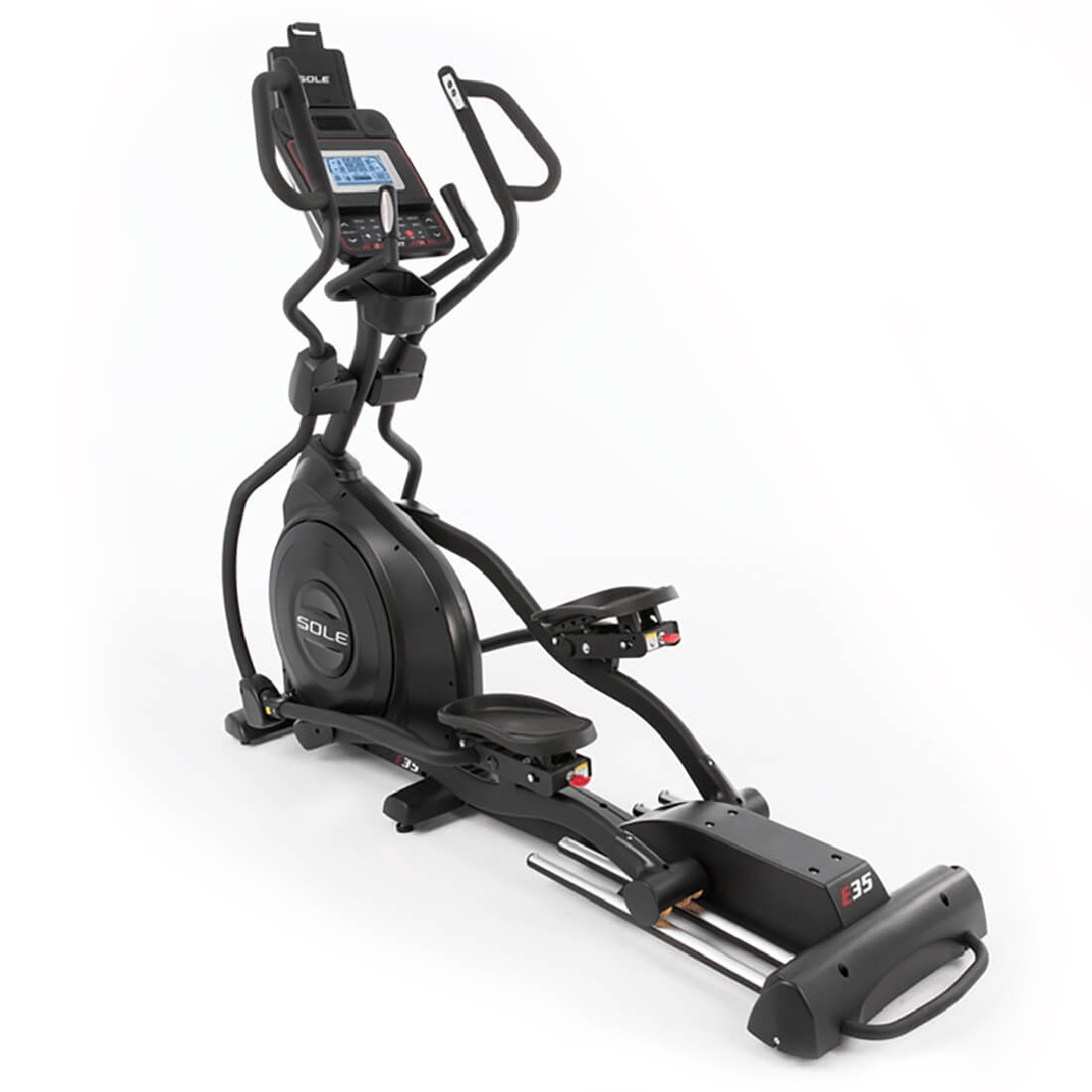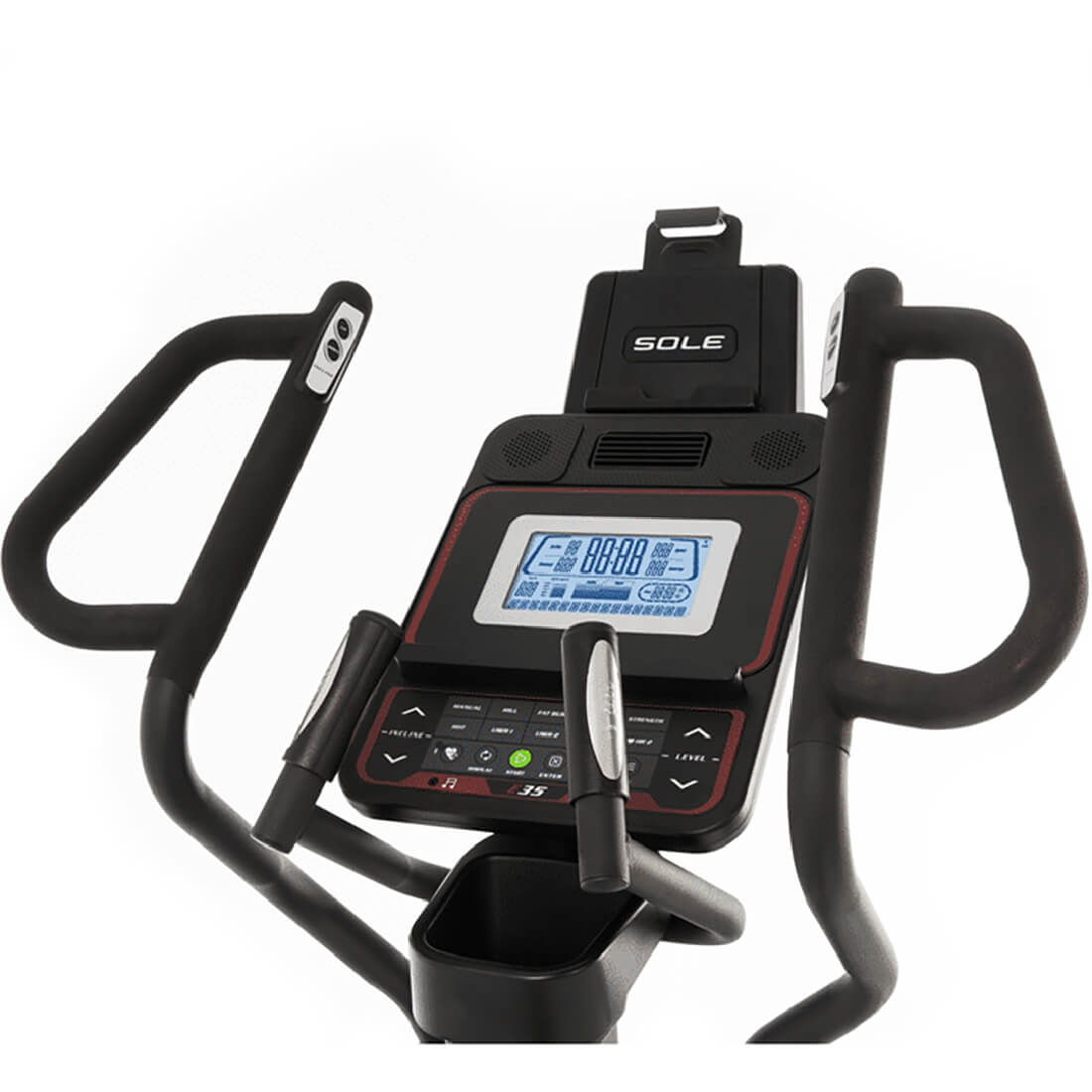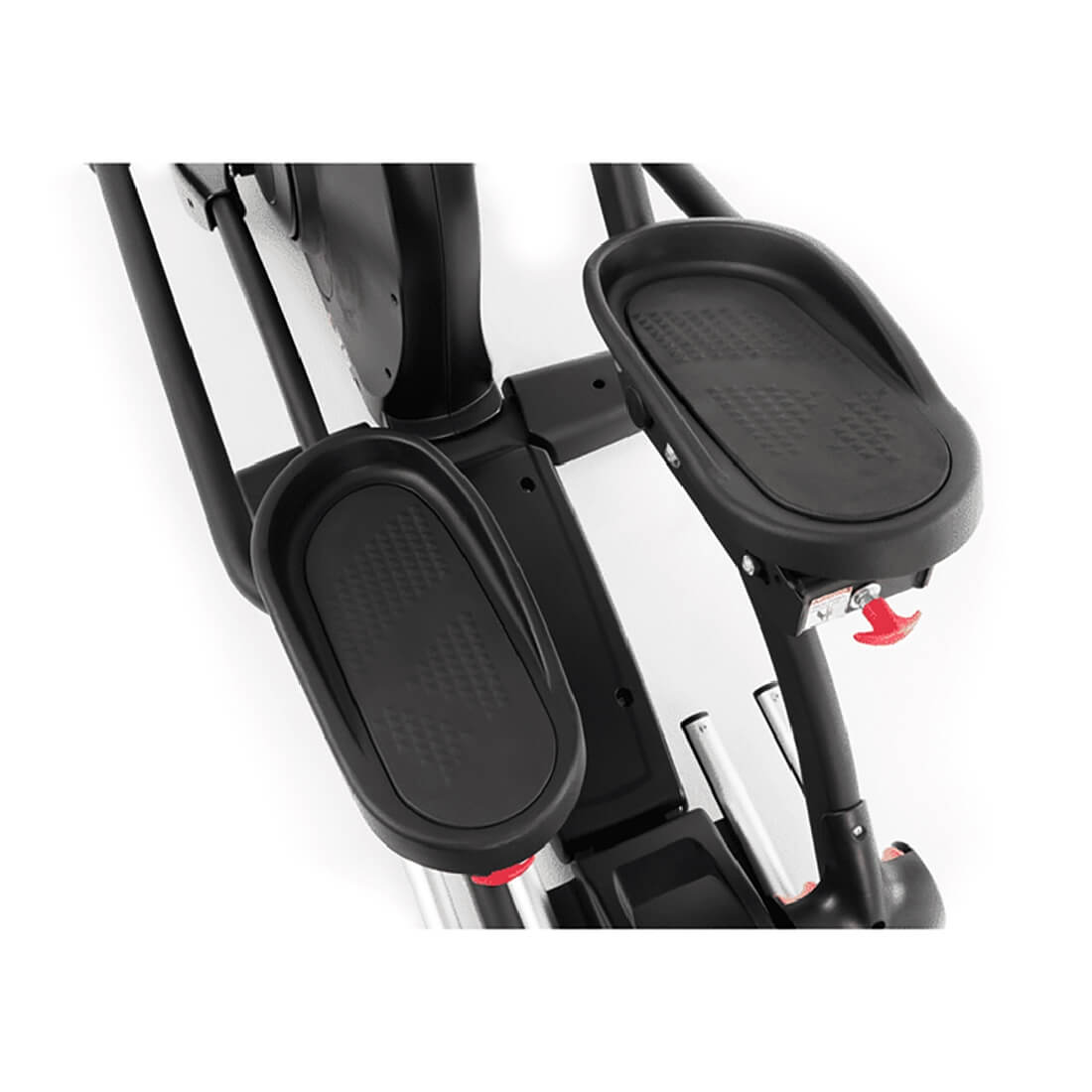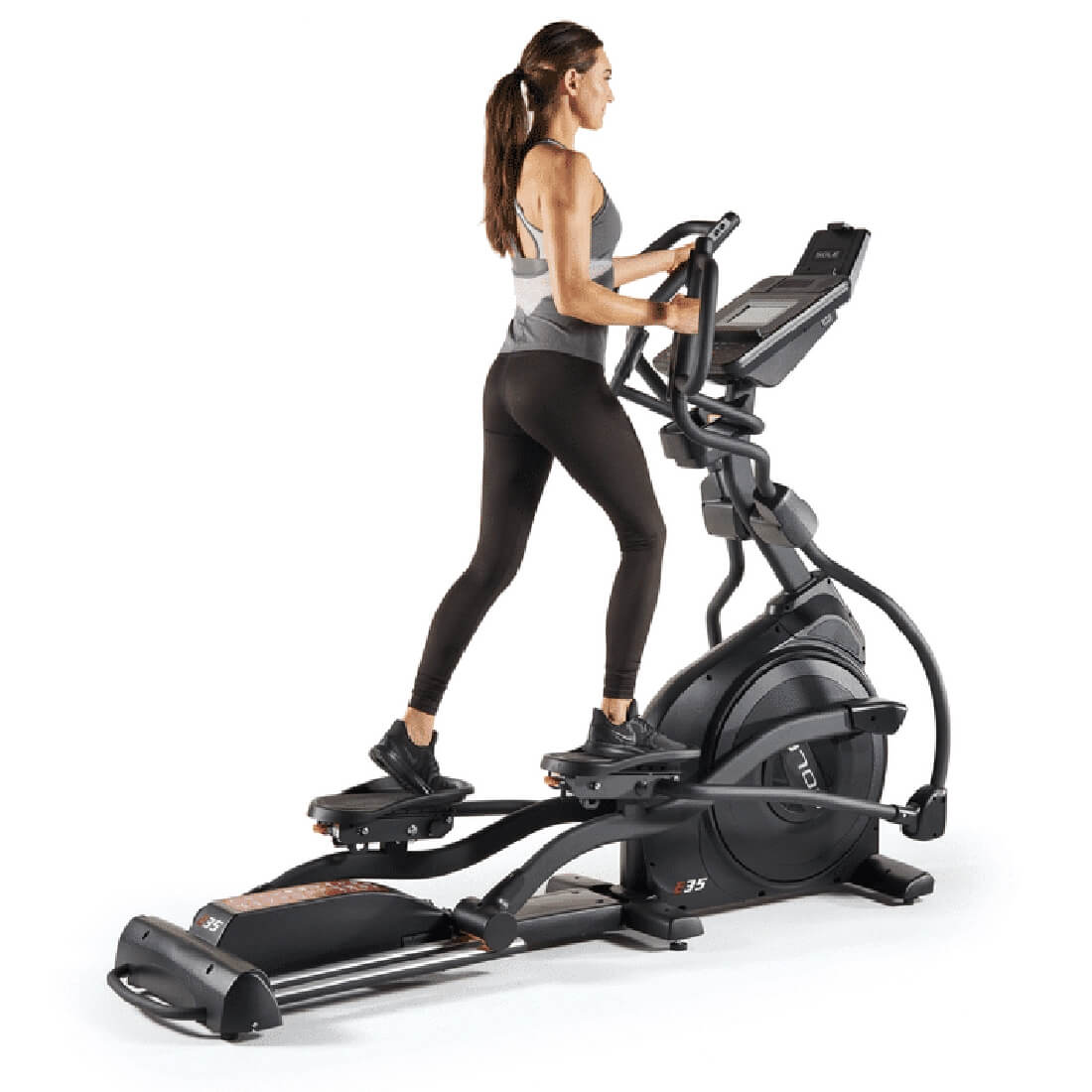 Share
Free Shipping
Get free delivery for orders above $200
A charge of $20 will be applied for orders below $200
0% Instalment Payment Plan
Applicable for the products that cost above $500
0% Interest Rate & Requires participating credit card for the plan

COD
Pay the cash at the time of delivery
Delivery & Installation schedule will be intimated
SOLE E35 ELLIPTICAL CROSS TRAINER
The Sole E35 elliptical cross trainer is engineered for an extremely smooth feel, even with increased resistance for when you want a more challenging workout. Fluid natural motion is ensured by four wheels gliding along dual rails and functions in both forward and reverse. Multi-grip position handlebars enable users to find the most comfortable and ergonomic positions to grasp the handles, all in all, ensuring the most comfortable workout. Our Sole E35 cross trainer Singapore has 20 levels of power incline and oversized pedals with a 2° inward tilt for comfort and a safe workout. The wireless strap and the built-in pulse grip in the handles are used for monitoring the heart rate. The 19cm White Backlit LCD Display is used to track and monitor the standard workout metrics. The Bluetooth technology with Sole Fitness App is compatible with Fitness Apps.
ERGONOMIC DISPLAY
The Sole Fitness E35 elliptical machine comes with a vibrant 19cm Backlit LCD Screen to help track your progress, the latest model includes an integrated tablet holder that allows you to use your smart devices to watch shows or follow your workout routines.
SMOOTH YET CHALLENGING
The combination of a heavy 10.4Kg flywheel and a high gear ratio of this E35 elliptical cross trainer offers an extremely smooth feel with plenty of resistance at the top end for a machine that will provide a challenging workout. The E35 also has a power incline feature which offers additional resistance as well as variable positions for diversity in your workout at the touch of a button. The ramp angle is fully adjustable from 0 to 20 different incline levels, allowing you to individually target and work all major lower body muscle groups.
UNIQUELY FABRICATED FOOT PEDALS
Our Sole E35 elliptical machine has unique foot pedals that were designed in collaboration with a leading physical therapist and sports enthusiast. Sole engineers have designed in a 2-degree inward slope to the foot pedals which reduces ankle and knee stress that is common in other elliptical machines. The foot beds are also adjustable for customized comfort.
MULTI-GRIP POSITION HANDLEBARS
Multi-grip position handlebars enable users to find the most comfortable and ergonomic positions to grasp the handles. The Sole E35 elliptical for sale provides varieties on the handlebar's grips. You can have 5 firm grips on the handlebars. During the workout, you don't have to take your hands off the grip to change resistance or incline. You can simply adjust them by pushing the buttons located on the grips.
SMART INTEGRATION
With the Sole E35 cross trainer Singapore lets the user seamlessly listen to music through the Bluetooth-enabled speakers from any enabled smart device. A USB charging port is also integrated to keep your device's battery fully charged throughout your workout.
HEART-RATE MONITORING
Stationary handlebars of E35 cross trainer Singapore with built-in pulse sensors for monitoring your heart rate are also pre-installed. A heart rate chest strap is also included for hands-free pulse monitoring and heart rate interactive programs. For that extra mile, a cooling fan and water bottle holder are included in the package.
ACCESSORY HOLDER
This Sole E35 elliptical for sale has a multipurpose attachment for placing or storing some of your accessories at the time of workout. This ultimate tray or cup holder lets the user to rest their water bottles, mobile phones, earphones, small wallets, watches, and so on.
Specification
| | |
| --- | --- |
| Brand Model | Sole E35 |
| Console Display | 19cm LCD Display |
| Resistance Levels | 1 - 20 Levels |
| Stride Length | 51cm |
| Flywheel Weight | 10.4kg |
| Programs | 6 Pre-set, 2 Custom & 2 HRC Programs |
Dimension
| | |
| --- | --- |
| Set-Up Dimension | 209 (L) X 82 (W) X 180 (H) cm |
| Carton Dimension | 168 (L) X 58 (W) X 86 (H) cm |
| Product Weight | 110.8kg |
| Max. User Weight | 150kg |
Warranty
| | |
| --- | --- |
| Frame | Lifetime |
| All Other Parts | 1 Year |
| Labor | 1 Year |
Q: what is considered high resistance on an elliptical trainer?
Answer
Sole fitness Singapore introduced an elliptical cross trainer with 1 – 20 levels to obtain a wide range of results. Here, 15 to 20 levels are considered as a high resistance of the machine. Do you know? Working at high speed requires you to do pedaling at very fast to maintain the peak value and gain 90% of the result for your effort. Based on your physical strength and capability, set the value for intensity and then perform.
Q: What about the safety and comfort of the foot pedal?
Answer
A power of flywheel 10.4kg along with a high gear ratio of E35 elliptical trainer makes you feel very smooth pedaling even at a high resistance.
Collaboration of physical therapy and fanatic ideas leaves you with ankle and knee stress-free movements
A 2-degree inward tilt ensures the perfect and safe position for your legs.
All the above-mentioned facts make our product best-in-class in the market.
Q: What is the purpose of having handlebars on the cross trainer?
Answer
Without checking or monitoring the heart rate during or after the completion workout is not effective to reach fitness goals. This is why our engineers add multiple handlebars with pulse sensors to read pulse on the Console Display 19cm LCD Backlit, where you can also check the time, speed, calories burned, and more instantly. There are buttons on the handlebars in compact cross trainer to change forward and backward positions to ride.
Q: Is there any integrated port to connect my smartphone?
Answer
Yes, our portable elliptical machine has an integrated USB port on a side of the display console to connect and charge your phone so that your device is always fully charged. And, you don't need to get off the ellipticals to plug in the phone.
Q: Can I stay hydrated during the workout session?
Answer
Yes, you can stay hydrated throughout your entire workout session with water or an energy drink. Our home gym elliptical machine comes with an accessory holder to keep water bottles and additionally, you can also rest your mobile phones, earphones, watches, small wallets, and like more.
Q: How programs are stored in the elliptical machine?
Answer
There are 6 different programs stored in the gym cross trainer and users can change the programs and perform effectively to obtain better results. Check the touch buttons on the display console to switch between various programs.
Q: Can I look warranty for the E35 elliptical cross trainer?
Answer
Yes, you can look warranty for the sole cross trainer below:
| Frame | Lifetime |
| --- | --- |
| All Other Parts | 1 Year |
| Labor | 1 Year |