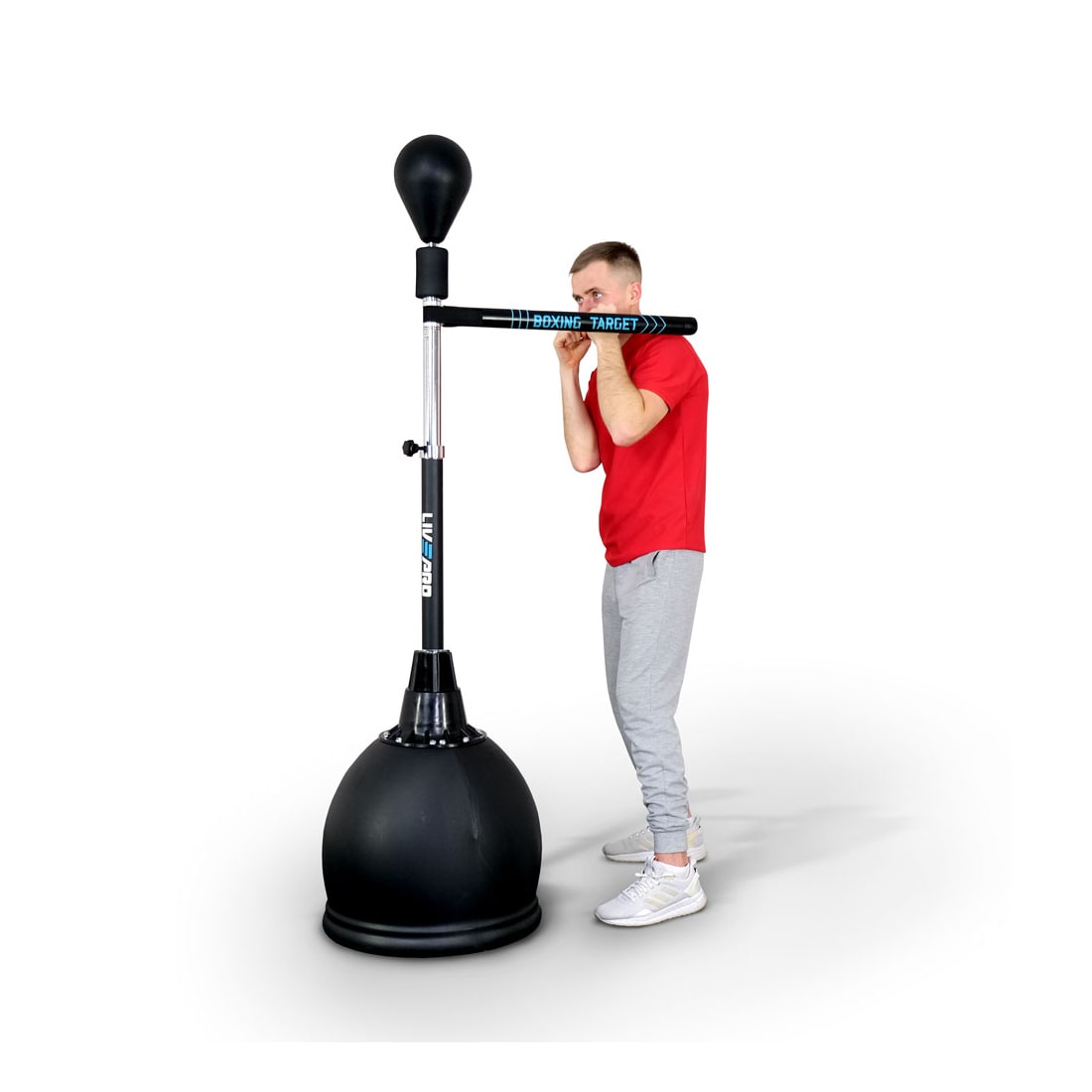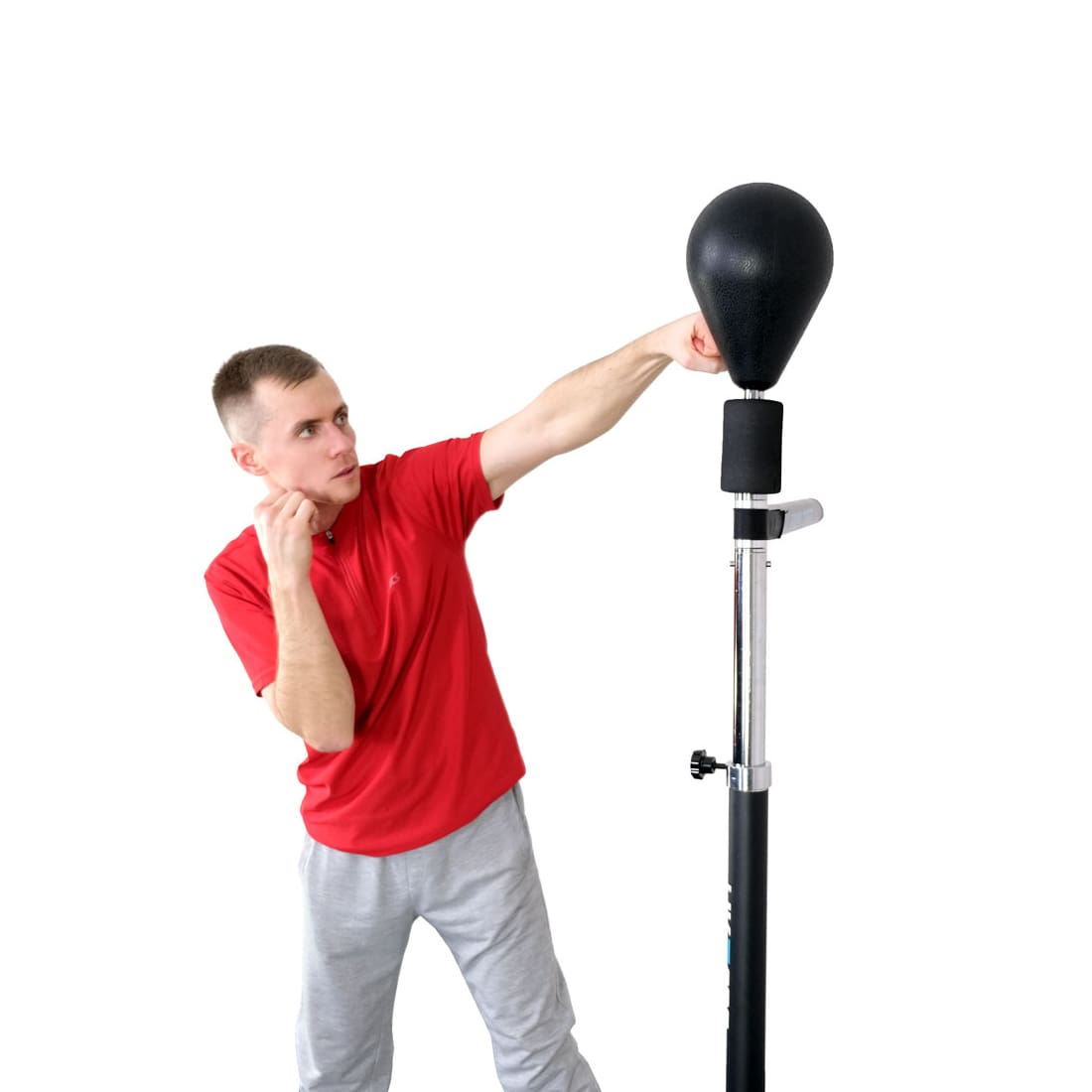 Share
Free Shipping
Get free delivery for orders above $200
A charge of $20 will be applied for orders below $200
0% Instalment Payment Plan
Applicable for the products that cost above $500
0% Interest Rate & Requires participating credit card for the plan

COD
Pay the cash at the time of delivery
Delivery & Installation schedule will be intimated
FREE-STANDING BOXING STAND - ROTATING TARGET
Get ready to kick like a Pro! How? We are just presenting the wonderful functional tool that is going to improve your coordination, focus, and reflexes. Our Livepro free-standing boxing stand with a spinning target ball is the best one for improving cardiovascular endurance, agility, coordination, and total body conditioning.
Constructed with a stable base, height adjustable pole, PU leather punching ball, steel rotating or spinning bar turns this stand into a versatile and effective tool for all the fitness freaks. The best boxing stand that provides extensive support to the boxer for intense workouts.
QUALITY MATERIALS
Our Livepro boxing stand for kicking is made out of the best quality materials like PU leather, rust, and corrosion-resistant steel, rigid and high-density plastic for long-lasting usage. All these heavy-duty compositions make this stand the most durable and reliable tool for doing boxing, kickboxing, MMA, and core workouts.
SHOCK-ABSORBING BALL
The Livepro free-standing punching stand has the PU leather ball which won't crack or wear down easily even after long-term punches and kicks. This ball is mounted on a rigid steel spring and that makes it bounce back while hitting and provides excellent resistance. Hit harder as it has outstanding shock-absorption capability!
HEIGHT ADJUSTMENT
You don't need to worry about the stand's height as it has an adjustable high-point for precise training experience. It has a rotary knob to adjust the corresponding height between 60 - 220cm as per the boxer's preference. The solid steel pole withstands strongly during the heavy punches, kicks, and knee kicks.
SUPREME STABILITY
The Livepro kicking stand provides you with an extremely safe and satisfying workout without making any toppling or displacement as it has a stable base. The base should be filled with water to add weight and thus it helps in distributing the weight evenly to make the stand more stable. Let's experience some intense beating!
SPINNING TARGET BAR
The rotating boxing target bar just simulates the practical boxing experience with an opponent. The extended target bar towards the exerciser forces them to lower the head during the training and it just mimics the real scenes inside the boxing ring.
SPECIFICATION
| | |
| --- | --- |
| Brand Model | Livepro LP8608-DS |
| Material | PE / Steel/ PU Leather |
| Color | Black |
| Dimension | 180 (L) X 70 (W) cm |
| Adjustable Height | 60 - 220cm |
| Weight | 15kg |
Q: Is there a possibility to adjust the pole's height?
Q: What type of filling is to be added to the base?
Answer
Water should be filled to the base for adding weight and to make the base more stable
Q: The pole is made of which material?
Answer
It is made of supreme quality Steel
Q: What is a display set?
Answer
A display set is the one that is used for display in our showroom.