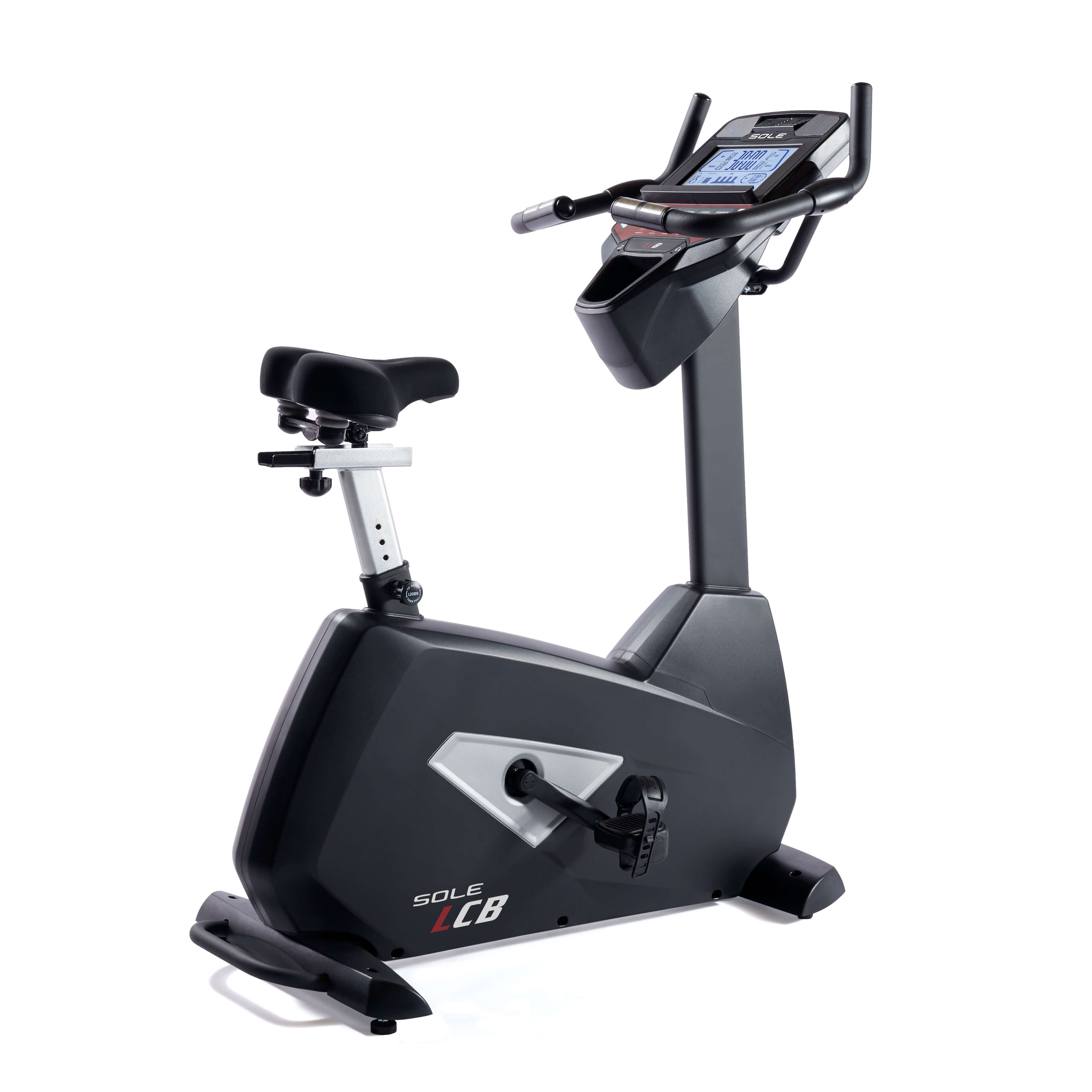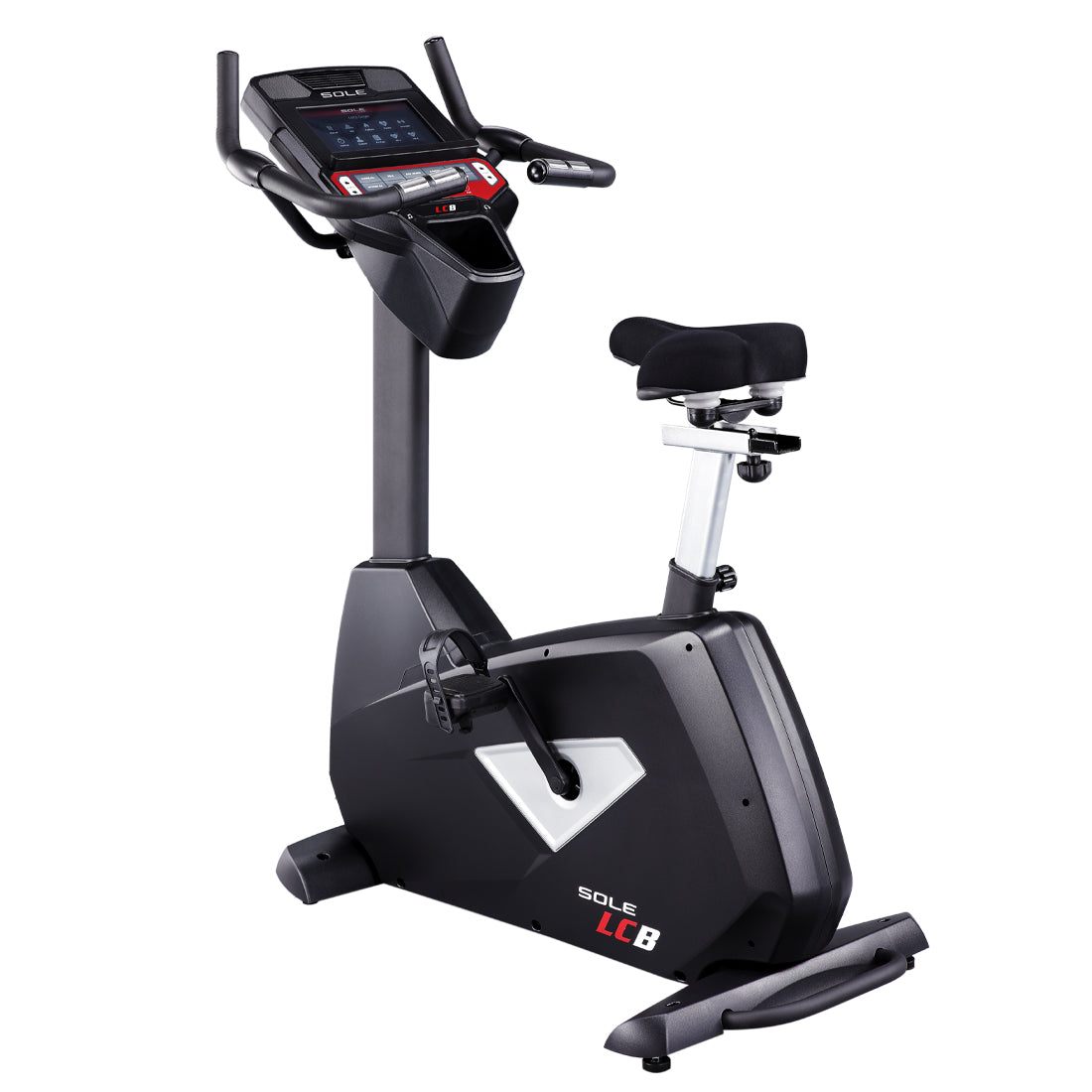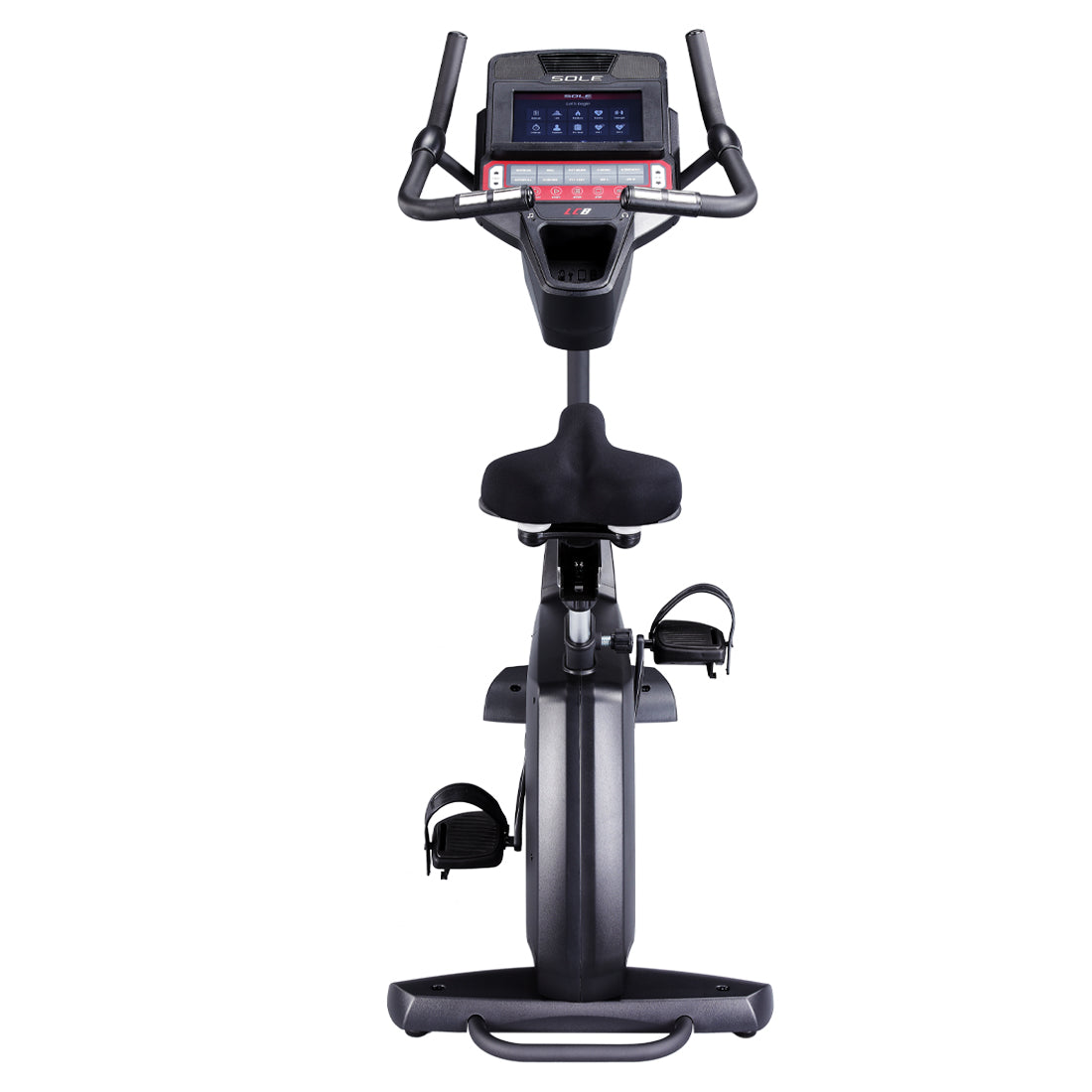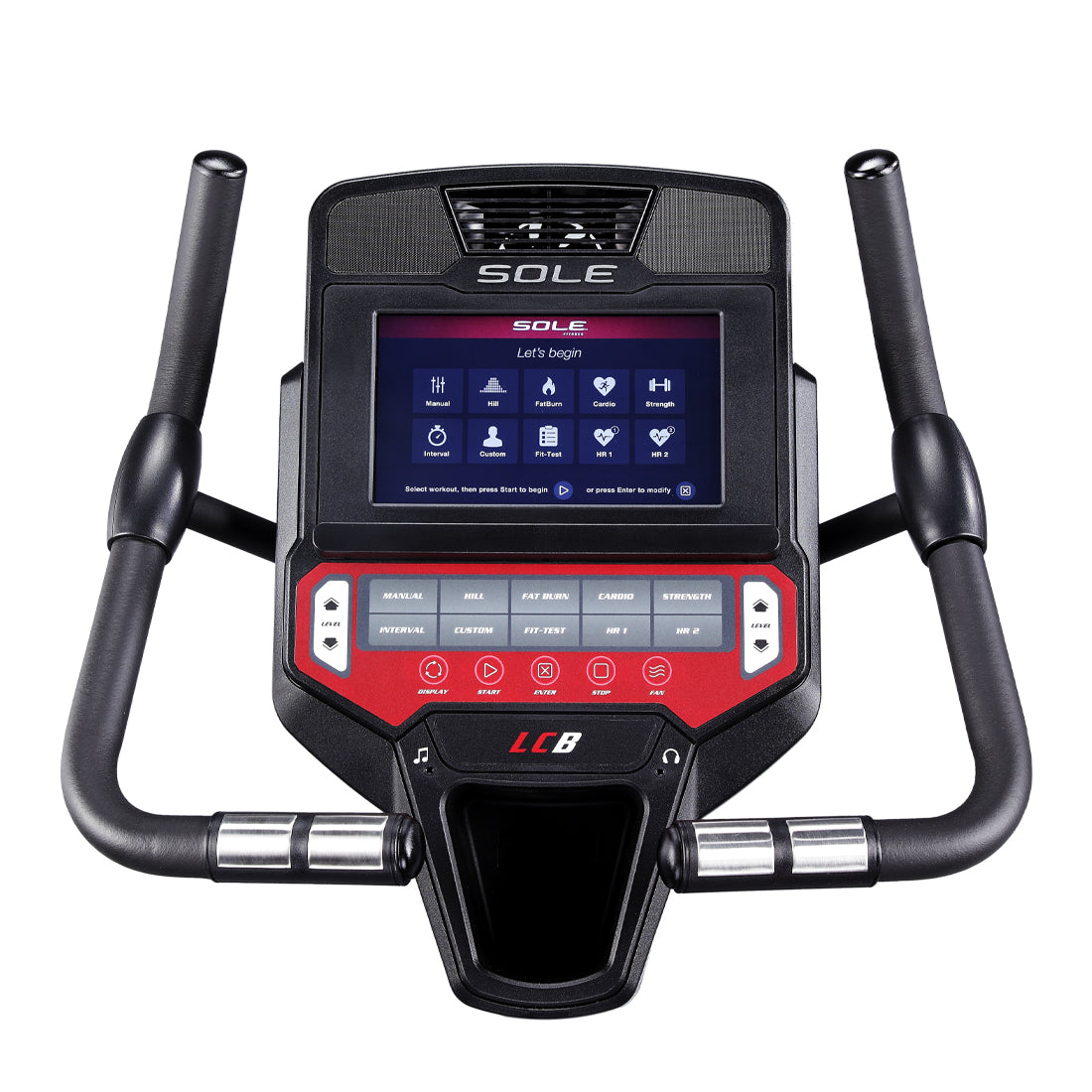 Share
Free Shipping
Get free delivery for orders above $200
A charge of $20 will be applied for orders below $200
0% Instalment Payment Plan
Applicable for the products that cost above $500
0% Interest Rate & Requires participating credit card for the plan

COD
Pay the cash at the time of delivery
Delivery & Installation schedule will be intimated
SOLE LCB UPRIGHT EXERCISE BIKE
This light commercial unit offers up to 40 resistance levels and a variety of programs that is ideal for home use as well as for clinics and centers with multiple users. The easy-to-read 9" blue backlit LCD display shows standard readouts for your exercise session. It comes with 6 programs for fat burning and cardio workouts, plus 2 user defined and 2 Heart Rate Control workouts.
PUSH AGAINST EACH STROKE
The 13.5kg flywheel makes navigating resistance levels of up to 40 easy and smooth. With the frictionless brake system for a smooth silent ride, resistance is exclusively controlled from the console. These pads are literally free of wear and tear as there is no contact with the flywheel. The resistance is also smooth and quiet since no friction is involved.
PEDALS FOR COMFORT
The pedals of this LCB upright exercise bike feature a slight incline of 2 towards the frame of the bike to prevent aches in the knees and feet by aligning the joints in their correct posture during a workout. The pedals are also weighted and feature straps to prevent feet from slipping during your workouts.
ADJUSTABLE & COZY SEAT
Our Sole LCB upright bike is constructed with a cushioned gel seat with both vertical and horizontal adjustment capabilities that will make it easy for maximum comfort and ease of use. The vertical and horizontal seat adjustments can be done with each separate regulation dial.
BEHOLD OF HEART-RATE MONITORING
For the ultimate and safe user experience, our LCB exercise bike has multi-handle grips that has a built-in sensor to track the pulse rate. The metallic silver finish provides a smooth and sturdy hold.
SPECIFICATION
| | |
| --- | --- |
| Brand Model | Sole LCB(16)-DS |
| Console Display | 25.6cm TFT LCD display |
| Resistance Levels | 1 to 40 Levels |
| Seat | Fully Adjustable Gel Seat |
| Flywheel Weight | 14kg |
| Programs | 6 programs for fat burning and cardio workouts, 2 Custom, 2 HRC Programs |
DIMENSION
| | |
| --- | --- |
| Set Up Dimension | 123 (L) X 58 (W) X 152 (H) cm |
| Product Weight | 59kg |
| Max. User Weight | 158kg |
WARRANTY
| | |
| --- | --- |
| All Other Parts | 3 Months |
| Labor | 3 Months |
Q: What is the flywheel weight of the exercise bike? Is this okay to have?
Answer
The flywheel power used in the Sole upright bike is 14kg, which is the perfect capacity for a flywheel to use in your home gym or commercial gym. According to the expert's data, most fitness centers prefer flywheels below 20kg for their gym. So, having an exercise bike with 14kg flywheel home use is more than enough, and also the best choice for commercial purposes too.
Q: Is it best and safe to work at a high resistance level on the fitness bike?
Answer
Our LCB upright exercise bike provides up to 40 levels of resistance for its users and here,
| Stage | Resistance level |
| --- | --- |
| Low | 1-20 |
| Moderate | 20-30 |
| High | 30-40 |
If you want to work at a peak speed, you have to choose resistance from 30 to 40. Setting up high speed is not a matter, but maintaining it is very hard, so set the speed based on your experience in that and physical capacity. However, it's always good to train at medium (20-30) resistance in the fitness bike.
Q: Need to ride at high resistance, so is there any brake system to control it?
Answer
Nowadays, people like to face challenges and prefer to train them at the highest speed level, but there are some cons relied on it. This is why our well-talented team inserted a brake system in the workout bike to control the speed. This design also ensures a smooth and silent ride.
Q: Can I set my speed based on the heart rate?
Answer
Yes, you can your resistance level based on your heart rate through the multi-handle grips and built-in pulse sensor. The multi-handle grips in stationary bike guarantee comfort and safe grip and the pulse sensor transfer your heart rate to the display console for you to check and monitor. When you leave your hand on the silver-coated handlebars, your pulse showed on the display screen. Our upright cycle for gym also allows changing the position of handlebars for extra security and relation to engage yourself with the bike.
Q: Can I get any pre-installed programs to enjoy on the fitness bike?
Answer
Of course, you get some pre-installed programs to hold yourself more on our pedal exerciser. We provide 6 programs for cardio lovers or people who find fat-burning as a fitness goal. Apart from this, you also obtain 2 custom programs and 2 HRC programs to reach results very quickly.
Q: What is the maximum user capacity to use this upright exercise bike?
Answer
The maximum capacity for users to get benefits from our indoor bike for sale is 158kg which is more than adequate for all users, and our team keeps all athletes in mind and presented this bike.