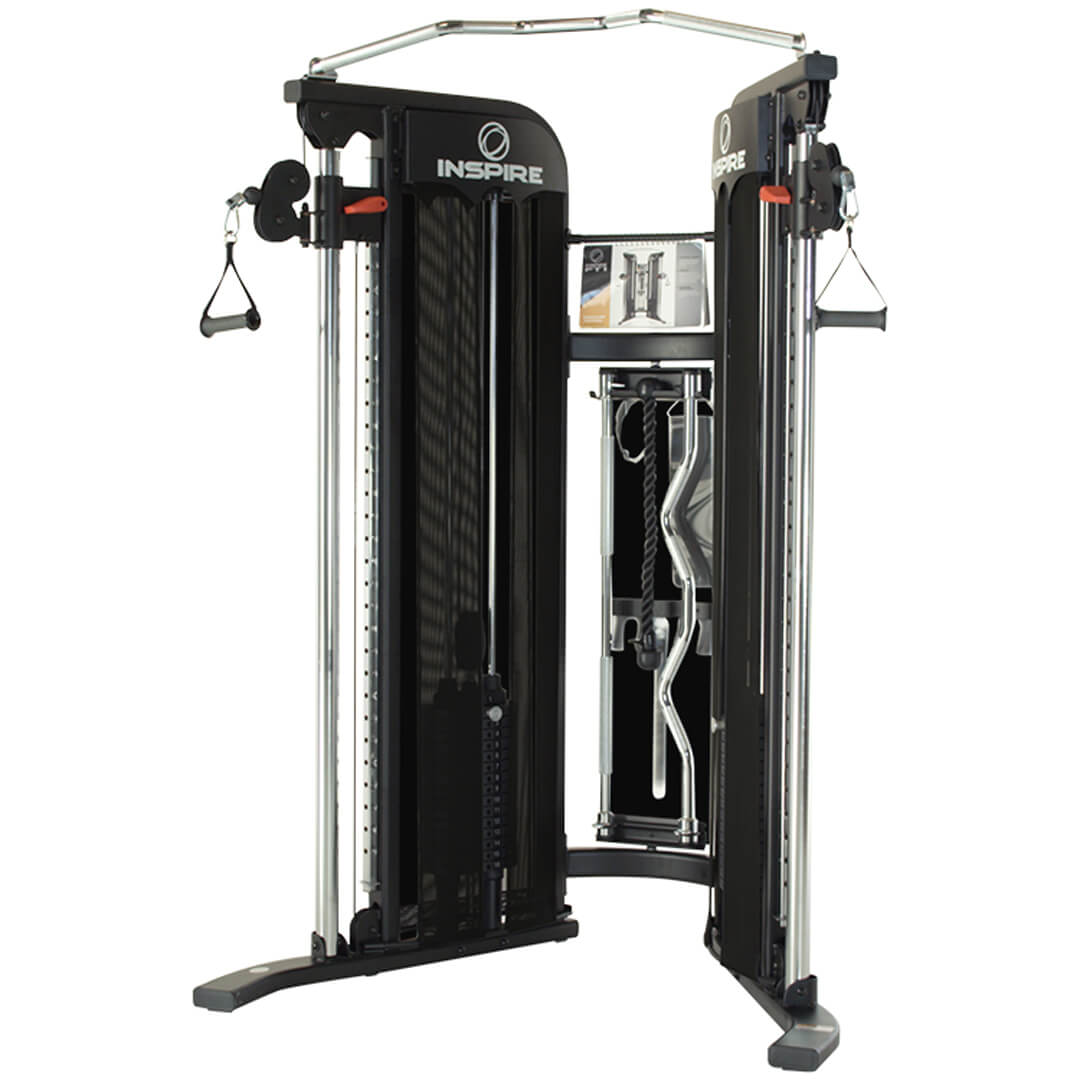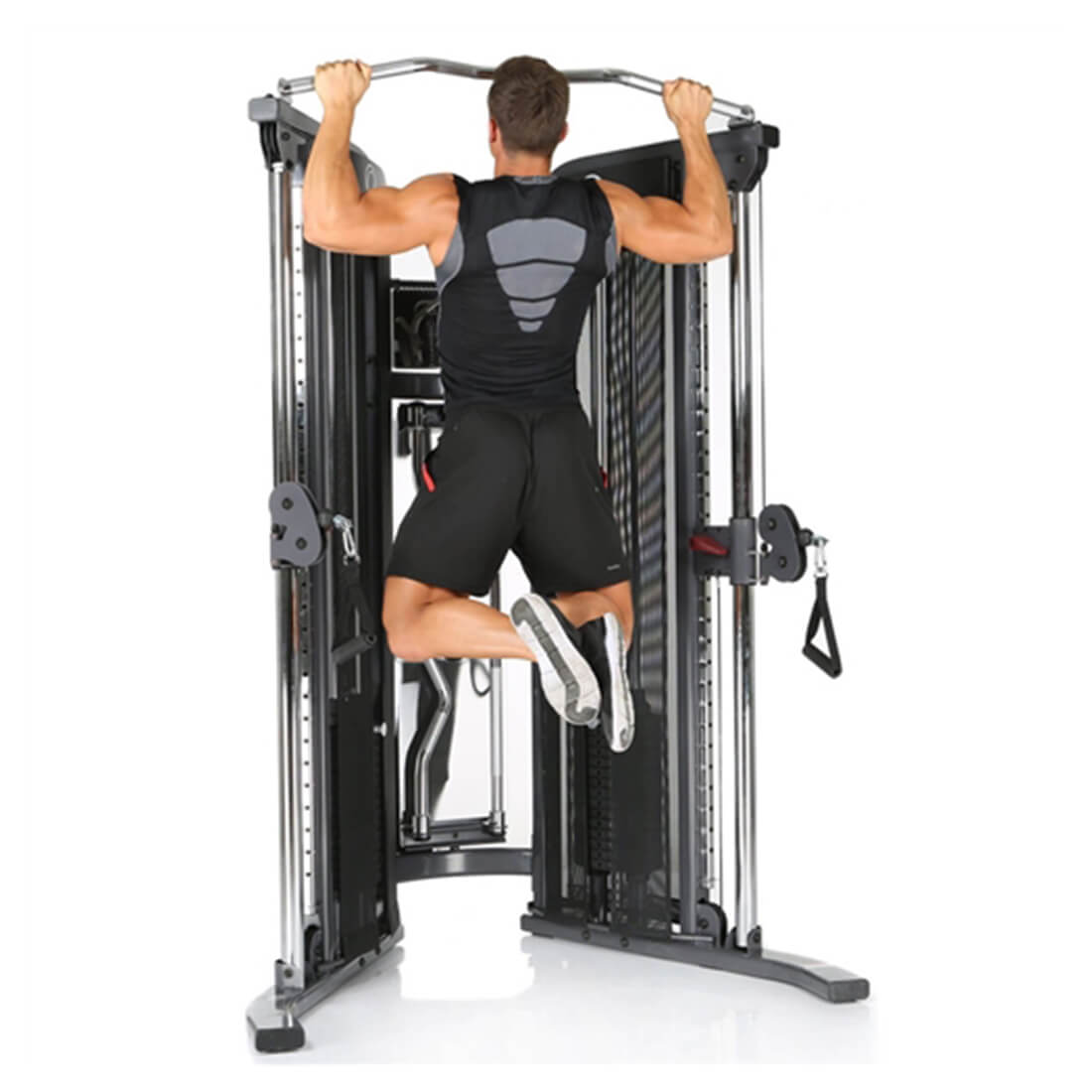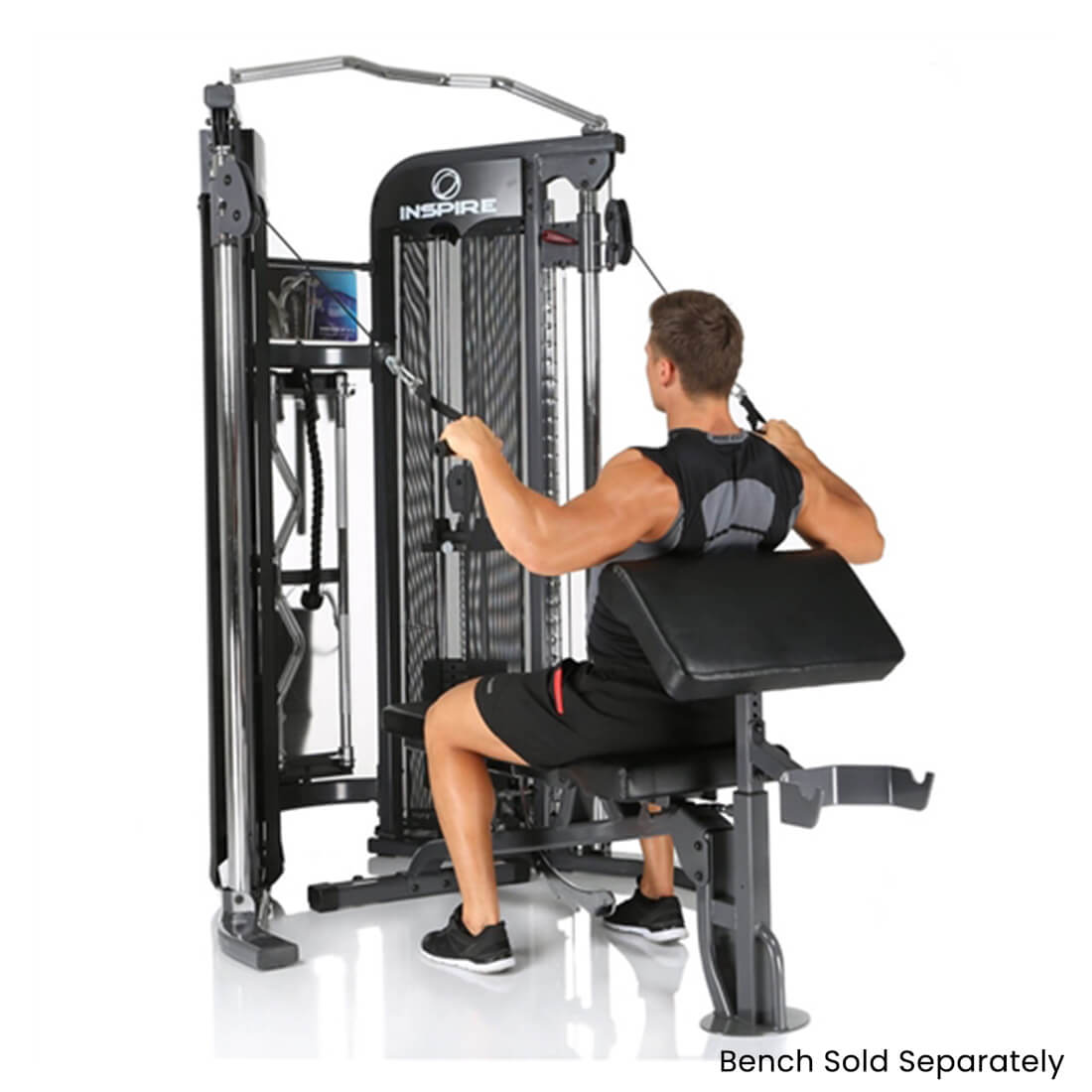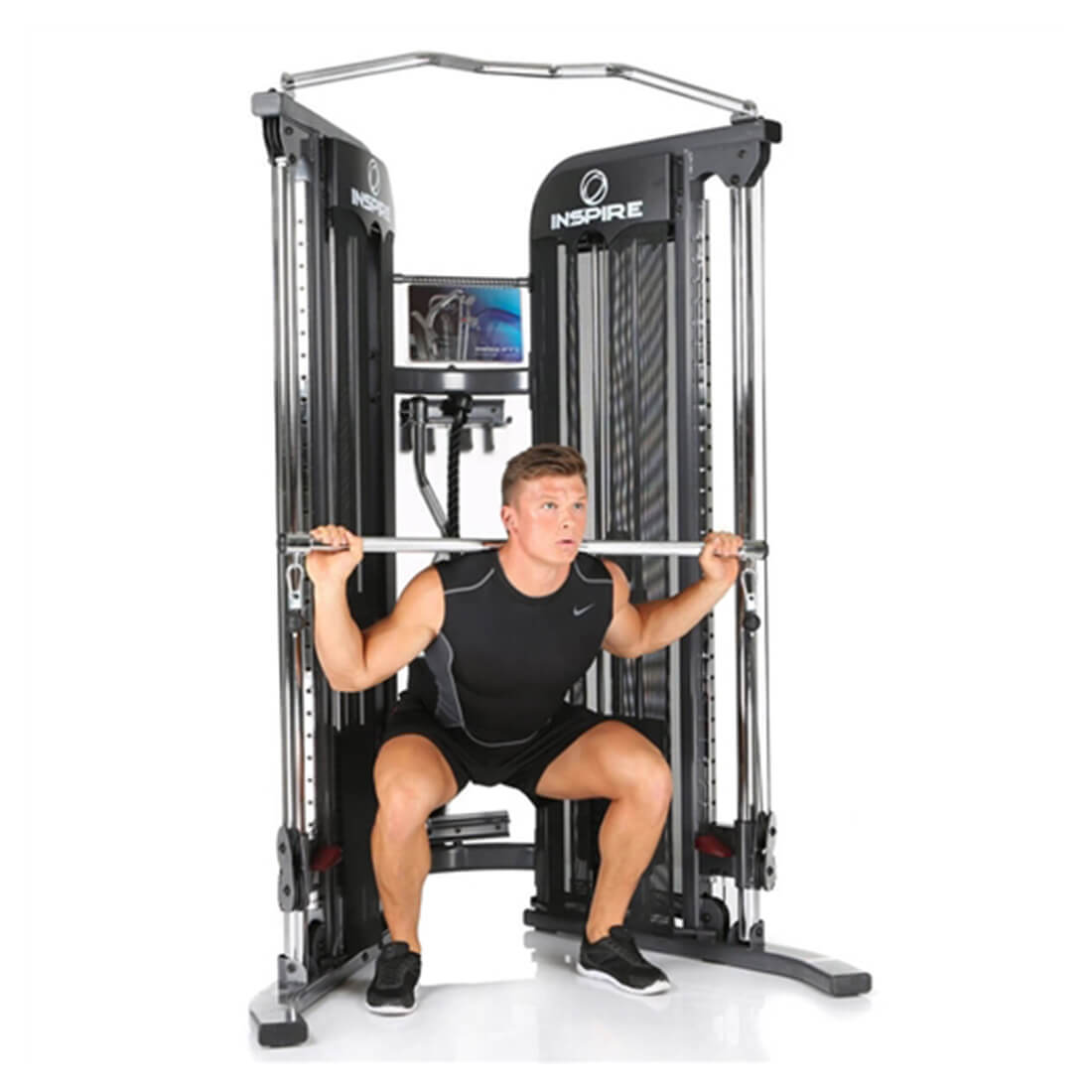 Share
Free Shipping
Get free delivery for orders above $200
A charge of $20 will be applied for orders below $200
0% Instalment Payment Plan
Applicable for the products that cost above $500
0% Interest Rate & Requires participating credit card for the plan

COD
Pay the cash at the time of delivery
Delivery & Installation schedule will be intimated
INSPIRE FT1 FUNCTIONAL TRAINER
Inspire FT1 is a commercial functional trainer built with extensively durable and long-lasting heavy-duty steel material. The smaller footprint yet multi-purpose functionality makes this machine suitable for all levels of fitness freaks and it can be loaded in any corner. This compact machine not only stands for its quality but also for the classy design with a black matte finish and red details.
WELL-BUILT PREMIER TRAINER
Inspire FT1 functional trainer is engineered with heavy-duty rectangular and round tubular 7.6cm 11-gauge Steel material that offers extreme durability even with repetitive and intense usage. The electrostatic black matte powder coating with Precision Steel Ball Bearing System eliminates air dust, scratches, maintenance-free finish and also makes the machine's look more elegant.
DIRECTIVE EXERCISE BOOKLET
The Inspire Fitness FT1 functional trainer Singapore has the Instructional Flip Chart that directs the proper way and position to the user for doing 40 different exercises and that is the way you can have all the exercises at your fingertips.
CABLES AND PULLEYS
The Inspire FT1 for sale in Singapore has a user-friendly 30 multiple swivel height positions where it can be easily and quickly adjusted with the single-handed adjustable low/high pulley system to carry out countless exercises with complete freedom of motion. The 0.5(1:2) Resistance Ratio and the 907kg tensile strength cables provide a smooth, continuous feel and a longer range of motion for more versatility.
DUAL INDEPENDENT WEIGHT STACKS
The Inspire Fitness FT1 has 2 X 75kg weight stacks with rigid guide rods and center drilled weight plates. These dual weight stacks can be utilized independently for obtaining the improved, balanced and unconstrained workout on each side of the body.
ROTATING ACCESSORY HOLDER
The Inspire FT1 trainer has the rotating add-on holder that comprises the Multi-Functional Belt, Easy Curl Bar, Straight Bar, Ankle Cuff, Swing Handle, Tricep Rope, 2 X Single Handle, 2 X 2.26kg Add-On Weights, and Exercise Booklet.
SUPREMELY LOADED & COMPACT MACHINE
Our FT1 functional trainer in Singapore is loaded with large clusters of add-ons like Dual Independent Weight Stacks, Split Resistance System, Rotating Accessory Holder, Pulley System, and Chin-up Bar allows you to perform a wide range of exercises. The V-shaped, forward design with the smallest footprints offers a compact design and eliminates the usage of the backside of the equipment as all the workouts are performed only at the front segment.
INFINITE EXERCISES
As the Inspire FT1 functional trainer in Singapore has a variety of add-ons and attachments, it lets the user obtain a great variety of exercises that incorporates the muscle areas of Arm, Chest, Shoulder, Abdomen, Back, and Leg. Exercisers can do the workouts like Bicep Curl, Chest Press, Shoulder Press, Tricep Extension, Lat Pulldown, Cable Rows, Squat Variations and many more.
AVAILABLE OPTIONS
Users can add extra or additional attachments to this Inspire FT1 functional trainer like SCS-WB, FID Bench, 23kg Weight Stack add-on, and Abdominal Bar. All these attachments are sold separately.
SPECIFICATION
| | |
| --- | --- |
| Brand Model | Inspire FT1-DS |
| Frame | Heavy-duty Rectangular and Tubular Steel |
| Finish | Electrostatic Powder Coat |
| Weight Stacks | 75kg Each |
| Pulleys | Fiberglass Reinforced Nylon |
| Bearings | Precision Steel Ball Bearing |
| Accessories | Multi-Functional Belt, Easy Curl Bar, Straight Bar, Ankle Cuff, Swing Handle, Tricep Rope, 2 X Single Handle, 2 X 2.26kg Add-On Weights, Exercise Booklet |
| Cables | 907kg Tensile Strength |
| Additional | SCS-WB Bench, Weight Stack Upgrade |
WARRANTY
| | |
| --- | --- |
| All Parts & Labor | 6 Months |
DIMENSION
| | |
| --- | --- |
| Set-Up Dimension | 120 (L) X 137 (W) X 207 (H) cm |
| Product Weight | 329kg |
Q: What advantage do I gain when using a pulley system?
Answer
The main advantage of having a pulley system in a functional trainer machine is required less effort. Compared to the normal lifting of weights, having a pulley system reduces the actual amount of force needed for heavy object lifting training. This is why Singapore sole fitness loaded both high and low pulley systems in a single machine.
At the same time, it's very easy to adjust the pulley system in a single-handed controller. Thus, enjoy complete freedom of motion in countless exercises with our FT1 functional machine.
Q: Is the 1:2 resistance ratio in trainer best to use?
Answer
Yes, our Inspire trainer is designed with a 1:2 ratio resistance, which is best to use at the home gym. If you want to work on half the selected resistance, then buying a compact functional trainer machine is more than enough not only for home purposes but also for commercial use too.
For example, if you choose 100lb of a stack for your training, then you will feel only resistance for 50lb. And, the 907kg of tensile strength cables provides a smooth and continuous range of motion.
Q: What is the advantage of the independent and dual-stack machine in a trainer?
Answer
Having a dual-weight stack in the multi-functional trainer helps to concentrate on both sides of your body simultaneously from top to bottom. Accordingly, We adds an independent dual stack weight in the trainer machine that permits users to add different weights on each side.
Q: Do I want to buy a curl bar, handles, tricep rope, and more on the outside to use in this machine?
Answer
No, you don't need to buy those accessories, as our functional fitness trainer has rotating add-on holders that include
Multi-functional belt
Easy curl bar
Straight bar
Ankle cuff
Swing handle
Tricep rope
2 single handles
2X2.26 add-on weights
Exercise Booklet
Q: Whether this trainer occupies more space in my gym?
Answer
We use V-shaped and forward designs to build the multifunctional combination trainer, which eliminates the usage of the backside of the machine. So, you will perform all the workouts only at the front portion of the equipment. With this feature, our home functional trainer takes only a small footprint. So, allocating compact space is more than enough to install this machine.