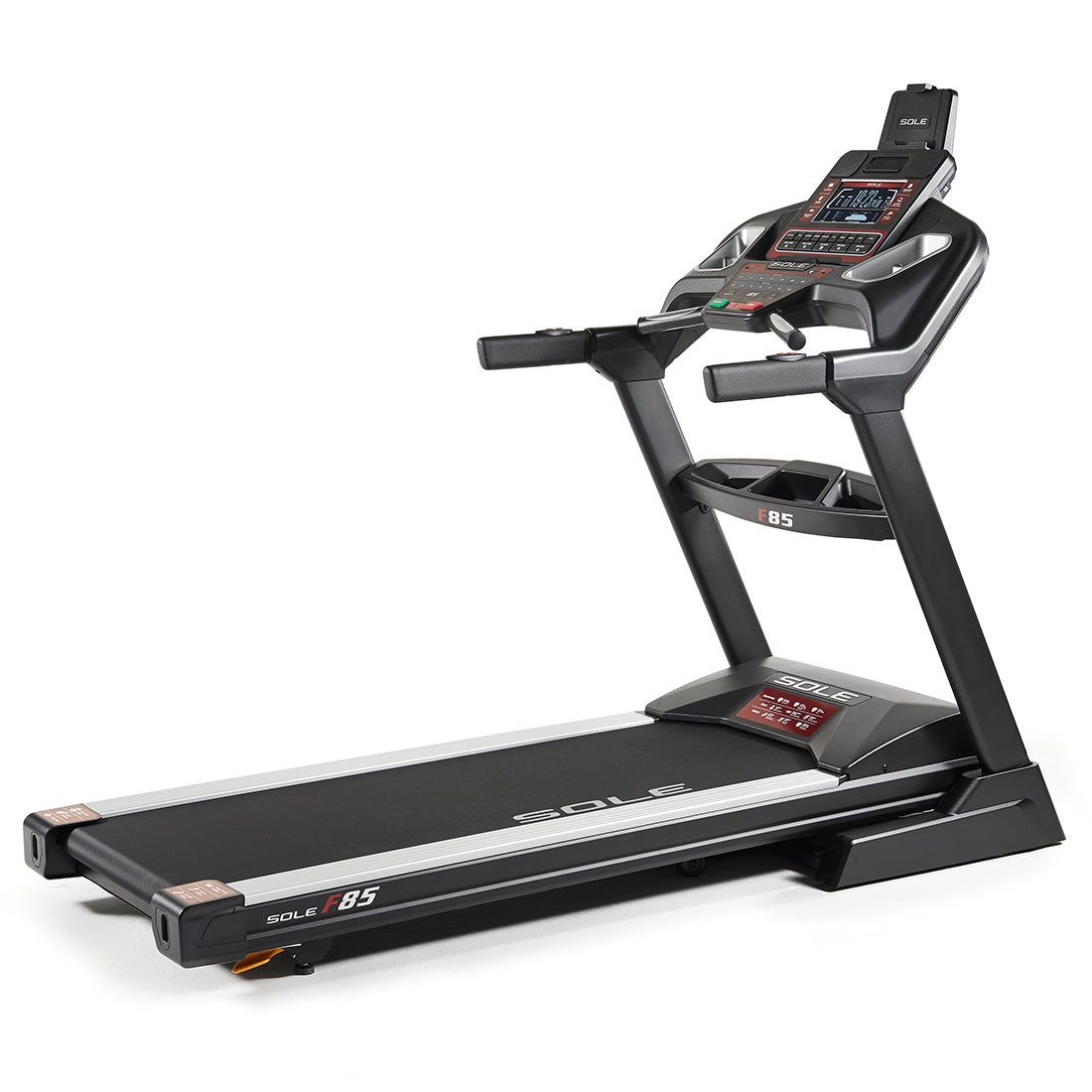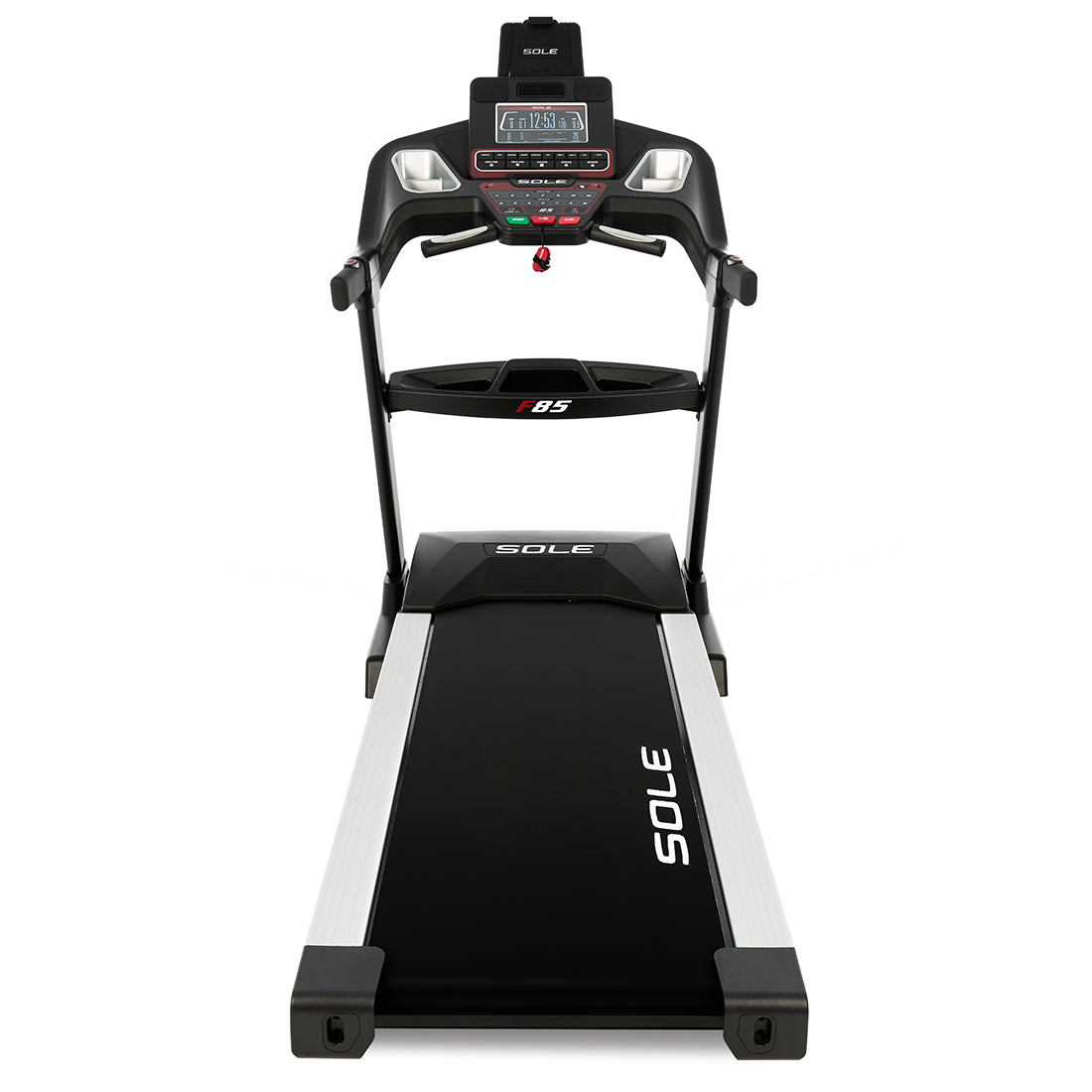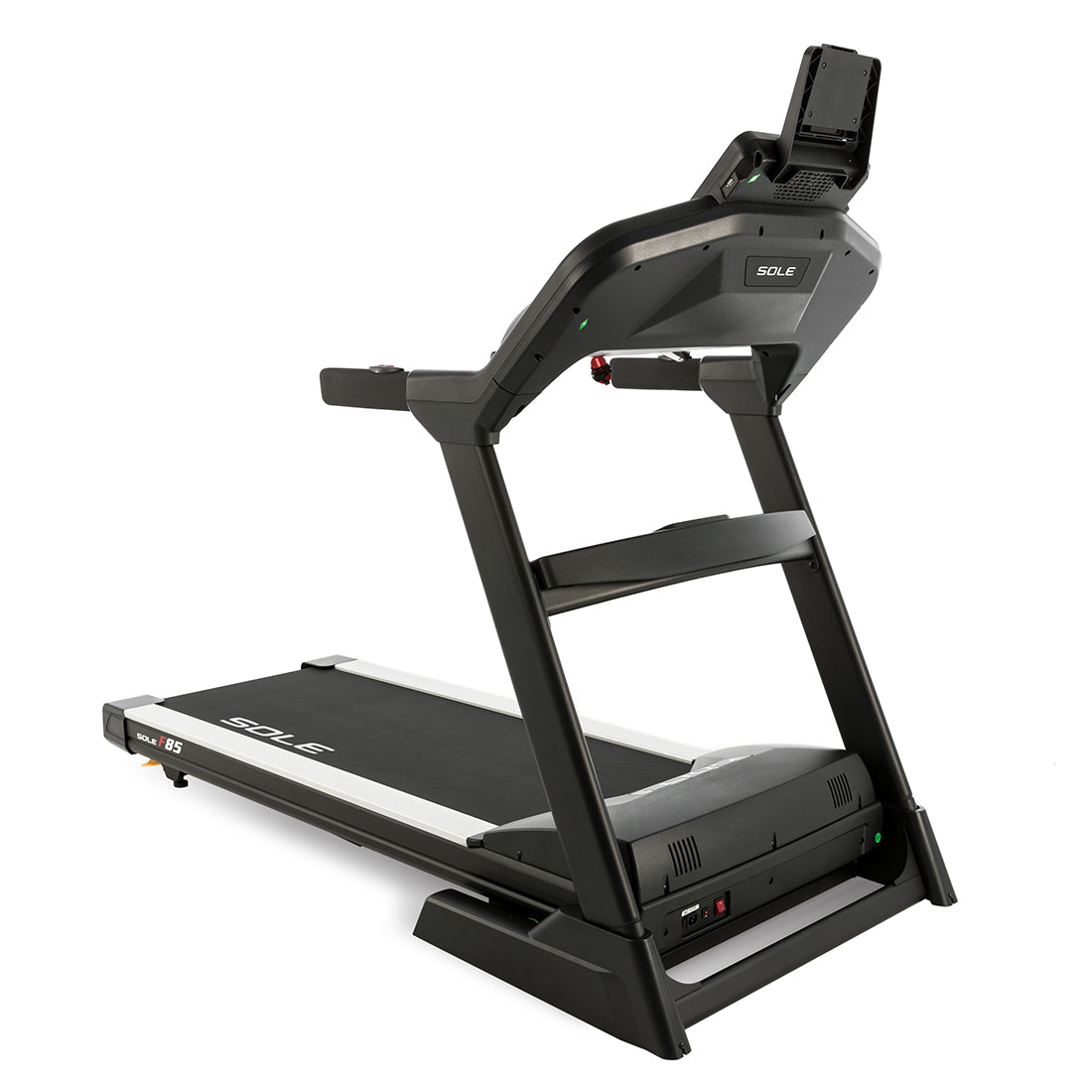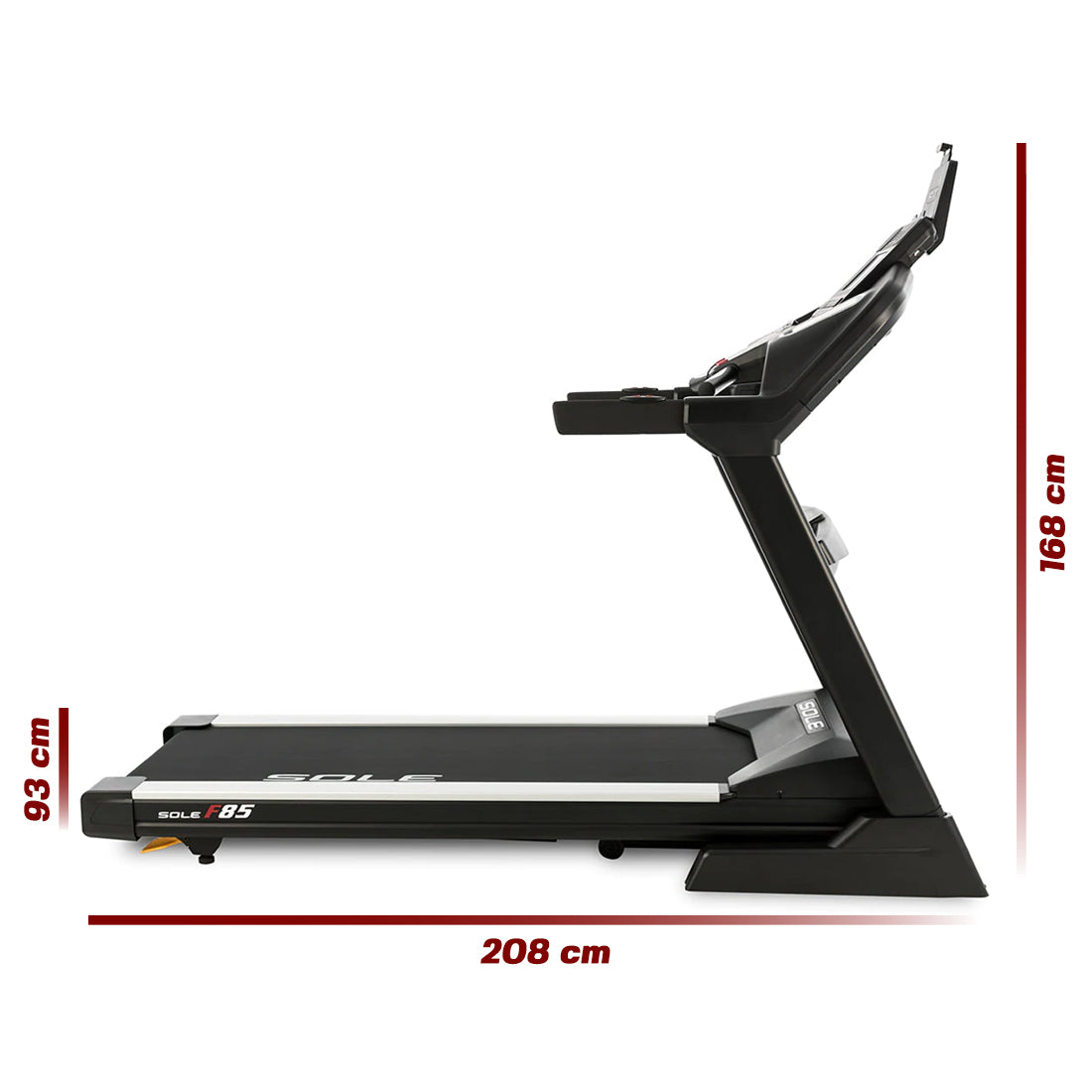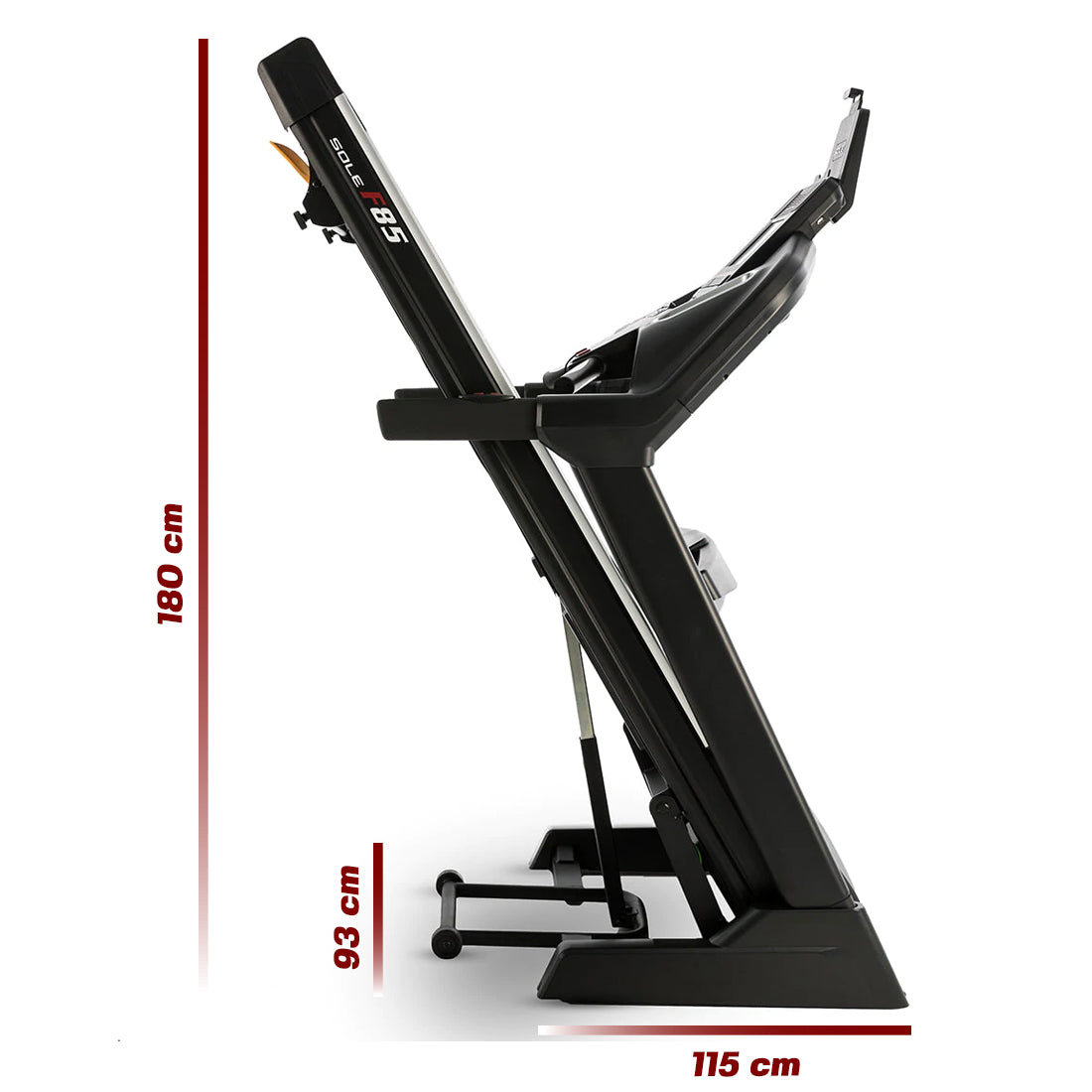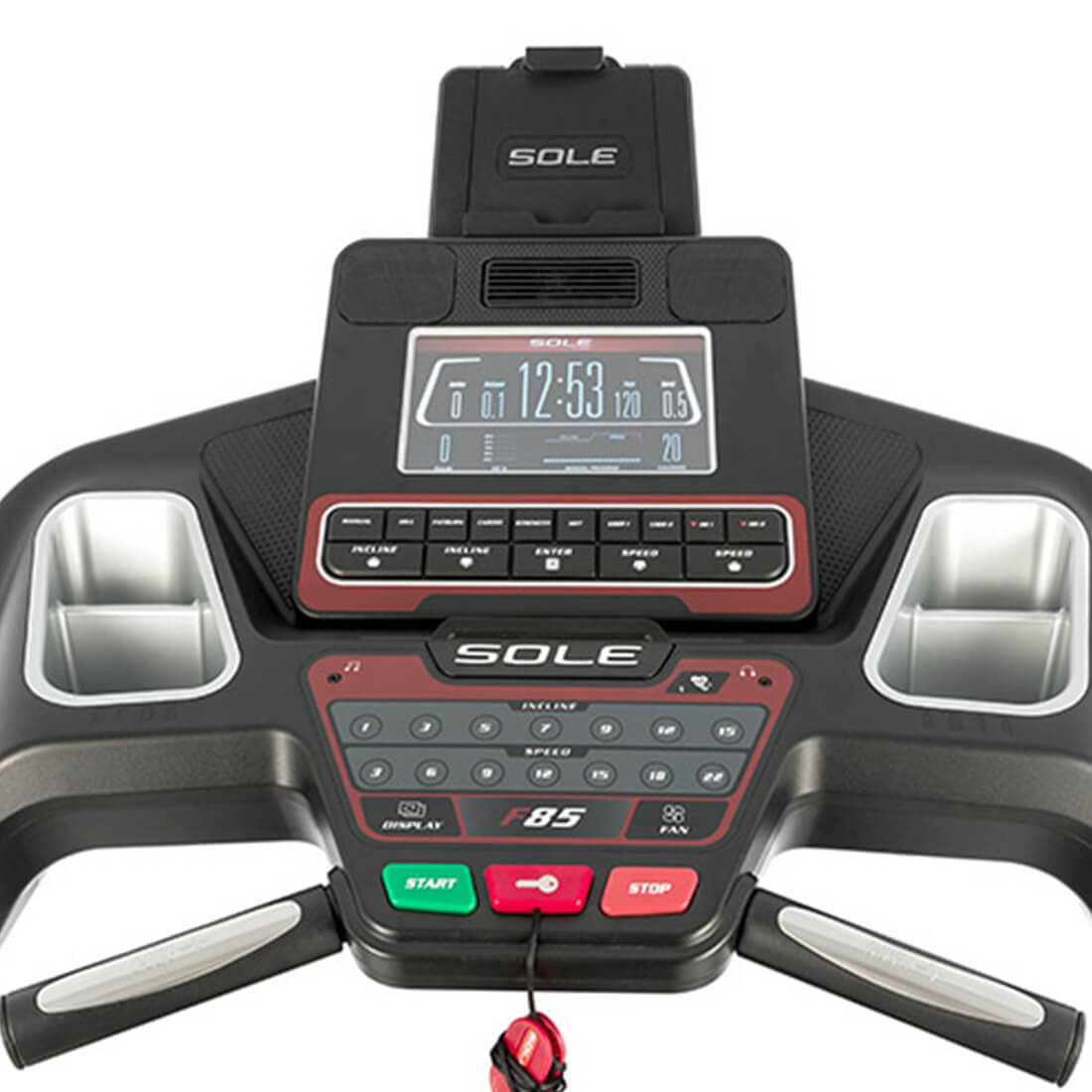 Share
Free Shipping
Get free delivery for orders above $200
A charge of $20 will be applied for orders below $200
0% Instalment Payment Plan
Applicable for the products that cost above $500
0% Interest Rate & Requires participating credit card for the plan

COD
Pay the cash at the time of delivery
Delivery & Installation schedule will be intimated
PEAK BRAWN MOTOR & FLYWHEEL
Sole took the F85 folding treadmill to the next level, by using an industrial quality 4CHP motor and an all-steel zinc coated balanced flywheel, creating a secure, quiet, vibration-free running/walking surface. The treadmill's integrated flywheel is also much heavier than other models giving runners the fluid motion, they're accustomed to at the gym while supporting weights of up to 150kg.
EXQUISITE AND INFORMATIVE DISPLAY
Presenting the most robust and clearest screen on the market; the 10.1" (25.6cm) TFT LCD display. Readouts provided to the users with helpful information, such as Speed, Pace, Calories burned will be at their clearest and largest for maximum comfort and ease of access. This message board is also able to recap an entire workout and allow you to see the progress you've made. Users can have the freedom of increasing speed and incline quickly; the display features quick Speed / Incline buttons along the sides of the LCD making it extremely convenient and easy to control and maintain your workout.
SOUNDLESS DECK
Cushion Flex Whisper Deck technology can reduce joint impact by up to 40% compared to outdoor training surfaces. It also exceeds the impact reduction offered by many other fitness brands. In addition to cushioning the impact of running, Sole's F85 being the top running deck also muffles the sound of performance to be more home-friendly.
ACCURATE HEART RATE MONITORING
There are two separate heart rate programs. The heart-rate programs automatically calculate your recommended target range based on your age. So, you can be assured of the most efficient and safest workout possible all of which from just holding the metallic rests at each side.
WIRELESS CHEST STRAP
The treadmill F85 machine also integrates with wireless chest straps which are provided with each purchase. This chest strap can be worn around the chest and it transmits the pulse rate to the display console. Thus, the users can control the intensity of the workout within a predetermined heart rate.
MOST ADVANCED HYDRAULICS
The Sole Fitness F85 features the smoothest transitions between 15 different resistance levels. All Sole home treadmills have foldable frames but with hydraulic technology, the machine can practically fold and unfold itself. Our design features a patented all gear rack & pinion system with the Safety Lock Deck design that locks the deck into place when the equipment is in the upright position.
PORTS & HOLDERS
The Bluetooth Audio Speakers enable you to listen to music from your smart devices through the speakers on the console. An Integrated Tablet Holder gives you the freedom to use your smart devices to watch shows or follow your workout routines. Even a USB Port is inbuilt for you to charge your smart devices while working out.
COMPATIBLE APPS
Our workout machine is compatible with the following fitness Virtual Apps. Connecting the equipment to the Sole Fitness App lets the user view current workout data in three different Display screens on the device. Sole App can be exported to the third-party apps Kinomap, Fitbit, Health & Map My Fitness. Garmin App can be imported to the Sole Fitness App. Integrating with the virtual cycling Zwift App enables users to ride, train and compete in a virtual world. The Strava app is the GPS-enabled virtual cycling App that lets you track the ride, share photos and join challenges.
SPECIFICATION
| | |
| --- | --- |
| Brand Model | Sole F85 |
| Frame Style | Folding |
| Drive Motor | 4CHP |
| Console Display | 25.6cm TFT LCD Display |
| Speed Range | 1 – 22km/hr |
| Incline | 0 – 15 Levels |
| Programs | 6 Pre-set, 2 Custom & 2 HRC Programs |
DIMENSION
| | |
| --- | --- |
| Running Surface | 152 (L) x 56 (W) cm |
| Set-Up Dimension | 208 (L) x 93 (W) x 168 (H) cm |
| Folded Dimension | 115 (L) X 93 (W) X 180 (H) cm |
| Carton Dimension | 217 (L) X 94 (W) X 44 (H) cm |
| Product Weight | 127kg |
| Max. User Weight | 150kg |
WARRANTY
| | |
| --- | --- |
| Frame | Lifetime |
| Drive Motor | 5 Years (Residential) & 3 Years (Commercial) |
| Running Belt & Deck | 2 Years (Residential) |
| All Other Parts | 1 Year (Commercial) |
| Labor | 1 Year |
Q: Can I add this treadmill to my gym business?
Answer
Yes, unquestionably you can add the F85 treadmill to your commercial gym business to bring even more customers because you should know the motor with a horsepower of more than 3CHP is the right choice for commercial use, but our folding treadmill is covered with industrial motor power of 4CHP. Moreover, well-quality materials are used in the construction process to make various parts of the machine. With all these, you should be able to satisfy your customer's requirements.
Q: Is there a reading display to see the information?
Answer
Yes, there is a reading display in the compact treadmill to see your workout information to compare or improve steps. Sole fitness Singapore highly concentrates on the customer's needs for the product, so designed a machine with a robust and clearest 10.1" (25.6cm) TFT LCD display to readouts speed, pace, calories burned, and many more also lets to recap all the information to progress at end of the session.
Q: What can expect in the treadmill package?
Answer
When you purchase our running machine, you will get wireless chest straps along with the product to monitor your heart rate. This chest strap is connected to the auto treadmill display console and transmits the pulse rate to the large 25.6cm TFT LCD Display, where you see the result by leaving your hand from grip control so that you can able to limit the intensity of your running.
Q: Are there any added features in the treadmill?
Answer
Yes, there are many added features in the walking assistance to jump to the next level of performance. Here is a list of features:
Bluetooth audio speakers enable you to listen to music from your smartphone to enjoy your workout steps.
Cohesive tablet holders provide freedom for you to watch smart devices while running.
Built-in USB port helps to maintain your phone charged full anytime.
Integrated cup holders keep you stay hydrated at all times.
Storage holder to have a small wallet with you always.
Q: Can I join a virtual running race on the treadmill?
Answer
Yes, you can join a virtual running race on the sole treadmill that offers compatible apps to export sole fitness app to third-party apps like the Garmin app, Zwift app, Fitbit app, and so on. In addition to that, you can also connect the app to equipment where you want to see your result, almost three various displays are permittable.
Q: What is the lifetime of a treadmill motor?
Answer
A portable treadmill consists of an industrial quality motor of 4CHP which works for a long life but is also packed with a 5years warranty plan. There is no need to worry about the lifetime of this high-quality motor and warranty period because it must come for the lifetime of the treadmill. Warranty limits of other parts of a product for your reference:

| Frame | Lifetime |
| --- | --- |
| Drive Motor | 5 Years |
| Running Belt & Deck | 2 Years |
| All Other Parts & Labor | 1 Year |
Q: Can I fold this treadmill?
Answer
Yes, you can able to fold and unfold this inclined treadmill with its hydraulic technology, and allows you to lock the deck when it's in the upright position with the safety lock deck design technology. Thus, folding and unfolding are practically easy with these features.
Q: Is the running deck mounted on the ground?
Answer
No, there is a distance between the running deck and the ground. You can see a 19cm height in between the ground and an electric treadmill.
Good Choice & Quick Shipping
I haven't faced any issues over delivery and installation. It was very perfect and quick. The display panel has lots of information without being too distracting. Also, I prefer the button interface instead of a screen. Love the hydraulic drop assist. The quality, look and feel exceeded my expectations. 5 Stars!
Thank you for choosing solefitness.sg
So far so good
Got this treadmill last week. Delivered in 2 days and the staffs were very friendly and polite. The installation was very quick and perfect, and they explained me about the usage and care instructions. I have started my workout and the treadmill operation is very quiet and comfy. No problems till. Overall I would recommend it.
Thank you for choosing solefitness.sg
Best treadmill ever
I have had 2 other Treadmills in the past and this F85 is the best of all. It is very well built, the motor is robust, the folding running deck let me save more space and most importantly it is very quiet during operation. Must Buy!
Thank you for choosing solefitness.sg
Works Great
I bought this treadmill because I wanted a solid build that would last for years to come. Then after a long search I have ordered this F85 treadmill for my wife. It has nice fetures like built in speakers, fans, audio input and heart rate monitor. She is loving it. Thank you Sole Fitness Singapore.
Thank you for choosing solefitness.sg
This is the best one
Without breaking the budget, this treadmill is the best economical option. The large display is easy to read and monitor the workout standards like speed, distance, calories and all. Overall the best treadmill I have ever purchased.
Thank you for choosing solefitness.sg