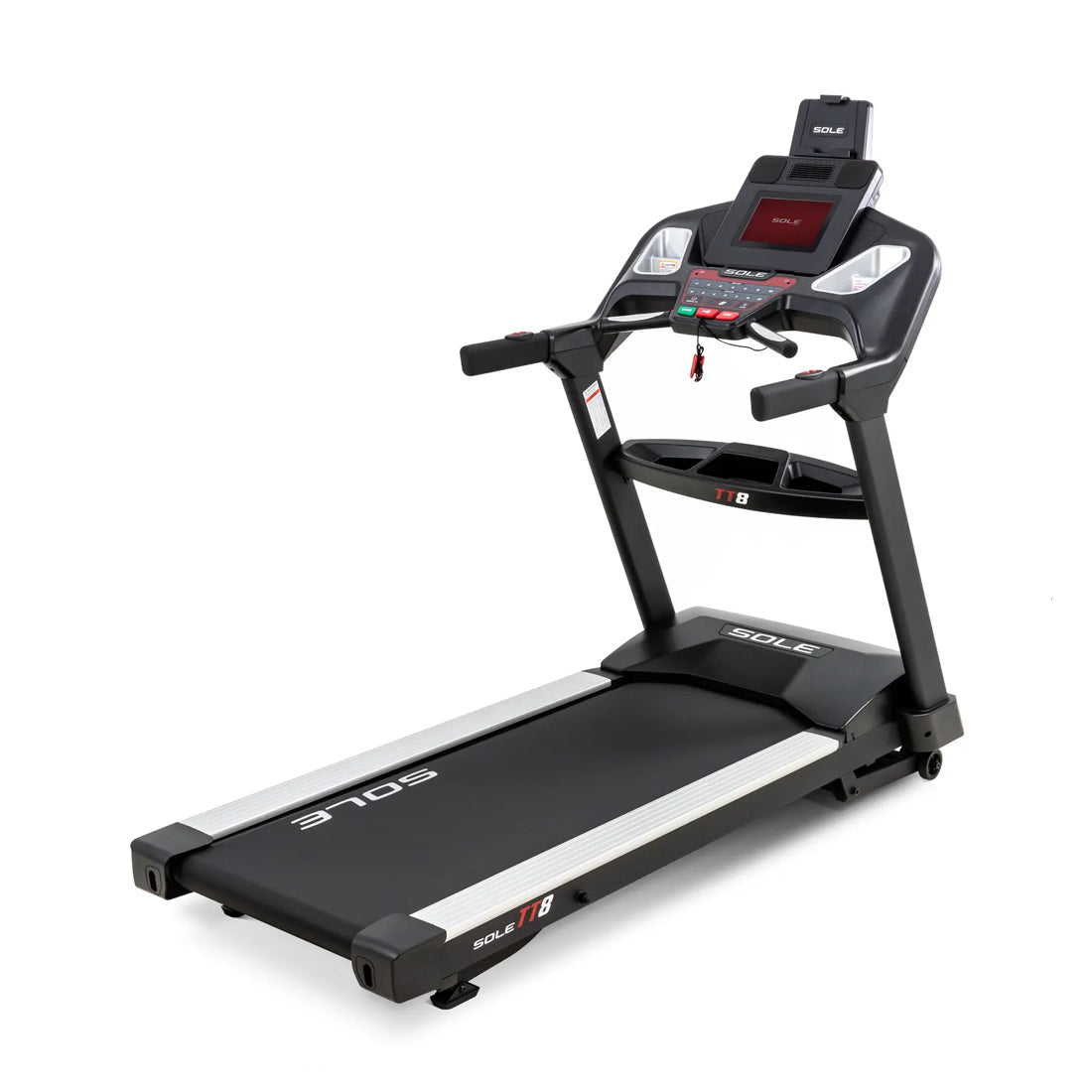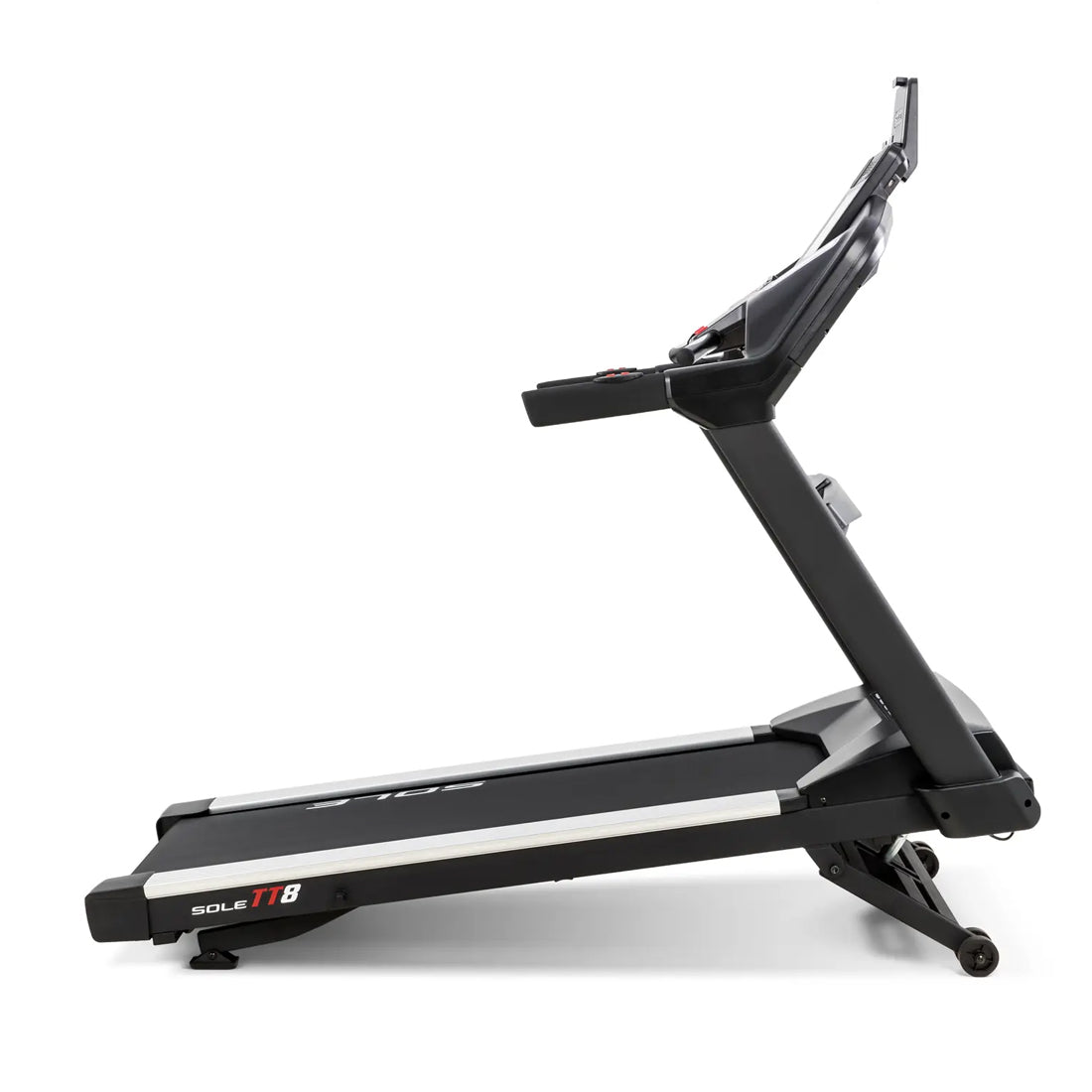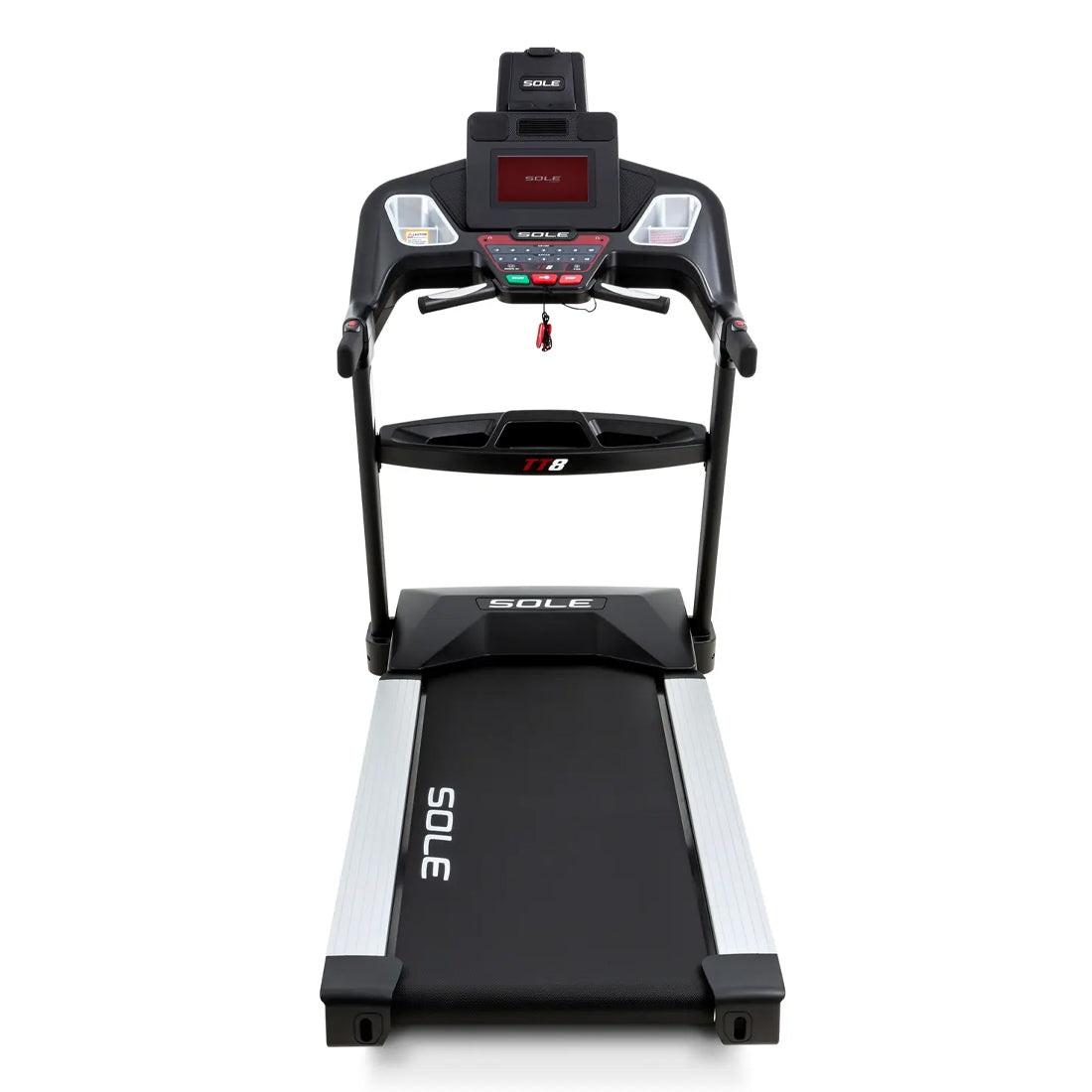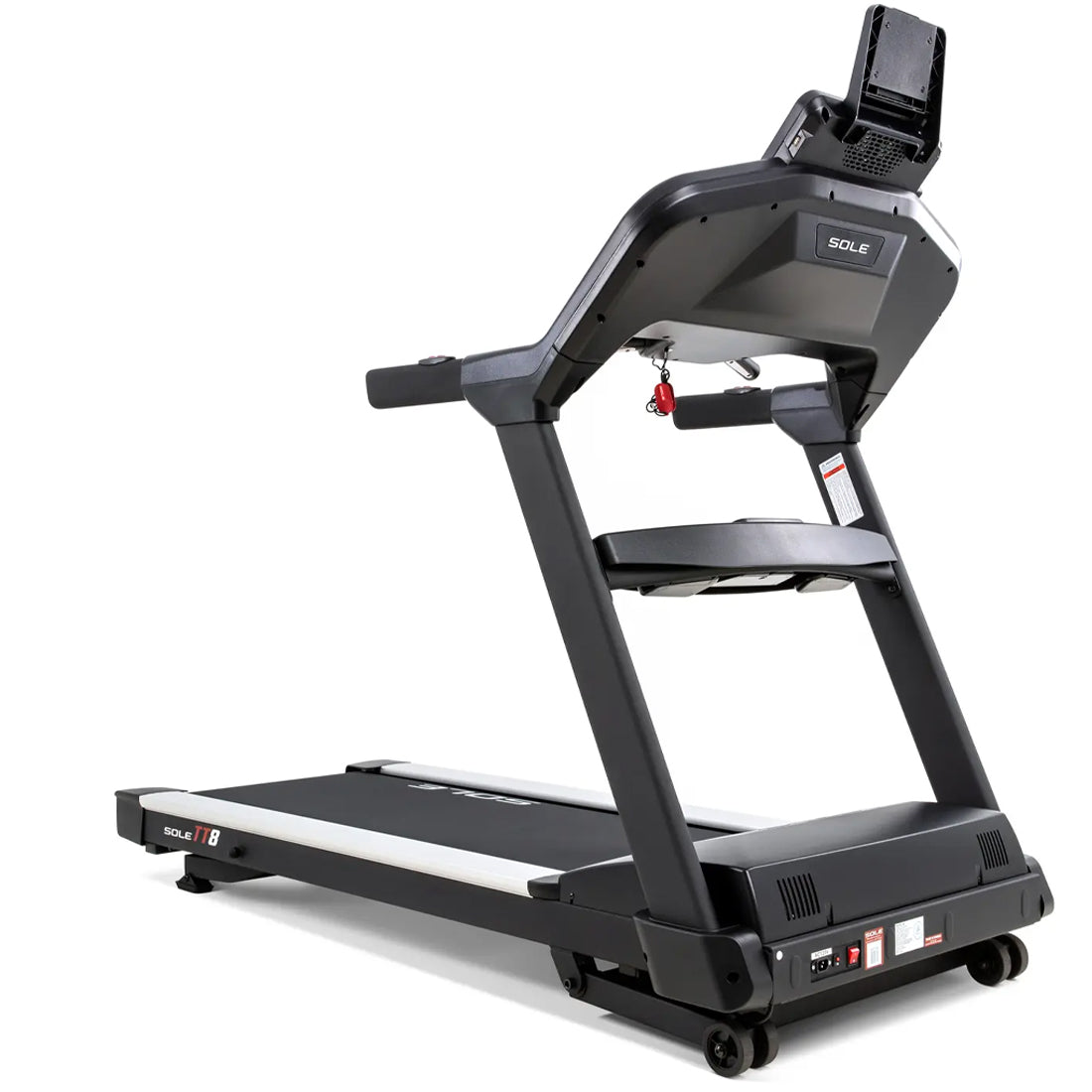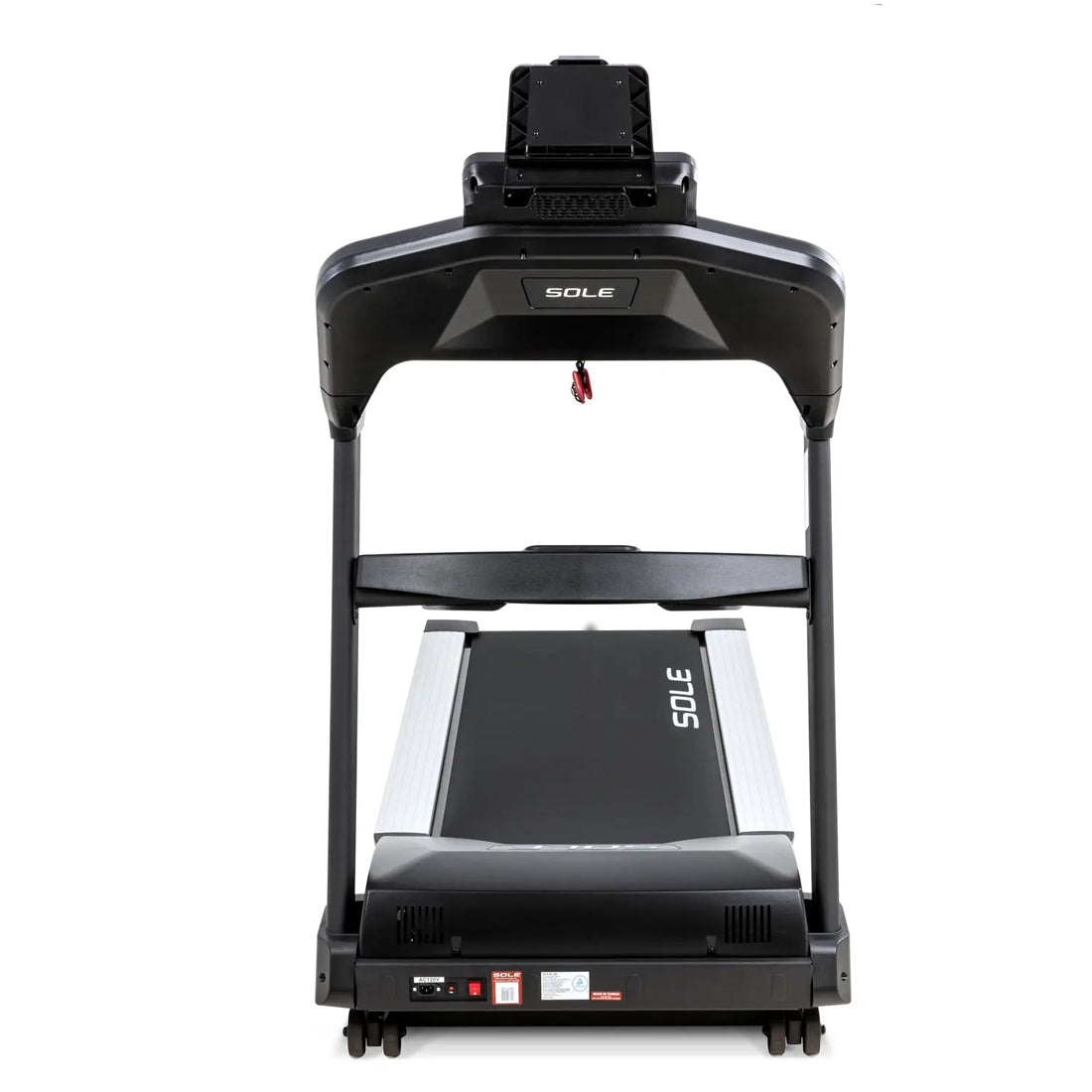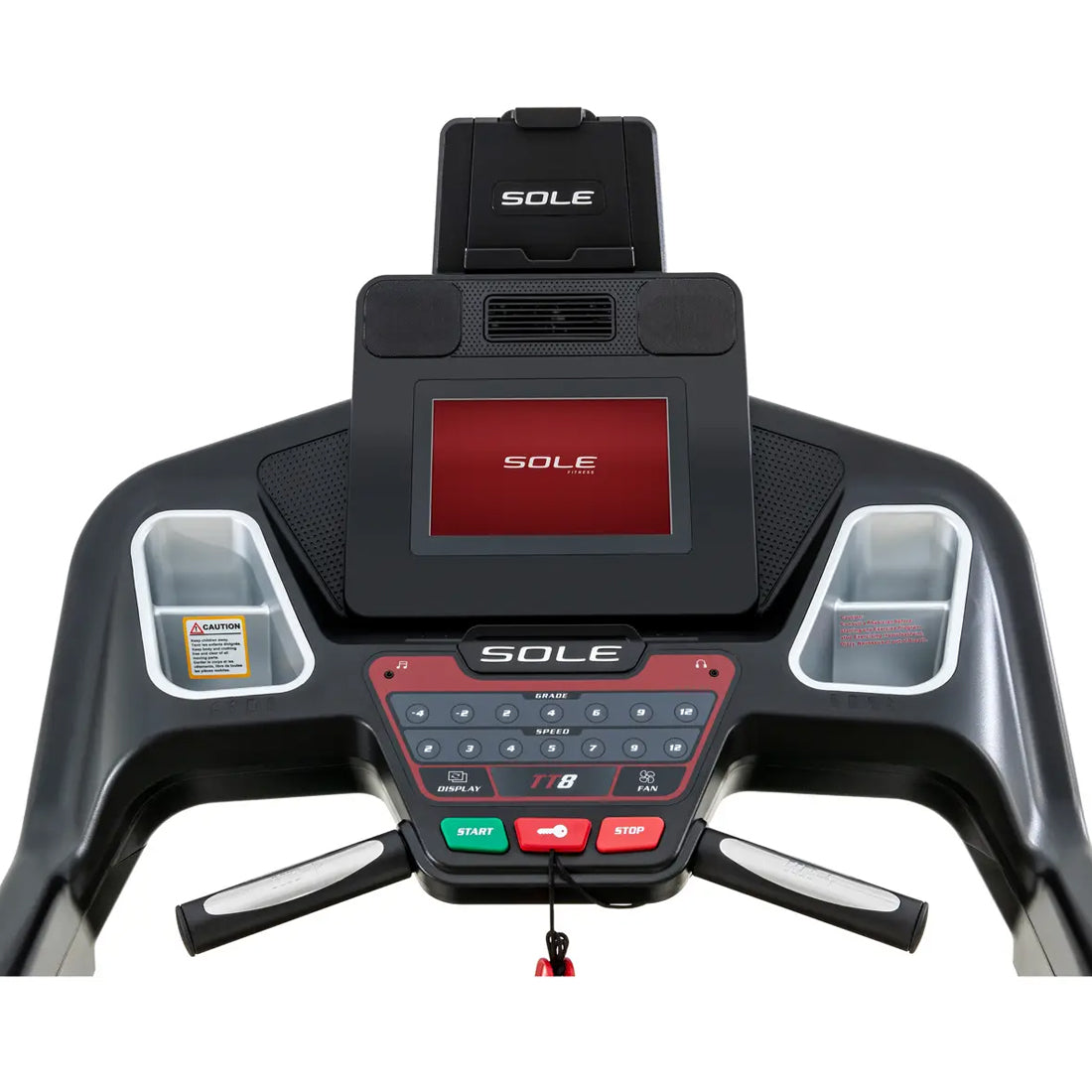 Share
Free Shipping
Get free delivery for orders above $200
A charge of $20 will be applied for orders below $200
0% Instalment Payment Plan
Applicable for the products that cost above $500
0% Interest Rate & Requires participating credit card for the plan

COD
Pay the cash at the time of delivery
Delivery & Installation schedule will be intimated
PRECISION WELDED BULLET PROOF FRAME
Accurate and precise welding is important when designing a running machine. Durability of a product begins with a strong frame, capable of handling multiple users of various weights and heights. All Sole treadmills feature epoxy powder coated paint, baked to appliance finish durability. This finish protects the all-steel construction, along with welded steel, not bolted, our frames are indestructible thus the lifetime warranty.
HIGH TORQUE MOTORS WITH FLYWHEELS
All Sole fitness treadmills feature the heaviest duty chassis and motors in their class. Beginning with powder coated all-steel welded frames and heavy duty stable inclines, we add industrial quality motors with large diameter, all-steel zinc coated balanced flywheels for a vibration-free secure running/walking surface. Why do we add a flywheel to our motors? Flywheels cause the motor to run cooler with less amp draw and extend the life off the motor. They also allow us to offer a start speed of 8km/hr of 1.6km/hr. Sole also uses much heavier flywheels than its competitors which give you the fluid motion you're accustomed to at the gym or on treadmill costing thousands more.
LARGE LIGHT COMMERCIAL DISPLAY SCREEN
The Sole display makes work outs easier and more effective. The Sole TT8 touts a vibrant 25.7cm TFT Touch Panel + Android System. The console provide users with helpful information, such as Heart Rate, Speed, Pace, Calories burned and many other useful bits of information.
DECLINE DECK DESIGN
A unique design to any type of machine on the market, this deck provides our users with a comfortable and quiet workout as well as reducing impact of up to 40%. The reversible deck is the same type used in Commercial grade models and is wax lubricated, which means less work on the motor during use. Users are always looking for ways to simulate their outside workouts, and part of those workouts includes the freedom of going uphill as well as downhill. The TT8 is the only machine that offers both options and will give users the ability to train with the necessary confidence needed to match their outside workouts with the indoors.
INTEGRATED TABLET HOLDER
The Integrated Tablet Holder allows users the freedom of using their smart devices to watch shows or follow their workout routines.
USB PORT & BLUETOOTH TECHNOLOGY
USB port helps to charge your smart devices while working out. Sole now allows users the freedom to transfer workout data via Bluetooth, from their Sole fitness equipment to their smart device. Users can download and track their info on the Sole app for free, or have their fitness data be transferred to any of the following fitness apps (Fitbit, Record, Mapmyrun, Apple Health).
RUNNING BELTS
We use double woven 2-ply belts with four layers on almost all of our equipment. Two rubber layers over a middle PVC layer with a nylon backing that rolls over the deck and rollers. The rubber provides the durability, the PVC stops the belt from over-stretching and the nylon provides a smooth static free surface to glide over the deck and rollers.
SMOOTH AS VELVET
The rubber provides durability; the PVC stops the belt from over-stretching and the nylon provides a smooth static free surface to glide over the deck and rollers. The entire belt is thus, engineered on a similar premise to the soles in running shoes.
PREMIUM COMFORT
Users want to have the freedom of increasing speed and incline quickly, then our sole fitness TT8 treadmill has easy-access buttons. The display features quick speed/incline buttons along the sides of the LCD making it extremely convenient and easy to control and maintain your workout.
SPECIFICATION
| | |
| --- | --- |
| Brand Model | Sole TT8(21)-AC-ENT |
| Frame Style | Non-Folding |
| Drive Motor | 4CHP Industrial AC Motor |
| Console Display | 25.7cm TFT LCD Display |
| Speed Range | 8 - 19km/hr |
| Decline / Incline | -6 To +15 Levels |
| Programs | 6 Standard, 1 Custom & 2 HRC Programs |
| Tablet/Phone Holder | Yes |
| USB Charging Port | Yes |
| Bluetooth Compatible | Yes |
| Heart Rate Monitoring | Pulse Grips & Chest Strap Compatible |
DIMENSION
| | |
| --- | --- |
| Running Surface | 152 (L) X 56 (W) cm |
| Set-Up Dimension | 208 (L) X 91 (W) X 147 (H) cm |
| Carton Dimension | 213 (L) X 91 (W) X 43 (H) cm |
| Product Weight | 146kg |
| Max. User Weight | 181kg |
WARRANTY
| | |
| --- | --- |
| Frame | Lifetime |
| Drive Motor | 5 Years (Residential) & 3 Years (Commercial) |
| Running Belt & Deck | 2 Years |
| Inverter | 2 Years |
| All Other Parts | 1 Year |
| Labor | 1 Year |
Q: How is the quality of the treadmill's frame?
Answer
Generally, the quality of the commercial treadmill is highly dependent on the material used, the welding process, and the design. This is the reason why we use high-quality material processing, detailed welding with a strong frame, and heavy-duty steel construction to confirm durability, quality, and capability. Thus, the quality of the TT8 (AC) treadmill is stunning and comes with a lifetime warranty card.
Q: Is the treadmill motor heat up quickly due to recurrent use?
Answer
No, the treadmill motor won't heat up quickly even for a long-time use of multiple users. Singapore sole fitness cleverly engineered the running machine motor with a flying wheel which enable the motor to run cool and as well as aids to extend the life of the motor. Accordingly, you can able to save money on maintenance and replacement process. If you're a skilled person in the fitness tool, then you can start running at moderate to high speed and don't do it at a low speed initially.
Q: Which motor is best for a commercial treadmill?
Answer
When it comes to commercial purposes, we know plenty of people uses the same machine for more time. In this case, choosing highly qualified is the best solution to avoid 'out of service' issues. Accordingly, looking for a motorized treadmill with a horsepower range from 3CHP to more than 4CHP is accurate. We packed one and all of our sole treadmills with excellent motor capacity and here we used a 4CHP industrial motor for best-in-class performance.
Q: What's about the comfort of running surfaces?
Answer
The size of the running deck is 152 (L) X 56 (W) cm which is well-matched for users with varying fitness goals. Additionally, our engineers use four-layer construction along with 2-ply belts of double woven on the declined treadmill to provide more and more durability and comfort. The nylon material used in mid of layer manufacturing leaves a smooth surface to run. Consequently, you feel a wonderful ride on this fitness tool than the comfort you got from the outside.
Q: Can I look for intelligible features to ease the step?
Answer
Who said no? There is a list of features waiting for you in this portable treadmill to make you freeze. Let's check them one by one
Cup holders – To stay hydrated
Integrated tablet holder – To keep a tablet with you to watch shows
USB port – To charge your phone
Bluetooth audio speakers – To listen to your playlist music
Wireless chest strips – To monitor heart rate instantly
Q: What are the benefits of declined training?
Answer
An auto treadmill is built with both incline and decline levels such as
6 decline levels
15 incline levels
Having both these positions in walking assistance guides to perform well in all sports. Here are the benefits of declined training for your better analyses:
It helps to target different muscle groups
It aids to concentrate on anterior muscles
It reduces the impacts of joint and knee pain
It pushes to focus quads, knees, and hip flexors